Later this week, Hibernia Atlantic will take the wraps off a further expansion of its Global Financial Network (GFN).  A new offering, called Hibernia Secure, bundles multiple protected low latency paths per destination.  It's not merely backing up one fast circuit with a much slower backup circuit, but rather with one or more often two routes that also offer very low latency – thus ensuring that even the outages are plenty fast enough.  That raises the ante a bit in the low latency marketplace, which has continued to evolve rapidly since bursting onto the scene a little over two years ago.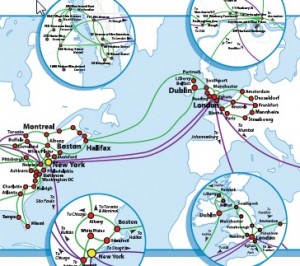 The Hibernia Secure product will be available on the primary trading corridors between Chicago, New York, London, Frankfurt, and Toronto in key facilities like 350 Cermak, 755 Secaucus, 151 Front, and Slough (LD4).  While Hibernia operates its own transatlantic cable plus terrestrial fiber on each side of the Atlantic, its GFN takes advantage of other routes as well to best target the financial vertical.  In fact, one of the redundant services they offer between New York and Chicago includes the sub-15ms ultra-low-latency route from Spread Networks as part of the overall package.
Hibernia is also expanding into more locations.  First off, they're opening a new office at 133 Houndsditch in London later this week (Gotta love that road name!).  Additionally, they will be be expanding into the London Hosting Center and into the Toronto Stock Exchange's backup PoP at 130 King too.  Along with last week's PoP in Tokyo will come similar expansions to Singapore and Hong Kong later this year, with similar Hibernia Secure redundant packages on those routes coming as well.  Apparently the financial vertical is working out quite well for them.
The LVLT/GLBC deal could be a boon for Hibernia Atlantic, as the number of competitors with both a substantial fiber between and within both the US and UK and a foothold in the in the financial vertical will be shrinking further — at a time when bandwidth on such routes has become much less of a commodity item.
If you haven't already, please take our Reader Survey! Just 3 questions to help us better understand who is reading Telecom Ramblings so we can serve you better!
Categories:
Internet Backbones
·
Low Latency
·
Undersea cables