I have alluded to this before, but today GlobeNet (news) [a subsidiary of Oi (news)] formally claimed title to the lowest latency route between key financial hubs in the US and Brazil.  Specifically, they're talking about routes to BM&F Bovespa in Sao Paulo from the US centers in New York, Chicago, and Toronto.  And in fact they offered up a hard number for their NYC to Sao Paolo route: 110ms roundtrip.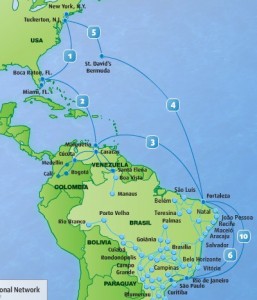 GlobeNet's speed derives from the route the eastern half of their submarine fiber takes between New York and northern Brazil, and then the land route across Brazil south of the landing station in Fortaleza.  Other cables tend to stop in the Carribbean along the way and tend to go around Cape Branco (the eastern tip of South America, as I learned today).  The submarine cable was originally laid in 2001 by an earlier incarnation of GlobeNet which was acquired by 360Networks and renamed to 360Networks Americas, and then acquired out of bankruptcy by Brasil Telecom which restored the original name before itself being acquired by Oi.
The market for bandwidth in Brazil has been very hot lately and is probably going to remain so, but I don't yet have a feel for the temperature of the financial vertical there yet.  The desire for the lowest possible latency between markets has clearly been spreading beyond the Chicago-NY-London-Frankfurt axis though.
If you haven't already, please take our Reader Survey! Just 3 questions to help us better understand who is reading Telecom Ramblings so we can serve you better!
Categories:
Low Latency
·
Undersea cables