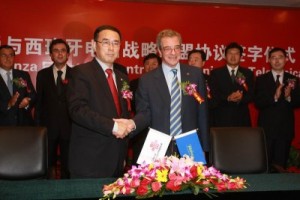 The two international telecommunications giants Telefonica (NYSE:TEF, news, filings) and China Unicom (NYSE:CHU, news, filings) have taken steps to strengthen their relationship.  Each of the two has agreed to invest an additional $500M in the other, China Unicom via a price based on the prior 30 days of trading of Telefonica stock, and Telefonica via a purchase of China Unicom from third parties in the next nine months.  When complete, the deal will bring Telefonica's ownership in China Unicom up to 9.7%, with China Unicom's ownership in Telefonica reaching 1.37%.
Back in 2009, the two invested $1B in each other and started working together in earnest.  Obviously that relationship has gone well so far, since another $500M isn't chump change.  I hadn't realized that Telefonica's ownership of China Unicom was pushing 10%, I doubt it is going to get much higher as the Chinese government would have its own security concerns of course.  There certainly is little chance this will turn into any sort of outright merger down the line.  But the figure they give of 590M access lines between the two of them, or 10% of the global population, is a reminder of just how big they are.
China Unicom and Telefonica are cooperating with regards to many areas already, procurement, mobile service platforms, services to MNCs, wholesale carriers, roaming, technology, etc.  The relationship gives each a stronger presence in parts of the world in which neither intends to expand in force.  Each has plenty of room to work with in geographies closer to home.
If you haven't already, please take our Reader Survey! Just 3 questions to help us better understand who is reading Telecom Ramblings so we can serve you better!
Categories:
ILECs, PTTs