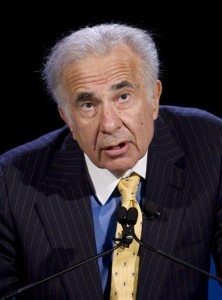 Billionaire Carl Icahn is trying once again to buy out minority shareholders of XO Holdings (news, filings).  In an SEC filing yesterday, his vehicle ACF Industries Holding Corp has offered to acquire the common shares he doesn't already own for $0.70 – which is actually below both the close yesterday of $0.75 and the $0.80 he last bid.  That price is going to satisfy absolutely nobody, especially given upbeat guidance and numbers in the fall.  Other than Icahn of course.  This could be the start of the final season of As XO Turns, but there are many episodes yet to go.  The first question to be resolved is whether XO's board can assemble enough supposedly independent directors to evaluate such a deal – they disbanded that special committee last year and one of the board members that was on it has since resigned.
Some sort of move like this was sure to come soon, ever since the company's planned reverse split and rights offering failed to materialize with the New Year.  The company needs cash to fund its expansion plans with, but has refused to take on any debt except all those preferred shares they like to sell to Icahn.  There are only so many ways to do that.  Icahn has tried to buy out minority shareholders several times already, and they still aren't done with the lawsuits from the last time.
However, Icahn knows $0.70 is going nowhere – he's a smart guy.  So this is probably just an opening bid.  As in the past, ACF says in no event is it interested in selling the company to anyone else – in order to prevent an actual auction.  There are any number of bidders out there who would be willing to bid more than that if allowed to, as XO has real assets that could mean a lot in the right hands – 3000+ on-net buildings on 9000+ metro route miles for starters.  Tops on the list of interested bidders would be PAETEC, TW Telecom, Zayo, Level 3, Earthlink… and I could go on.
But none of those will do anything until the Icahn situation is resolved.  I'd definitely wager though that if Icahn managed to buy out minority shareholders, he'd soon flip it for a profit.
If you haven't already, please take our Reader Survey! Just 3 questions to help us better understand who is reading Telecom Ramblings so we can serve you better!
Categories:
CLEC
·
Mergers and Acquisitions