Two interesting developments lately in the southeastern Asian cable market lately.
The first is the end of Reach as we know it.  Remember Reach, the joint venture between Telstra and PCCW that bought the old Level 3 Tiger assets after the bubble bubble and never found its footing?  Well they've been restructured yet again, but this time it looks a bit more permanent.  Telstra and PCCW are splittingd up most of the assets, and while Reach will still exist it looks like it will just be working with a bit remaining in Hong Kong.  Neither Telstra nor PCCW has been too active lately on the submarine cable front, and that probably won't change with this restructuring.
And on a more positive note, this morning NTT, PLTD, StarHub, and Telekom Malaysia announced plans to build another submarine cable through the same region.  The new cable, called the Asia Submarine-cable Express (ASE) will hook up Japan, Malaysia, Singapore, the Phillipines, and eventually Hong Kong and then mainland China and other countries.  According to SubTel Forum, NEC and Fujitsu will be handling the construction, which is no big surprise since it's in their backyard.  The new cable will cover 7,200km and offer 40Gbps waves with a total capacity exceeding 15Tbps, with 100Gbps capability there for the future.  That's one heck of a lot of intra-Asia traffic they're planning for…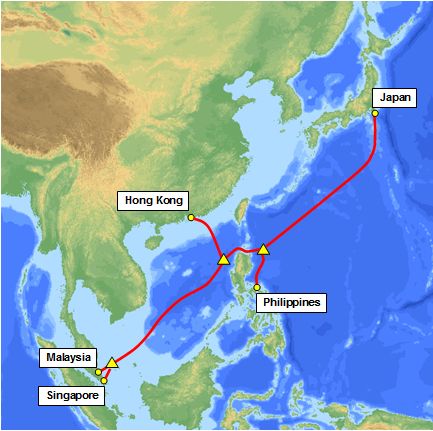 Actually though, the route looks quite straight, perhaps NTT is aiming for the low latency route between Japan and Singapore to go with its transpacific cable.
If you haven't already, please take our Reader Survey! Just 3 questions to help us better understand who is reading Telecom Ramblings so we can serve you better!
Categories:
Undersea cables