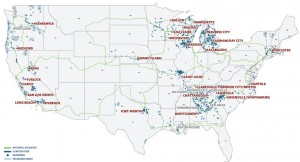 It has always been difficult to get information about the network assets of cable MSOs, so it's nice to find some now and then.  An astute reader stumbled across the maps for Charter Business's fiber, and passed them along (Thanks!), and I have now added links to their network maps both to the USA Longhaul Maps page as well as to each of the relevant regional metro fiber map link collections.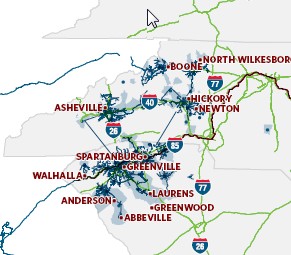 As for the maps themselves though, it actually wasn't clear where to put them initially.  They aren't street level metro fiber maps in any sense, but more regional maps with only vague information at the metro level.  I considered adding them to the USA Regional Fiber Maps page, but decided that since one goes to Charter Business for metro connectivity and not for intercity regional fiber, that's where they should be grouped.
Cable MSO fiber footprints have a very different feel to them than pure metro fiber builds, in that their choices of where to build out fiber come from the parent's residential footprint.  Charter, especially, has a rather disparate collection of national assets.  It's largest metro markets seem to be in Fort Worth and Saint Louis, but with regional coverage being greatest in the great lakes and the lower end of the Appalachians.
Now if only we could get a bit of information out of Cox Business and Comcast Business…
If you haven't already, please take our Reader Survey! Just 3 questions to help us better understand who is reading Telecom Ramblings so we can serve you better!
Categories:
Cable
·
Internet Backbones
·
Metro fiber