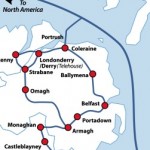 Over the weekend, Hibernia Atlantic completed phase 1 of a new extension of its transatlantic cable to Northern Ireland, bringing the new cable ashore in a beach in Portrush.  The new system, called Project Kelvin, will connect eight cities in Northern Ireland, and five more in Ireland itself on the way to Dublin.  In the world of high technology, the island's profile has grown as much as anyone's in the last decade.  But when it comes to bandwidth, everything always has always gone through England first.  With direct connectivity to Hibernia Atlantic's transatlantic cable, the island will have substantially more options for managing its bandwidth to the rest of the world.
Unlike in the boom years, we don't get new infrastructure builds that often.  As an engineer, I find there's nothing like the feeling you get when you finish building something new.  Therefore, when Hibernia Atlantic kindly shared some pictures from the event, I couldn't refuse.
The bigger boat out there is The Sovereign, a cable ship owned by Global Marine which did the offshore work – laying the cable and trenching it where needed.  The smaller boat is the Margaret Sinclair, from which divers supported the final operations in shallower waters.  Near shore, submarine cables are buried a few meters deep in the sand to keep them safe from anchors, fishing boats, and the like.  I wonder if the kid in the foreground knows what these boats are doing?  No doubt he'll soon be burning up some of the bandwidth the cable will supply.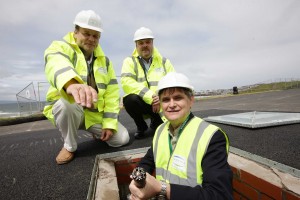 And let it not be said that Columbia Ventures CEO Ken Peterson is afraid to get his hands dirty and operate all those telecom assets he manages.  Here he is  pulling the cable ashore single handed – apparently it got stuck or something.  Ok, maybe it's just a staged photo shot…    😉    But still, that's the real manhole.  Behind him are Hibernia's CEO Bjarni Thorvardarson and VP of Network Operations Derek Bullock, ready to step in and help pull if needed.
Ilissa Miller has more coverage of Project Kelvin's coming ashore at Portrush.  If anyone else out there has pictures from a project they've been working on, feel free to send them along.
If you haven't already, please take our Reader Survey! Just 3 questions to help us better understand who is reading Telecom Ramblings so we can serve you better!
Categories:
Fiber optic cable
·
Undersea cables