There was more consolidation in the world of VoIP and UC last week that managed to slip past my nets.  Onvoy has signed an agreement to buy ANZ Communications, which is the parent company of ANPI.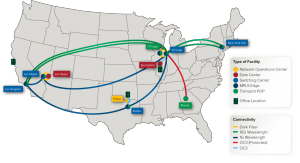 ANPI specializes in providing voice solutions like long distance, tandem, SS7, VAP, and especially UCaaS to the RLEC community.  It has offices in Illinois, California, and over in India and operates a national IP/MPLS network.  Those services add some comprehensiveness to Onvoy's portfolio.
Onvoy is no stranger to the RLEC community, as it started out serving such customers up in Minnesota before its acquisition and spinoff by Zayo.  Over the past year, Onvoy has acquired Broadvox and Layered, and gotten a new private equity owner itself in GTCR.  The acquisition of ANPI brings yet more scale to the table, rolling up a bit more of the voice infrastructure segment. Q Advisors helped facilitate the deal.
Categories:
Mergers and Acquisitions
·
Unified Communications
·
VoIP