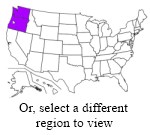 A collection of metro fiber maps for networks for the area known as the Gulf Coast.  More specifically, the states of Louisiana, Mississippi, and Alabama.  The Florida panhandle is covered on the Florida page, and Texas has its own of course also.    Most of the competitive metro fiber builds in this area are in Birmingham and New Orleans, with some more in Jackson, Mobile, and Baton Rouge.
Company
Maps
Lit/Dark
Comments
Spectrum Enterprise
Alabama, Louisiana
lit
PDFs
Crown Castle
Birmingham
both
PDF, KMZ also
Level 3 Communications
Baton Rouge, Birmingham, Jackson, Mobile, New Orleans
 both
Google Maps, Zoom In
Southern Telecom
Birmingham, Pascagoula
dark
On-Net Buildings/Laterals
Uniti Fiber
Montgomery, Dothan, Baldwin County, Baton Rouge, Birmingham, Huntsville, Montgomery, Mobile, New Orleans, MS Coast
lit
Windstream
Birmingham
WOW! Business
Auburn,Dothan, Huntsville, Montgomery, Valley
lit
KMZ
Zayo
Birmingham
 both

Still seeking maps for the following known providers:
Fiberlight
Birmingham
both
Recently added, no map yet
Earthlink
Regional coverage
lit
More intercity than metro, but they probably have some
Inline
AL/MS metro coverage
need new map
Network USA
Alexandria, Baton Rouge, Hammond, Lafayette, Lake Charles, Natchitoches, New Orleans, Shreveport
NTS Communications
Louisiana
Telepak
Mississippi regional coverage
PoP list
Where possible, all links are to material offered on the websites of the company operating the fiber.  I prefer such links, but will sometimes host the files myself where the operator agrees, and in rare cases may point to third party sources.  Where available, links to on-net building lists are also given.
Additional maps of metro fiber networks that ought to be on this list are very welcome, as are corrections to the above links. Please just leave a comment below or send an email to info@telecomramblings.com.