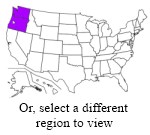 A collection of metro fiber maps for networks in the general reagion of the Great Plains.  More specifically, the states of Minnesota, Iowa, Missouri, Arkansas, Oklahoma, Kansas, Nebraska, North Dakota, and South Dakota.  Yes, that's quite a swath of territory isn't it?  Some might not call Arkansas part of the great plains, but I didn't have anywhere else to put it at the moment.  The population throughout this region is not dense and there aren't really all that many metro areas with competitive fiber maps, so a single page makes sense for now.   I should note there are also the regional fiber providers in each state who probably have metro assets as well.
Company
Maps
Lit/Dark
Comments
American Fiber Comm.
St.Louis
dark
Arvig
Minnesota
both
Google Earth/KMZ
Charter Business
Nebraska, Minnesota, St.Louis
lit
Consolidated Communications
Minneapolis/St.Paul, Fargo, Kansas City, Central Illinois, Des Moines
both
Duluth & other MN cities also
Crown Castle
St.Louis
Integra Telecom
Minneapolis, Fargo, Rochester, St. Cloud
 both
Google Maps, zoom in
Level 3
Little Rock, Kansas City, Milwaukee, Minneapolis, Omaha, St.Louis, Wichita
 both
Google Maps, zoom in
Midwest Fiber Networks
Minneapolis, Des Moines, Omaha, Sioux Falls
both
Ctrl- to zoom
Nuline Partners
Minneapolis
duct
Uniti Fiber
Cedar Rapids
Unite Private Networks
IA: Des Moine, Eastern Iowa
NE: Omaha, Lincoln, Southeast Nebraska
MO: Kansas City, KS: Manhattan
both
Windstream
St. Louis, Kansas City, Little Rock, Minneapolis, Iowa (regional)
both
Zayo

Kansas City,

Minneapolis/St.Paul, Western Nebraska, Omaha, Fargo, St. Louis
both
Google Maps interface, zoom in

Still seeking maps for the following known providers:
Cogent
Minneapolis, Kansas City, St.Louis
lit
on-net buildings tool
XO
Minneapolis, St.Louis
both
Where possible, all links are to material offered on the websites of the company operating the fiber.  I prefer such links, but will sometimes host the files myself where the operator agrees, and in rare cases may point to third party sources.  Where available, links to on-net building lists are also given.
Additional maps of metro fiber networks that ought to be on this list are very welcome, as are corrections to the above links. Please just leave a comment below or send an email to info@telecomramblings.com.