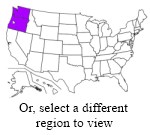 A collection of metro fiber maps for the Chicago metropolitan area, which gets its own page due to its status as a major internet hub.  Actually though, there aren't that many public maps out there for the region – at least that I have found so far.
Where possible, all links are to material offered on the websites of the company operating the fiber.  I prefer such links, but will sometimes host the files myself where the operator agrees, and in rare cases may point to third party sources.  Where available, links to on-net building lists are also given.
Additional maps of metro fiber networks that ought to be on this list are very welcome, as are corrections to the above links.  Please just leave a comment below or send an email to info@telecomramblings.com.