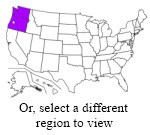 A collection of metro fiber maps for networks within the state of California.  There was a temptation to break this one up into northern and southern portions, given the size of the state.  But as it turns out there are fewer independent metro fiber providers in California than I thought – especially those with public maps.  If the situation warrants, I could split it up later.
Name
Maps
Lit/dark
Comments
Atlantic Metro
Los Angeles
both
On-net list
Charter Business
Los Angeles, Bakersfield, San Luis Obispo, Santa Cruz, San Francsico, Modesto, Redding, Crescent City
lit
Crown Castle
Los Angeles, San Francisco, San Diego, Bakersfield, Sacramento, Fresno
both
Digital West
San Luis Obispo
lit
Edison Carrier Solutions
Los Angeles Metro Area
both
Level 3
SF Bay Area, Los Angeles/Orange County
San Diego, Sacramento, Fresno, San Luis Obispo
both
 Google Maps interface, zoom in
Wave Broadband
Bay Area
both
Zayo
Los Angeles, San Diego, San Francisco, San Jose
both

Still seeking maps for the following known providers:
AT&T
both
Cogent
lit
On-net buildings tool
Point to Point Inc
dark
Telepacific
lit
via MPower, former ICG assets in CA
TW Telecom
both
XO Communications
both
Where possible, all links are to material offered on the websites of the company operating the fiber.  I prefer such links, but will sometimes host the files myself where the operator agrees, and in rare cases may point to third party sources.  Where available, links to on-net building lists are also given.
Additional maps of metro fiber networks that ought to be on this list are very welcome, as are corrections to the above links.  Please just leave a comment below or send an email to info@telecomramblings.com.