This Industry Viewpoint was authored by Prodapt's Rajesh Khanna Jalandhar
The projected growth and demand for Fiber-to-the-Home/Building (FTTH/B) in the global market is estimated at a value of $29.7B by 2026 at a CAGR of 13.1% (Research & Market), highlighting the crucial need for efficient and commercially viable fiber planning and design.
However, the fiber 'Plan and Design' phase poses various difficulties for fiber operators, hindering their ability to provide cost-effective and timely services. These challenges can lead to budget overruns, missed deadlines, and a decrease in their competitive edge. Some of the obstacles they face during this phase include:
Skill shortage: Slows down the fiber rollout
Manual work: Takes longer due to multiple hand-offs and paperwork in the High-level Design (HLD) and Low-level Design (LLD) stages
Unstandardized designs: Leads to quality/consistency issues in templates and documents
Unstructured work culture: Generates incorrect/missed field inputs
To address these challenges, fiber operators must seek solutions that enable the automation of crucial fiber design processes. This article talks about how the Fiber Design Framework (FDF) is a viable option to bring about a significant degree of automation in the fiber design process, resulting in a 2X acceleration in rollout time. The FDF comprises several critical components, such as an Automated HLD generator, Task Collaborator, Field Navigator, and Quality Gateways.
Automated HLD generator for faster HLD: The manual HLD process involves huge manual tasks like address validation, sketching, and design across the CAD and GIS systems. Use an automated HLD generator tool for a hassle-free, accurate and quick HLD using the steps detailed below:

Figure 1: HLD generator snapshots
Recommendations:
Define the existing and related power/utility infrastructure for design accuracy
Outline the right architecture for any specific area to get a cost-optimized design
Ensure minimal customization by design engineers to achieve accurate and quality outputs
Use the recommended automated generator to deliver outputs close to manual design quality
Task collaborator to digitally manage teams, workflows, and systems: The current fiber design process orchestration involves multiple tasks and manual handoffs across multiple teams leading to information mismatch, missed data, and reworks. Leverage the task collaborator tool to automate tasks and reduce handoffs and repetition with 3 easy steps:
Integrate the key systems and tools (Automated HLD generator, field navigator, etc.) with the task collaborator to centralize outputs and relay them to the respective agents/field technicians
Integrate HLD and LLD outputs with templates for automated build packages like splitter information forms, permits, Bill of Material (BoM), etc.
Create a one-stop window with real-time updates across processes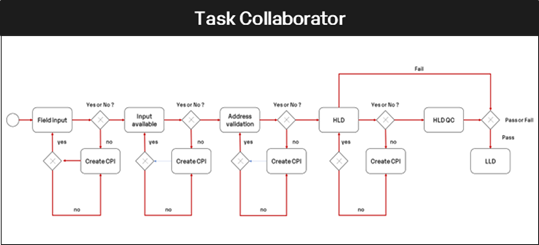 Figure 2: Snapshot of task collaborator
Recommendations:
Integrate the HLD generator, GIS tools, and the field application for seamless information transfer
Automate components for the LLD outputs, including SLD, BOM, etc., to deliver the right output
Use a single view to manage multiple survey vendors and tasks related to design
Field navigator to easily navigate through field details: The field technician captures field information manually and relays it to the design team in flexible formats (such as notes, pictures, etc.). This leads to missed information and mismatches in the design outputs, forcing the team to repeat the survey. Use field navigator, a geo-tagged solution to capture video-enabled on-the-field information. Here are the steps: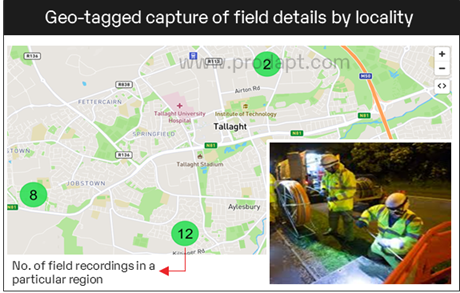 Figure 3: Snapshots of field navigator
Recommendations:
Enable digitization to capture on-field information such as location and permit/wayleave requirements without errors
Ensure backend integrations to enable modifications on the GIS design, eliminating handoffs
Make sure that design engineers validate survey input and approve changes across the design
Quality Gateways to ensure proper design outputs: The issue of less-than-expected design quality requiring a redo during the build phase leads to increased cost-per-house and impacts fiber rollout timelines. Integrate quality management gates at key junctures in the design journey, ensuring first-time-right design outputs.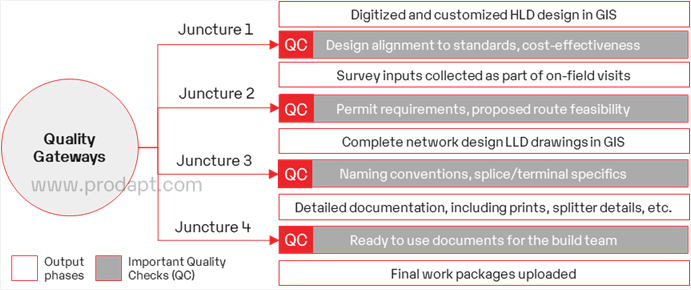 Figure 4: Sample quality checks
Best Practices:
Use digitization levers (ML models & scripts) to validate quality parameters, including splitter ratios, footage validations, naming conventions, etc.
Maintain standardized & defined checklists ensuring fiber splitter considerations, aligning safety measures to standards, validating optimal fiber footage, and ensuring documents are aligned to templates, conventions, etc.
Enable integrated quality & design teams to incorporate changes in the build phase due to final, unforeseen build change requirements
Conclusion
By implementing FDF, fiber operators can achieve the following benefits:
8X faster design completion and Time to Market using an automated HLD generator
90% first-time-right design deliverables across HLD and LLD using quality gateways
40% reduction in the operational costs due to transparency and accuracy across the design journey
55% improved automation in documentation with task collaborator
Author: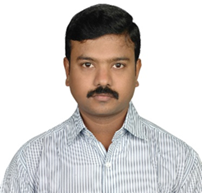 Rajesh Khanna Jalandhar
Director – Hyperautomation/Lean Process Consultant
Rajesh Khanna has 20+ years of experience in the IT/ITES/Telecom Industry and leads Hyperautomation & Process Consulting focusing on Automation and Transformation projects for DSPs. He is a certified Lean practitioner and ISO auditor and has led process transformation initiatives through lean six sigma methodologies, automation, and kaizen. Rajesh is instrumental in streamlining and optimizing operations by implementing Robotic Process Automation (RPA) and Hyperautomation solutions.
Prodapt is the largest and fastest-growing specialized player in the Connectedness industry. We design, configure, and operate solutions across their digital landscape, network infrastructure, and business operations – and craft experiences that delight their customers. 
Connecting 1.1 billion people and 5.4 billion devices, our clients are among the largest telecom, media, and internet firms in the world. Prodapt works with Google, Amazon, AT&T, Verizon, Vodafone, Liberty Global, Liberty Latin America, Claro, Lumen, Windstream, Rogers, Telus, KPN, Virgin Media, British Telecom, Deutsche Telekom, Cisco, Adtran, Samsung, & more.
If you haven't already, please take our Reader Survey! Just 3 questions to help us better understand who is reading Telecom Ramblings so we can serve you better!
Categories:
Fiber Networks
·
Industry Viewpoint
·
Software