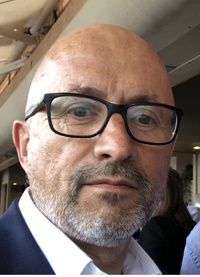 Authored by Stephen Scott, Chief Executive Officer, Datalec Precision Installations (DPI)
Every single day, people around the world grab their phones, check their email, watch a YouTube video, or  open their laptops to begin their workday. All of these communal actions create a gargantuan amount of data that's challenging to even visualize. By 2025 it's estimated that 463 exabytes will be generated each day in data from internet users around the world. When that degree of usage comes, it'll take mere days before the highest dimension of data measurements—the yottabyte—is reached and breached over and over again.
While the lion's share of these data points find their long-term home in the cloud, in the data centre industry we know that the cloud isn't this hovering, amorphous thing. It's quite physical, and the industry as a whole is responsible for not just protecting sensitive information about internet users around the globe, but making that data accessible in a fraction of a second. That requires an immense amount of energy: Electricity, water, air filtration, gas, and machinery. All of these finite materials have to be used intensively for data centre systems to stay online, protected, and ready to deliver for clients.
Plus, data centres are powered by electrical grids. Estimates project that by 2030, between 3 to 7 percent of all global energy production will be consumed by them. This electricity translates into intense heat. To operate safely, servers and machinery need to cool routinely with water that, ideally, won't be wasted after a single run. As the threats related to climate change mount, we simply can't be complacent when it comes to deploying holistic, sustainable solutions within the data centre industry. That's why it's important for leaders to tap into environmentally thoughtful strategies from initial conceptualization and keep challenging themselves to do more.
There's a lot of buzz around renewable energy credits via solar panels or purchasing carbon offsets, but that's only scratching the surface. There are so many other choices that leaders should be making in the name of sustainability, and some of those choices may even look out-of-the-box at first glance.
At the outset, the onus is on data centre executives to collaborate with architects and determine the most environmentally-friendly strategies to construct projects. Some tried-and-true methods to do so are opting to use recycled lumber, steel, and plastics whenever possible for initial construction, especially when they can be sourced and transported locally. In Europe, this often means that it's going to be more sustainable to source materials from within the continent rather than outside of it. There are also plenty of ways to design self-sufficient solar farms that power data centres and contribute to the grid instead of draining it.
However, some of the most cutting-edge ideas have centered on the freshwater-intensive cooling process. Microsoft's underwater data centre, after all, is only the tip of the iceberg when it comes to leveraging natural environments to preserve freshwater resources. Other locales lend themselves to this same idea, like data centre construction in Iceland. By building in strategic locations, an exterior environment can balance effectively with the heat-intensity of operations so that they can become truly symbiotic.
But beyond planning builds in strategic locations, there are so many other solutions to mitigate energy usage and waste that benefit the bottom line. Warmed waters from the cooling process, for example, can be reallocated to heat local swimming pools. They can transition into heat for homes, as Stockholm Data Park in Sweden has strategically deployed via waste heat distribution. The heat can get funneled into greenhouses to help grow crops in frigid locales. The possibilities, when you look at them with a bit of creativity, are endless.
There are companies that are investing in technologies that allow them to reduce their emissions by upward of 80 percent. These are the innovations that are going to separate one entity from another as data usage, environmental impacts, and public awareness around this topic rises.
Sometimes, new government regulations that centre sustainability are seen as the final goal. But what if they were just the beginning? What if our inherently energy-intensive industry took it upon ourselves to become one of the most sustainable?
These are some of the first questions that clients want to know about data centres: How are we lessening our environmental impact? The threats, if we don't, are very real. The question reflects back on us. How many layers of impact can we truly have if we try?
If you haven't already, please take our Reader Survey! Just 3 questions to help us better understand who is reading Telecom Ramblings so we can serve you better!
Categories:
Datacenter
·
Energy
·
Sustainability