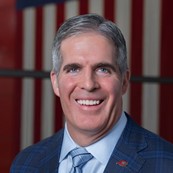 One of the biggest byproducts of the global pandemic is its impact on accelerating the digital transformation process. In just a few years, data digitization, often referred to as digital transformation, has profoundly changed the shape of digital business in every industry and for consumers globally. Increased usage of digital applications in video calling, telehealth, e-commerce and e-learning and entertainment has significantly increased the need for data capacities.  Unrelenting data growth, combined with the continuing migration of enterprises offsite into multitenant colocation data centers, is having a significant impact on the industry.  With us today to talk about their experiences over the last few years is Tag Greason, Chief Hyperscale Officer, at QTS Data Centers.
TR: Data growth continues to be extraordinary and shows no sign of slowing. As a leading data center and colocation provider how is digital transformation affecting your business?  For the purpose of this discussion let's focus on mid to large enterprises and government organizations.
TG: You're spot on Rob. Digital transformation is creating a global digital economy that is expanding exponentially and knows no borders. The flood of digitized data, combined with new, compute-intensive technologies such as artificial intelligence, machine learning and predictive analytics, is increasing enterprise requirements for even larger technology stacks to store, compute, analyze and move the data. What used to be normal enterprise requests for 250-500 KW environments are now complex, multi-megawatt, multi-site and multi-geography engagements.
As a result, data center investments are increasing significantly and starting to take on "junior hyperscale-like" requirements for space, power, and sophisticated connectivity ecosystems. And with significant increases in investment comes increased scrutiny of the vendors, their qualifications and ability to deliver.
TR:  How are the conversations and questions you have with the enterprise changing as they look to respond to the expanding requirements?
TG: Ultimately the ability and speed of the organization to scale — by that I mean easily add or subtract compute, power and storage resources, in different data centers and geographies – and their ability to provide sustainable infrastructure for their customers – is at the top of the list.  Their questions nearly always trace back to these along with what the network infrastructure and strategy looks like.
Requirements for bandwidth and interconnection of all types is also expanding. Connectivity sophistication has increased significantly as large enterprises shift to digital models required to get their digital services to more customers on a global scale. This is necessitating new requests for direct access to a myriad of internet, cloud, SD-WAN, transport, dark fiber and subsea networks. 
As a result, enterprises are hiring network and connectivity specialists, and in some cases, hiring them from the hyperscalers.  And it stands to reason, because if you're going to deploy one, two, three, four+ megawatts, with the associated capital required, you must ensure that your network strategy is as well thought out as your colocation strategy is.
There is also increasing concern about lack of diversity and increasing risk associated with the carrier hotel model. We hear it in virtually every discussion with customers and prospects. The best providers are very interested in decentralization of the Internet and cloud ingress/egress points to reduce risk. If you are lacking in dense connectivity ecosystems and the strategy to expand them, you aren't going to win with the enterprise.
TR: How is it impacting negotiations?  Are you seeing customers' selection criteria changing?
TG:  Data center investments have evolved from a single building to multiple buildings in multiple geographies to large data center campus' in multiple geographies to acquiring land well in advance to accommodate future needs. 
You can imagine with this kind of increase in investment, it's becoming much more visible to stakeholders, and the selection of a data center or data center campus becomes a much more scrutinized process. As IT deployments expand in size and cost, data centers are becoming even more strategic long-term partners with significant long-term investments. Conventional data center selection criteria such as location, economics and flexibility are now considered table-stakes requirements that must be met to make it to the next round of the selection process.
As a result, large enterprises are seeking providers that can demonstrate a higher level of sophistication and operational maturity that extends beyond the basic requirements for location, economics, flexibility and scale.
TR: Please describe what you mean by operational maturity?
TG: Achieving a higher level of sophistication takes years and requires a commitment to excellence, operational partnership, and discipline across every organizational department. Becoming operationally mature is not a final state – in fact, the highest degrees of maturity involve constant evaluation, refinement, and innovation of policies and procedures, all aimed at making the customer experience the best it can possibly be.
QTS' operational excellence comes from 15 years operating very large data centers with very large customer requirements for documentation and strict compliance standards that enable QTS to optimize competitive advantage and business economics for the customer.
TR: How does operational maturity manifest itself in the marketplace?
TG: Operational maturity starts with financial maturity. A track record of sustained growth and sophistication in financing strategies is very important to large enterprises who are making long-term investments in the provider. What growth are they reporting in topline revenue and margin?  How are they financing the business? What is their debt maturity schedule?
The pandemic heightened awareness of the need for technical innovation supporting a long-term plan. The best providers will have the foresight and financial backing to invest in new technology adoption such as artificial intelligence and machine learning to drive service delivery innovation and customer experience. This is being manifested by a surge in new remote and operational controls as customers and operations personnel have migrated to working remotely. 
Tax incentives – mature data center providers typically work closely with state and local and economic advisors to pioneer data center tax incentives. Customers benefit from low or no sales tax paid on equipment deployed in the data centers.
Project management and procurement – Operational maturity will typically facilitate a mature supply chain and a robust, best-in-class repeatable build strategy that aligns capital spend with revenue recognition much more efficiently than conventional data centers.
An integrated approach to security and compliance – Mature data center providers understand the need to take a comprehensive approach to managing compliance, ethics, and risk that are inextricably linked. 
Environmental sustainability is also emerging as an important selection criteria for large enterprises. The leaders will demonstrate their commitment to sustainability by publishing comprehensive Environmental, Social and Governance reports that document commitments to renewable energy, water conservation and waste reduction.
Those are some of the key characteristics of operational maturity. These are hard things to achieve and deliver and take years of experience to become proficient at.
TR: The past couple of years have offered us all unique challenges, how has QTS fared?
TG: QTS was very fortunate during the pandemic. Our operational maturity as an organization has long promoted rigor, structure, and processes that have made the uncertainly of COVID-19 feel almost familiar to our security and operations teams. A big contributor to this is the fact that 20% of our workforce have military backgrounds – many in operations and engineering. Operationally, there was absolutely no disruption – not even from the customer perspective. Financially we had our best year ever.
TR: Thank you for talking with Telecom Ramblings!
###
If you haven't already, please take our Reader Survey! Just 3 questions to help us better understand who is reading Telecom Ramblings so we can serve you better!
Categories:
Datacenter
·
Industry Spotlight