This Industry Viewpoint was authored by Andy Burrell, Head of Portfolio Marketing, CNS Business Applications, Nokia
Before it was even available, Communication service providers (CSPs) crowned 5G as a game-changer for delivering a new network experience and new services to their customers. Praised for its ultra-low latency networks and high speeds, 5G would enable service providers to facilitate more than just connectivity. Some of the new services included offerings such as private wireless networks with industrial apps, dedicated 5G slices, new data insights and plug-and-play APIs — to name a few.
Now that 5G roll outs are ubiquitous in many major markets, however, a range of complexity has prevented many CSPs from being able to maximize their return on 5G investments; but the hope and promise of 5G is still there.
To subdue this complexity, CSPs need to prioritize automation, security and monetization – three interdependent areas which are critical to forward-looking commercial success – and here's how.
Achieving the key to mitigating complexity and cost: automation
Those looking to create customized solutions for each of their customers — whether it's personalized data for a local government or a tailored 5G slice for an enterprise — can't do it manually and be profitable. And currently, only 40% of CSPs' business processes are automated.
This untapped opportunity with automation offers CSPs the ability to improve operations, simplify practices and increase cost savings quickly and efficiently.
Enabling a high degree of automation will help streamline services for the customer to interpret their intent and determine the appropriate next steps in the business processes from ordering, to inventory management, delivery and ongoing assurance.
If a CSP is seeking insights and trends to provide to customers, automation can collect, cleanse, integrate, analyze and present data from inside and outside the organization to create a picture of what is occurring.
Likewise, automation can also help CSPs create new API-based revenue streams by handling transactions, charging and metering in new app store-style delivery models.
It can also help to reduce costs by adjusting for areas of excess use and consumption — particularly around energy. Recently, ABI Research found that growing traffic volumes and the proliferation of sites could result in CSPs' energy use increasing by 160% to 2030, but by using intelligent automated solutions that shut down equipment when not in use, CSPs can better achieve energy efficiency as well as their sustainability goals while decreasing overall costs.
Unlocking long-term customer trust: security
But with automation comes additional security risks, which is why CSPs need to also address their security procedures to account for 5G services. Any breach of security can damage a business both financially and reputationally – particularly if it headlines news and involves six-digit settlement costs, such as the 2021 incident with T-Mobile.
While CSPs are surely security-conscious, new areas enabled by 5G such as the proliferation of IoT-connected devices, the disaggregation of the network and workstreams moving to the cloud, put their skills to the test by creating new avenues for attacks, including malware and hacking-as-a-service. Thus, it is becoming more difficult — yet equally critical — to keep customer data secure.
As 5G is a new form of technology, new cybersecurity approaches are required to protect the network. Previous approaches focused on keeping attackers out of the traditional network edge, but with 5G, CSPs need to deploy a "Zero Trust," mindset which carries the assumption that all resources are untrustworthy. This attitude requires continuous evaluation to verify inside and outside the network and ultimately determine a resource's source and purpose.
To maintain this level of constant verification, CSPs need advanced, integrated tools to keep devices, data and networks secure. By investing in real-time intelligence to detect threats as soon as they appear as well as AI-powered automated security operations that instantly contain threats, CSPs can better take advantage of all 5G's offerings while still maintaining the integrity and security of the network.
Opening the door to new revenue growth: monetization
With security and automation serving as the ideal foundation for new services enabled by 5G, CSPs can now move "beyond connectivity" to snatch a piece of the 60% of new revenue that is estimated to come from emerging B2B2X business models, which will heavily rely on partner ecosystems to grow revenue.
Many CSPs will take different routes to take advantage of this opportunity. While some may look at specific use cases and industry sectors, such as lights-out manufacturing or autonomous transportation, others will monetize network functions and data by uncovering them through open APIs and becoming a key patron to emerging digital ecosystems.
Some may even look to become a neural host or explore emerging opportunities in the metaverse. One way that CSPs are achieving greater time-to-value and agility is through security-as-a-service (SaaS) delivery models.
Whichever way that CSPs pursue to monetize, their 5G networks will require flexible and intelligent capabilities, such as charging and mediation, working in conjunction with AI and analytics.
Discovering the treasure within: an intelligent, forward-looking business foundation
The 5G era is here now, and the opportunity for CSPs is as clear as it has ever been. However, to truly capitalize on the present opportunities, CSPs must first rethink and rework their current business process that has served as the foundation of their previous applications to now meet the needs of 5G. 
Previous manual processes, best-efforts security and siloed data, no longer meet the needs of today's fast-moving, complex world. By prioritizing automation, security and monetization efforts, CSPs can deploy a more intelligent, integrated approach that takes control of advanced technologies such as AI, analytics, automation, and embedded security to minimize cost, maximize revenue and ultimately take full advantage of their investment in 5G.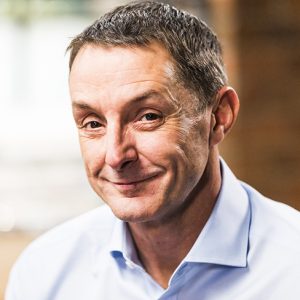 About the author
Andy Burrell leads marketing and communications for Nokia's Business Applications portfolio. After more than 25 years in the telecoms industry he remains fascinated by the possibilities of technology, in particular the potential of 5G, automation and AI. He loves to use his various devices to keep up with social media, news, and above all, the football results.
If you haven't already, please take our Reader Survey! Just 3 questions to help us better understand who is reading Telecom Ramblings so we can serve you better!
Categories:
Industry Viewpoint
·
SDN
·
Security
·
Wireless