This Industry Viewpoint was authored by Bala Vasanth Murugan, Associate Directory – Deliver at Prodapt Solutions
The demand for broadband communication services has soared, with an increased focus on fiber internet connectivity. Major countries around the globe are aiming to deliver full-fiber broadband to millions of premises in the next 5-10 years. Also, the global pandemic has changed the way we work and live, and fiber networks have never been so vital in unlocking our digital futures.
But this comes at a time when the costs associated with fiber rollout remain high, particularly as fiber operators and service providers are struggling with the following challenges:
Multiple legacies and siloed systems affect the time-to-market
Lack of visibility of premise serviceability restrains service providers from measuring the progress of fiber rollout
Limited automation across the fiber rollout process results in delayed releases
Low system security, especially in an ecosystem where multiple partners/vendors are involved, where they cannot have the visibility of one another's information such as the quotes, plans, costs, etc.
To overcome the above challenges, service providers must transform their workflow. They must shift from siloed network rollout to an Opportunity, Planning, Build, Release (OPBR) unified workflow strategy. This will enable service providers to deliver fiber to premises daily instead of monthly/quarterly.

An OPBR unified digital workflow strategy accelerates build cycle while reducing the cost
The OPBR strategy integrates opportunity identification, network planning, build and release management in an agile model, offering scalability, accountability, and collaboration capabilities to the service providers.
This article details the right set of levers for successfully implementing a digital workflow strategy. With these levers, service providers can achieve 45% faster delivery of fiber and reduce the average cost per premise (CPP) by 35%.
1)    Splitting large opportunities into sub-opportunity premises, to accelerate releases by 45%
In a traditional approach, fiber network rollout is achieved quarterly due to prolonged build completions. Even if some premises are built and are ready to be powered on, it needs to wait until the entire opportunity premise is completed, thereby delaying the rollout.
Recommendations
Split the large builds into address groups and service/sub-nodes to accelerate rollouts
Instead of releasing by opportunity, split the opportunity into subcategories called address groups to enable monthly release of the premises
Split the address groups into an L3 service node and an L4/L5 sub-node to release premises every week

2)    Implementing end-to-end tracking of network build progress, with sub-tracking of premise serviceability status
The traditional fiber network expansion process lacks end-to-end tracking of the premise, from the opportunity to release. Manual intervention is required to manage many premises, which is time-consuming and prone to human errors.
Recommendations
Implement a premise management module to maintain premises-related data in one place
Configure the system to enable the user to track the status of the premises from the opportunity to release
Automate the release process to reduce the manual work
Ensure that the system generates the release sheet and sends them to the next module based on the status of the opportunity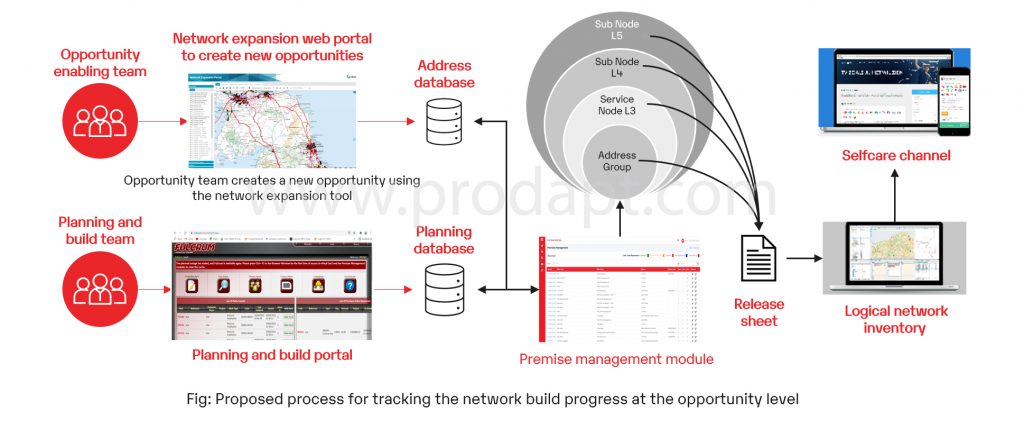 3)    Integrating opportunity premises from third-party vendors using a vendor management portal to accelerate network expansion plans
Incorporating the existing fiber premises is challenging, as third-party vendors (E.g., gas/electricity providers) maintain it. Also, there is a lack of the right tools to maintain premise details, and it needs manual intervention, which results in human error and delayed processes.
Recommendations
Create a new API to integrate the new premises from external vendors. Avoid using an Excel-based approach, as it delays the execution of the process
Create a new system to maintain all the log and audit data to avoid manual errors during the processing of the premise data
Provide access for third-party vendors to drop the premise-related data into the secure share path
Leverage the new system to access the shared file and process the data, which can be managed by the planning team and the build team

4)    Leveraging an integrated platform for all partners to gain transparency of serviceability and increase operational efficiency
Due to the involvement of multiple partners, there is no central system to track the entire process from an opportunity to release. Traditional processes involve Excel-based release sheets, which are time-consuming and prone to human errors as multiple partners work on the same document.

Recommendations
Implement an integrated platform for all partners to gain transparency of serviceability
Introduce a new access role, where the progress can be checked and tracked from an opportunity to release
Restrict the external partners and vendors from accessing the critical data. Provide access only to the required details, thereby protecting the integrity and confidentiality of the process
By embracing these key levers, service providers can ensure a successful implementation of a unified digital workflow strategy, attaining 45% faster time-to-market of fiber rollouts to premises, 35%
reduction in the average CPP, and a 50-70% reduction of overall manual efforts in the E2E fiber rollout workflow.
I thank my colleagues Mohamed Imran K S, Arun GR, and Rohit Karthikeyan for their contributions to building this article.
About the Author
Bala Vasanth Murugan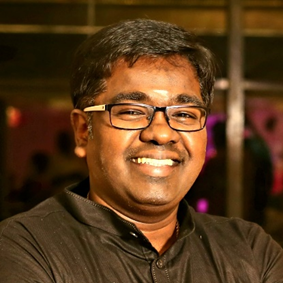 Associate Director – Delivery, Prodapt Solutions
Bala is a hands-on technology leader with 15+ years of IT telecom operations experience. He is a multiskilled and techno-functional professional, with rich international work experience. He has worked across all areas of telecom including network planning, fiber roll out, provisioning, operations, management of system architectures, and implementation. He is passionate about implementing solutions that enables connectedness service providers in digital & complex fiber roll out implementation.
Bala is an Associate Director at Prodapt, a two-decade-old consulting & managed services provider with a singular focus on the connectedness industry. Prodapt's customers range from telecom operators, digital/multi-service providers (D/MSPs), technology and digital platform companies in the business of connectedness. Prodapt builds, integrates, and operates solutions enabling software intensive networks. Prodapt works with global leaders including AT&T, Verizon, CenturyLink, Adtran, Vodafone, Liberty Global, Windstream, Virgin Media, Rogers, and Deutsche Telekom among many others.
If you haven't already, please take our Reader Survey! Just 3 questions to help us better understand who is reading Telecom Ramblings so we can serve you better!
Categories:
FTTH
·
Industry Viewpoint
·
SDN