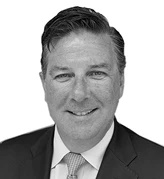 The past several years have been undeniably eventful for GTT.  After a decade of acquisitions, the company ran aground a bit a few years ago, culminating in the sale of the European infrastructure assets and a restructuring.  But all that is pretty much behind them and the new GTT looks a lot healthier and leaner than it ever has.  With a new management team in place, the company is setting its sights on the global enterprise space.  With us to tell us about GTT's journey and its plans to tackle the future is COO and industry veteran Don MacNeil.
TR: GTT has evolved significantly over the last couple of years.  What happened and what does the company look like today?
DM: I joined just a little over 18 months ago, commensurate with some of the other leadership changes that were happening.  It was pretty exciting because I had the pleasure of serving as GTT's first chief operating officer, and I had two important missions. One was to raise the bar on our customer service, and the other was to assess and implement the best strategy for the company going forward which is now underway.  We refer to it as GTT 2.0.  To date we are in the realignment phase and transitioning to the stabilization phase of the strategy. During the realignment phase we took stock of the more than 40 acquisitions GTT completed over a 10-year period and rationalized the customers and networks. We also initiated a formal process to sell-off the fiber, submarine cable and data center infrastructure.  As we went through the process, it seemed that the last four transactions, which included the acquisition of the aforementioned infrastructure, had really changed the trajectory of the company. Candidly, the infrastructure  introduced a lot of complexity into the business which overshadowed the goodness.  Then came issues around our financials, which culminated in a restructuring of our balance sheet that we are now in the final stages of completing pending the remaining regulatory approvals. Needless to say, it has been a whirlwind. We have closed on the asset sale, stabilized the business and are looking to complete the restructuring – emerging as a stronger and very viable global managed services and security provider.
TR: Following the sale of the infrastructure business, what is GTT's relationship to those fiber and other underlying infrastructure assets going forward? 
DM: While I Squared Capital was purchasing the assets, they knew we were going to be a major customer so the survivability and the ongoing health of GTT was very important to them. For that reason, the infrastructure sale and our restructuring were tightly linked and orchestrated. So today we have a very healthy partnership with EXA Infrastructure; we retain our Tier 1 IP Backbone, a large global enterprise customer base and a multi-year commercial agreement with EXA that allows us to expand and grow our infrastructure. It truly is the proverbial win-win. 
TR: Now that that process is complete, how do you plan to evolve GTT's business model?
DM: As I came in and looked first through the customer lens and second through the product lens, I saw a great business focused on the enterprise and carrier or wholesale domains. We have a wide range of customers and the associated network and services that came along with all those acquisitions. But as we look to the future, global enterprise is really where we're going to focus, building on that established base of customers and expanding our managed networking services and security capabilities. The MPLS base is strong, and we have an opportunity to take that MPLS customer base and move it to SD-WAN, a playbook we are already successfully executing. Then we can wrap that with other Secure Access Service Edge features , which we brand as Secure Connect, and add in managed services and professional services components. We want to leverage our expansive global footprint as well as the DNA inside the company, and do it more systematically, more scalably, and with more cohesion around the customer base and the market segments we serve today, albeit in a more consistent and meaningful way. Our clarity and focus is already starting to show benefits – building a customer first culture while driving operational excellence.   
TR: What types of enterprise customers will you be focusing on?
DM: In order to leverage our product portfolio, network reach and Tier 1 IP backbone, we are focused on global enterprises that have needs across multiple continents and regions around the world.  A nimble service provider with a broad portfolio that includes a comprehensive security capability, coupled with a terrific services model, allows us to fight above our weight class, and I think we're going to serve our target customers very, very well.
TR: GTT recently announced a rollout of 400G across its footprint, where does that fit into your plans?
DM: When I came on as COO, there were a few things that were pleasant surprises. The GTT Tier 1 IP backbone is probably one of the best kept secrets in the industry. It has its origins in the old Tiscali backbone and its Tinet international arm, and a lot of the individuals that built it have come along for the journey and are excited about the future.  We're going to do everything we can to continue to promote it. We are usually in the top 5 based on the CAIDA rankings. We have a great group of engineers that also have a lot of business acumen. By starting our multiyear 400G upgrade of the core, we will be able to cascade things out and continue to expand in a very effective way. It's part of a strategy to not only operate that backbone to connect major locations throughout the world, but equally have a very succinct strategy on how we cascade that capability down to the last mile for the purposes of optimizing last mile costs and performance. That's the purpose of the multiyear rollout: to keep up the cadence based on the market demands.
TR: What types of synergies from the past are you still working through today?
DM: First and foremost are those that relate to the demise of TDM and copper infrastructure. A number of GTT's  acquisitions were about local serving offices and access to copper loops. They have had their day in the sun, but now one of the missions for the Engineering and Ops team is a very deliberate, crisp project to eliminate some 1,600 LSOs here in the US and probably somewhere between 70 and 100 in Europe. A fair amount of fixed costs go along with that, and we've timed it in such a way where we can notify our customers adequately and find an adequate substitution. But candidly, a lot of those customers have been somewhat dormant for many years. The next round of synergies is to continue to rationalize legacy networks and product portfolios, such as consolidating colocation facilities. That probably will take a bit longer because they're hard-fought nickels. But it's a well bounded and well understood set of projects that will considerably impact the bottom line in a positive way.
TR: That global focus puts you closer to the international events of today.  How has the Ukraine war and the response of the global community impacted your operations?
DM: Because we serve global enterprises, we have some customers with connections in Russia.  For that reason, we have had to work diligently to stay current with the sanctions lists and those impacted customers have had to look through that same lens themselves. We've done everything we can to communicate any status changes with regard to sanctions on a regular basis, and just let them know we're watching after it. We alert them to the fact that if there are problems, we may not be able to serve them with replaced equipment due to some of the sanctions that go along with that, for instance. I think everybody is pretty much eyes-wide-open and understanding there.
TR: Have the ongoing global supply chain challenges affected you?
DM: The supply chain challenges certainly have impacted us. But I think the good news is that we've been able to source our fair share on the CPE front. For our backbone upgrade, we've had good success with Juniper, although I know timing and luck worked in our favor. We were able to get a little bit of a stockpile before things really got tough and have been able to weather the storm through that. We do work closely with our vendor partners because being so reliant on partner access and partner connectivity, we're subject to their situation as well. I think the key for us has been open communication with our vendors, but equally with the customers. I think everybody's a bit more understanding than maybe years past when some of the supply glitches might have simply been blamed on poor planning. I think everybody appreciates and understands the predicament we're all in.
TR: Historically GTT has been involved in a lot of M&A.  Do you see the company returning to that path or is it now an organic story?
DM: We have recently come off a rather large divestiture that was a lot of work. Certainly, it would be foolish to say, "never", but right now our plan for the foreseeable future is about organic growth. We will pick our spot in the market and focus on that customer base, doing all the fundamentals of taking care of those customers, keeping retention front-and-center on our day-to-day KPIs, and then really building out the portfolio to go attack it. We operate in a partner-centric environment, whether it's our go-to-market channel partners that are strategically vital to the business or access providers for the last mile. Additionally, we think the key part of our portfolio and relevance going forward is to partner rather than buy the capability, whether it's the OTT capabilities associated with SD-WAN or the security portfolio.
TR: What new offerings do you have planned for your product portfolio.  Are you rolling out SASE?
DM: Yes, SASE has been productized and we are just finishing our first alpha customer for the new Secure Connect offering. If you look backward in history, I would characterize a lot of our product development as predicated on who we were buying next. So from the standpoint of the product team and those involved, I think SASE has been energizing because it was truly something that we could put our thumbprint on from conception to implementation. We've thoroughly tested it, and it's now positioned for general availability. We've already completed our first wave of customer roadshow SASE events in Europe and we're aiming to organize more in the U.S. and Europe later in the summer into the fall.  So we're pretty excited about not only promoting our new SASE capabilities but also those key products that are tangential to it. We're partnered with Corero on DDoS mitigation, and they have also been part of our customer roadshow as another important aspect of our security platform. Also in the spirit of security, we were early adopters of Resource Public Key Infrastructure. And we're seeing more and more inquiries from our internet customers on understanding traffic flow, and therefore we have a broad category that we call enhanced internet, encompassing DDoS mitigation, RPKI, and instrumentation. And another well-kept secret in the marketplace is GTT's SIP trunking product, which we will continue to enhance.
Finally, I think our European team does a great job of promoting professional services, and that is something that we are exporting to the US.
TR: Thank you for talking with Telecom Ramblings!
If you haven't already, please take our Reader Survey! Just 3 questions to help us better understand who is reading Telecom Ramblings so we can serve you better!
Categories:
Industry Spotlight
·
Internet Backbones
·
Managed Services