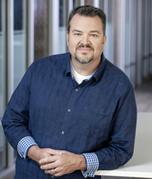 Over the last year or two, Windstream Wholesale has been reinventing itself, building out new network, establishing a leadership position in optical technology and pushing to the forefront of the infrastructure business.  The division has both expanded to the West Coast as well as added density across its existing footprint, all while deploying a new generation of technology and a wider range of solutions in the marketplace. With us today to talk about their approach is Windstream's Chief Network Officer, Buddy Bayer.
TR: What is your background and what led you to your current role at Windstream Wholesale?
BB: I've been in the industry 25+ years at a mix of different companies, from small startup companies to large conglomerates like WorldCom, Qwest, and CenturyLink. I have a passion to learn and to be able to make a positive impact.  About seven years ago, I left CenturyLink to join Windstream where I saw an opportunity to do both: make an impact and learn. The most appealing quality about Windstream is that there is a desire to empower leaders and encourage them to not only make a positive impact on the business but also create a culture that is best in class. Now I find myself as Chief Network Officer with responsibility for architecture, engineering, and operations. The unique part about my job is I also have P&L responsibility for the wholesale business unit. A technology leader doesn't usually run the profit and loss centers within a business, but there is a lot of collaboration and alignment between the wholesale and engineering organizations which make it a natural fit.  We have had the chance to combine these roles, ideas, processes, and tools to create a culture that is fast and flexible, enabling us to be a difference-maker in the space.
TR: Windstream Wholesale uses "Fast and Flexible" as its operational motto, where did that vision come from and how does it manifest itself in the company's actual operations and approach to the marketplace?

BB: We have an active board that we meet with at least once a month. Every time I would tell them a success story, such as turning up 4.8Tbps in 28 days or 5Tbps in 30 days, and one day a board member coined the phrase "Fast and Flexible" to describe who we are, what we do, and the culture we exhibit.  It's one thing to create a motto, but it's another thing to act on it daily, and that's what we do. We have individuals on this team who love a challenge. Being limitless is our identity. Our customers understand they can come to us with any challenge.  Recently we had a customer come to us with a need to turn up 2TB, but they needed it in two weeks. They asked if it was even possible, and within an hour we came up with a solution and said "yes."  The amazing part of the project is we turned it up in less than five days. They asked multiple carriers, but no one else was able to meet those impossible deadlines.  In fact, one carrier hadn't even responded to the inquiry by the time we had turned up the capacity. We're challenging the process. We're developing new technologies and solutions. We're figuring out how to build networks in a limited environment, and all of this is being done with a "fast and flexible" approach. We have the ability to provide a unique or custom solution that exceeds the customer's expectation.
TR: Are there any market segments where your approach is having a particularly positive impact?
BB: We partner extremely well with our customers. We had one hyperscaler describe our culture and ability to develop creative solutions to be more in line with their approach than that of a "typical" service provider.  I'll take that. Hyperscalers help guide us with our network expansion efforts.   We also have the traditional carriers that we support including international partners such as Colt.  We did a joint project recently with Colt that focused on our ability to leverage layer zero analytics to create a seamless solution between our two unique networks.  Layer zero analytics is an example of our desire to push the technology limits in order to create differentiated solutions.
One market segment that we have been recently expanding is what we call Global Accounts.  The focus is on Fortune 1000 enterprise customers that are progressing in the digital transformation and have large core infrastructure needs as they expand or build out their networks. So how can Windstream Wholesale serve the financial, oil and gas, or healthcare vertical?  Dark fiber, 400G+ circuits,  spectrum, network analytics and/or managed services are examples of the different services that can be leveraged in creating a custom solution. The point is we are bringing the same sales and engineering alignment that have helped the hyperscalers to the enterprise market.  We have the talent and the capability to partner with this market segment in their endeavors to challenge the status quo. The wholesale team is like the tip of the spear as far as Windstream is concerned. We build networks according to the customer demand and need.
We have also empowered our federal government sales organization to pursue this area as well.  We have been rebranding ourselves and getting out in front of the federal government agencies  to show what is possible and what we're capable of, and we're finding interest and opportunities in that arena.
TR: In what directions are you looking to expand your infrastructure?  Where do you see opportunity to build out your footprint further?

BB: We have a three-pronged strategy.  We are network builders. We are technology leaders. And we know how to partner well. We have a lot of unique routes that we can offer. Our network map has grown, and continues to expand with density, or 'mesh-iness' within our network.  A lot of that has been driven by our customers. With the digital transformation going on, there is large momentum to cloud services. Everybody's shifting gears and digitizing their environments. Because of this, there has been a data center explosion and it is not just expansion of the core it is also expansion on the edge. It is absolutely part of our strategy to build out to these data centers to meet that need. We also want to expand to more international cable landing stations so that we are able to reach those international partners. But what is exciting to talk about is the 1,500 route miles of fiber builds that we have going on. One example is our project to add fibers on the route from Little Rock, Arkansas, to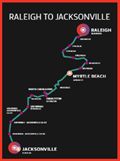 Tulsa, Oklahoma, which is one of the hottest routes in North America as far as needs and capacity right now. Another example is our "CanAm2" route between New York City and Montreal, Canada, where we are also pulling in a new cable within existing conduit so that we can help satisfy demand for connectivity from the New York area up to all those data center communities in Montreal. We also have a "Beach" route that we're overpulling/building from Raleigh, North Carolina, to Myrtle Beach, South Carolina, to Jacksonville, Florida.  We are focused on those new data center communities along with the new/existing cable landing stations along these new builds.  We are excited about the investments we are making today as well as the queue of future developments that are coming soon – stay tuned!
TR: As you expand your fiber footprint, what new gear and technology are you lighting it with? 
BB: In 2020 we put out an RFP for our ICON (Intelligent Converged Optical Network) long-haul platform and built an open disaggregate flex grid architecture. ICON provides open line interface, higher levels of management for "alien wavelengths," enables simultaneous topology capabilities, access to "L" band and Layer zero analytics that enable predictive models and failures, new insights, and more system level details. It's not the monolithic setup like you might have had in the past. Not only can we leverage the market compression that's going on, but it also gives the flexibility to have a multi-vendor solution. As we take advantage of new technologies; we have the flexibility to maneuver around supply chain issues.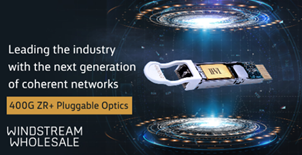 The other piece that's super important and makes Windstream different is that we also engage with the component manufacturers as well. We announced a deal with II-VI last fall in which we are assisting in their development of the 400G ZR+ coherent pluggable for both edge and long-haul applications. Our open-disaggregate network means we can leverage both the vendor community and the component manufacturer community to make sure we have the most optimal, flexible design that we can deploy for our customers.
TR: Are you seeing any disruptions in the supply chain?
BB: Yes. There are material shortages and chip manufacturing issues. When Texas had a severe winter storm last year, it caused a backup and a backlog of issues with the resin that is leveraged for circuit board creation. And of course, COVID has made a significant impact. For the last ten years, people have been saying that 2020/2021 was going to be when IoT, AI, and ML were going to become relevant and an explosion of network needs would take place.  Well, guess what? The need is here.  When I looked at my home Wi-Fi with everyone home due to COVID, the number of devices on my Wi-Fi doubled to like 60 or 70 devices.  Demand is increasing and the supply is challenged.  One of the strategies that enables us to be fast and flexible is that for many years we have maintained a certain amount of inventory that keeps us moving quickly. I can't turn up 2Tbps in 5 days unless I have inventory to do that.  And once again it's about having an architecture that enables flexibility of choice. If I have shortages in one area, I can shift to the next solution. You have got to have backup solutions, and so we've created that within our solutions and within our corresponding supply chain. Supply is challenging at times, but we're staying in front of it.  Our vendor community has been great to work with. Ciena, for example, has been a great partner in giving us a heads-up on what was happening in the chip manufacturer world and Infinera has been assisting us with alternative solutions.
TR: Do you think the supply chain issues will smooth out as 2022 continues?  Or will it take longer to disentangle things?
BB: I expect 2022 to continue to be a challenge on the supply chain side. However, here in Austin, Samsung is turning up a $17 billion chip plant and plans to have the site in operation by the second half of 2024. This is just one example of how relief is coming, but I don't think we will return to a normal state until 2024.
TR: Thank you for talking with Telecom Ramblings!
If you haven't already, please take our Reader Survey! Just 3 questions to help us better understand who is reading Telecom Ramblings so we can serve you better!
Categories:
Fiber Networks
·
Industry Spotlight
·
Telecom Equipment