This Industry Viewpoint was authored by Lakshminarayanan Raju, Prodapt Solutions
Reduce SD-WAN Order to Provisioning cycle time by 53%

As organizations plan for the future of their enterprise network in a post-COVID-19 world, they increasingly realize the importance of connectivity, especially the Wide Area Network. For Digital Service Providers (DSPs), managed SD-WAN services provide attractive opportunities to tap into the growing SD-WAN market and create new revenue streams. As per a recent MarketsandMarkets research, the global SD-WAN market size is expected to grow from USD 1.9 billion in 2020 to USD 8.4 billion by 2025, at a CAGR of 34.5% during the forecast period. This is primarily fueled by increasing bandwidth demand, rising need to adopt cloud, increasing workforce mobility, and ensuring robust IT agility.
To seize this opportunity, DSPs must move aggressively and fast-track SD-WAN service rollouts for their enterprise customers. However, high network complexities and operational challenges in the Order to Provisioning process significantly delays the SD-WAN rollout. This negatively impacts customer experience and results in delayed revenue realization for DSPs.
Key factors that delay SD-WAN service delivery for DSPs
According to a recent Heavy Reading's survey, the top challenge in SD-WAN rollout is the complexity in managing a highly distributed service across multiple platforms, networks & cloud domains and integrating it into existing the O/BSS Stack.
These challenges increase the cost and time-to-market of SD-WAN service, which ultimately impacts revenue realization. Hence, DSPs must embrace the right strategic levers to eliminate these challenges and accelerate the SD-WAN service delivery process.
Key strategic levers to accelerate SD-WAN service delivery
1.     Standardize the SD-WAN product, processes, and device configuration
Standardize the SD-WAN product catalogue offerings – Ensure uniformity and consistency in product offerings to maintain the standard of quality and reduce supplements.=
Standardize the process checklist for SD-WAN design and deployment – Ensure compliance with standard operating procedures at various points of failure, especially during hand-offs between multiple workgroups, to avoid any loss in translation.
Standardize the SD-WAN device logistic management and configuration – Avoid making customized device configurations before shipment as this increases the waiting time for vendors. Instead, stage the device with a standard configuration to quickly ship it to the customer. The device can be auto-configured later using a bootstrap script with a pre-loaded public key to connect to the DSP's centralized server. Standardization of device/feature configurations into a template helps users to jump-start the boot configuration and avoid delays in deployment.
2. Provide real-time order visibility to track milestone performance
Abstract intermediate milestones in SD-WAN service delivery – Most telco O/BSS applications fail to perform abstraction, which leads to system hopping, reading through pages of user remarks, task audits, calling people and validating the fallouts, etc. Abstraction of multiple and representing each resource facing order into customer understandable trails, is the key to solve this problem. The DSPs need a holistic view that considers the SD-WAN process, the IT systems, and their respective workflows, followed by identifying individual trails and mapping their dependencies, to create a simple swimlane view. Process mining tools like Celonis or UI Path can enable the abstraction design.
Aggregate data from every participating functional application in an SD-WAN order journey to track sub-interval milestone performance – Data aggregation to track the Order In/Order Out for each participating application is possible by instrumenting a code at the database level. This is a 3-step process:
Identification of the unit entity of an order or its component in an application
Identification of the logical completion of an entity within the application, before it goes into a wait mode for actual completion
Storing the unit entity creation and (logical & physical) completion times within each application into the data sink
3. Consolidate and automate workflows to achieve touchless SD-WAN configuration and provisioning
Consolidate the workflows for tasks such as CPE logistics, engineering build, workforce management, activation, last mile provisioning etc. Bring all siloed tasks under one workflow orchestration for end-to-end visibility and improving operational efficiency.
Automate the key steps in SD-WAN service delivery – This can include automating processes like technical data validation, service activation, LAN migration, logical MACD (modify, add, change, delete), CPE delivery & installation and end-to-end testing.
DSPs should look beyond tasks, processes, & functions and consider end-to-end automation of the business operations itself. This requires using complementary sets of tools that can consolidate functional and process silos to automate and augment business processes. Tools such as NetBots.AI offer a broad & coherent automation approach to integrate disparate, and complex technologies.
4. Multi-vendor Unified Activation and Abstraction (MVUA)

To resolve compatibility issues and provide seamless integration with multi-vendor SD-WAN solutions, DSPs need to enable Multi-vendor Unified Activation and Abstraction (MVUA). This can be achieved by building common adaptors (keyword-driven test functions) that resolve compatibility issues with legacy O/BSS systems. MVUA adaptors can be an integral part of the automation platform and serve as a common provisioning and testing platform for any vendor SD-WAN solution.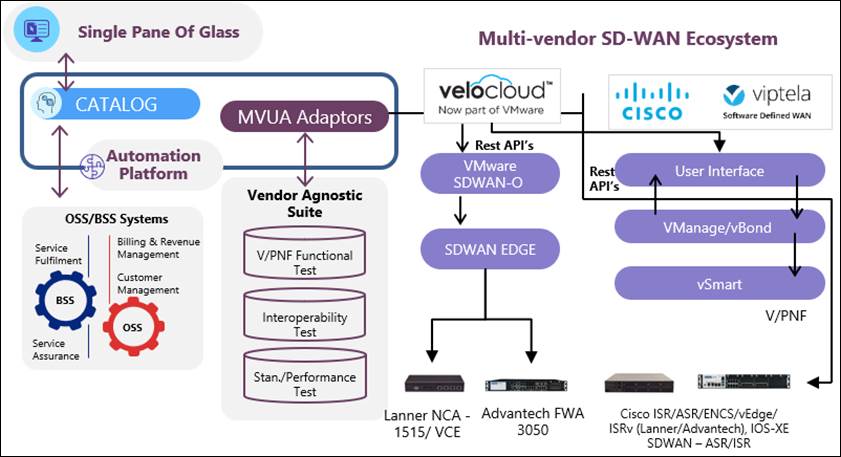 Fig: High-level workflow for MVUA and abstraction
Create vendor agnostic test suite
Common test suites can be built with a higher level of abstraction to withstand portability and adaptability across the network nodes. Automation platform can auto-select relevant test cases from the pre-built test repository and perform functionality, interoperability and integration testing for the network services deployed. Vendor agnostic test suites integrated with MVUA adaptors and automation platforms (such as NetBots.AI), enable seamless navigation through the complex validation matrix of network, operations, technology vendors and B2B customer requirements.
5. Provide a Single Pane of Glass (SPOG) for customers, vendors, and agents

To enable end-to-end managed operation and service orchestration with a high degree of transparency, DSPs can build a SPOG that provides:
An integrated portal for Ops users to enable end-to-end managed service operations
Self-service capability for SD-WAN customers to view and manage selected attributes of their respective assets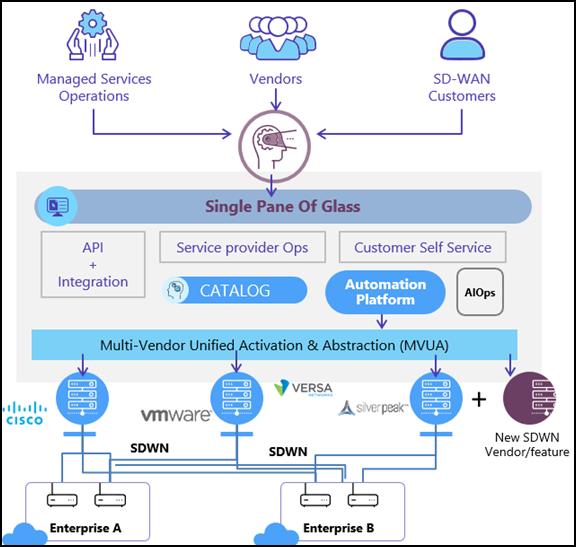 Fig: High-level workflow Single Pane of Glass
Implement open API for e-Bonding – Expose everything as APIs to make the services consumable by customers, partners, and vendors. Key areas include CPE logistics & configuration management, customer experience management, and third-party vendor management.
Enable digital order management – Trivial "Record only operations" like changes to the contact information could be performed without the need for a supplement pass on the order. Administrative updates to the order should be made possible through an API experience, providing an option in self-care portal.
Embrace advanced analytics and AI/ML in service delivery – Predict order duration/turnaround time, milestone fallout, possible jeopardy scenarios and detect false alarms in installation & activation.
Benefits achieved by a leading DSP in North America by leveraging key strategic levers described in this insight
53% improvement in end-to-end cycle time – End-to-end interval reduction through handoff elimination, supplement reduction and tool optimization. Accelerated Day-0 to Day-1 activities and enabled multi-vendor SD-WAN operations
2x improvement in agent productivity through Single Pane of Glass and Order Visibility dashboard
30% reduction in workload for SD-WAN service delivery with digitalization and automation
I thank my colleagues Omkar Ananat Nigudkar, Associate Director – Deliver, and Sumit Thakur, Senior Manager – Strategic Insights for their efforts in compiling this article.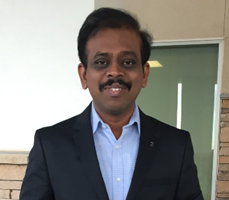 LAKSHMINARAYANAN RAJU
Director – Delivery, Prodapt Solutions
Lakshminarayanan Raju is an expert developer, design lead and architect of Telecom Operations Support Systems and has about six years of consulting experience. He is a Google Cloud certified professional Architect, Cisco certified network associate, TM Forum certified business development manager and digital maturity practitioner. He regularly writes about different challenges faced by the service providers in their automation journey and solutions to overcome them. He believes in the concept of frugal engineering (doing more with less). According to Lakshminarayanan, customer experience and employee experience are the two pillars that drive the success of digital transformations for telcos.
Lakshminarayanan Raju is a Director at Prodapt, a two-decade-old consulting & managed services provider, singularly focused on the Telecom, Entertainment and Technology companies that helps clients transform their IT, products, operations, and networks to meet their strategic objectives. Prodapt's business consultants enable DSPs on their transformation journey at several layers, including cloud, customer experience, business outcome-focused initiatives, CapEx, and OpEx optimization programs.
If you haven't already, please take our Reader Survey! Just 3 questions to help us better understand who is reading Telecom Ramblings so we can serve you better!
Categories:
Industry Viewpoint
·
SDN