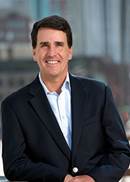 Cloud Communications has come a long way from the early VoIP days of the late 2000s.  It had already matured technologically prior to the pandemic, and stepped pretty easily into the spotlight a year and a half ago.  There has been plenty of consolidation in the sector, but there is plenty more to go and lots of dynamic players involved.  With us today to talk about today's cloud communications marketplace is Q Advisors Managing Director Andrew Gaffney.  Andrew has been with Q Advisors for 15 years, advising and aiding the companies and technologies in this sector on their path to growth and on the transactions they pursue along the way.
TR: Where does Q Advisors fit into the sector, and what role do you play there?
AG: Q Advisors is a boutique investment bank focused on the TMT sector globally. I'm located in our main office in Denver, and we also have offices in San Francisco, New York, and just opened our European office over in Munich about ten months ago. We have really built our business and reputation on a few subsectors within TMT such as cloud communications/UCaaS and managed services.  Those are really the industry areas where I spend most of my time, and over the years I have worked with a nice cross-section of businesses from growth stage to more mature companies, helping them with raising capital as well as ultimately exiting either to a strategic buyer or to a private equity partner. The cloud communications sector has been a very interesting place over the last few years.  There has been a lot of transformative deal activity and obviously everyone has been affected by some macro trends such as the pandemic.
TR: What is driving M&A transactions out there right now in UCaaS and cloud communications?
AG: A lot of the deal activity we're seeing in the market represents what I would call the continued maturation of the cloud communications sector. A number of businesses in the space have achieved the necessary scale and breadth of platform capabilities and are now looking to establish a full-service communications and collaboration suite across UCaaS, cloud contact center, meetings, and chat. Market leaders are looking to be that single source provider, and are leveraging M&A to establish a platform that can provide that fully integrated solution. The standalone, voice-centric businesses and technologies are no longer enough.
Another key trend that's driving transaction activity is the entrance of well-established private equity-backed platform companies over the last three to five years. These buyers have also enforced a discipline on the market that profits or at least a clear path to sustained probability actually matters.  A few years ago, it was still sort of a land-grab, growth-at-any-cost type of market.  There are a number of very active consolidators including BCM One, which is backed by Thompson Street Capital; Momentum Telecom, which is backed by Court Square; and Destiny over in Europe, which is backed by Apax Partners.
TR: What interesting transactions has Q Advisors been involved with lately? 
AG: We helped Destiny, which is a Belgian-based cloud communications provider, with their recapitalization with Apax early last year, right before the pandemic. They have announced two acquisitions this summer that we were involved in that, in our view, have  transformed the European cloud communications landscape. The first was the acquisition of Soluno in Sweden, which gave them a nice foothold in the Nordic region. The second was the acquisition of our client, Telepo, (a carve-out from Mitel) which gave them a proprietary UCaaS platform that they can now leverage across their entire business.
Another transaction I'd reference is Sangoma's acquisition of Florida-based Star2Star.  Sangoma is a publicly traded, Canadian-based provider that has stayed fairly under the radar, yet has been very acquisitive with some smaller deals. Star2Star was our client, and had developed a cloud-native proprietary UCaaS platform and scaled that business nicely to become one of the larger independent cloud communications players left in the market. It was really a transformative deal for Sangoma, delivering that one-stop-shop capability with the full spectrum of cloud solutions.
TR: How long has Q Advisors been focusing on cloud communications, and what drew you into that sector?
AG: We were involved in the first M&A transaction in the sector going back to the late 2000s. It was a Colorado-based company called NGT, which was bought by Comcast. As we spent more time getting smart on the space, we just saw a very highly fragmented market with no real clear leader that we viewed as ripe for consolidation. I think back at that time we were very fortunate to see the overall macro trends that were impacting the market.  The overall economics of business customers having the ability to move from that CapEx spend to a more monthly recurring expense model while receiving the latest technology was pretty compelling.  We thought it would lead to a rapidly growing market, which it has, although there were certainly some challenges that needed to be overcome.  On the European side, we saw opportunities probably starting around four to five years ago. The market over there was also very fragmented and probably a few years behind the U.S. in terms of both customer adoption as well as consolidation. We  went after that market pretty aggressively and began building relationships, and that has really paid off- to that point- we are celebrating our 20th anniversary this month!We have also been very fortunate to leverage some great industry partnerships, such as with the Cloud Communications Alliance and with the Cavell Group. 
TR: Are there many differences between the cloud communications markets in the US and Europe?  A decade ago, they were different regulatory worlds, has that faded into the past?
AG: I think a lot of those issues have been solved, and I would say the markets are fairly similar at this point. There was certainly some siloed activity in Europe because of things like language and other factors. But a lot of that's going away, and you're seeing more and more pan-European models like Destiny and Gamma.  The only difference I would point to is the slower adoption rates in Europe, from which it follows that M&A activity has just been a few years behind the North American market.  We are also starting to see a lot of across-the-pond interest, with both U.K. and European providers having an interest in the U.S. and vice versa.
TR: How has the pandemic affected the cloud communications marketplace?
AG: The obvious impact has been the mass adoption of video with platforms like Zoom and Teams. Video was something that everyone had been predicting for years would be a game changer for the cloud communications market. But quite frankly, it took the pandemic to really force end user adoption in a dramatic way. And now I think it's pretty much embedded in how businesses communicate going forward, even in this new normal or hybrid environment. But fundamentally, I think the past 18 months have really highlighted the strengths and benefits of cloud. For most of our clients, it's been a net positive. Certain providers may have struggled initially, particularly if they were selling into sectors that were particularly affected, like hospitality. It's definitely benefited certain platforms more than others, such as Zoom and Teams, which we think will continue to be the dominant platform providers.  Others in the space are going to need to have a strategy to combat the rise of those platforms. In the case of Teams, for example, you're seeing more and more UCaaS providers offering integration. Overall, the pandemic environment has significantly accelerated cloud adoption.  Prior to the pandemic, Forrester was projecting about a one-third market penetration for cloud contact center seats by 2023. Now that's projected to be over 50%.
TR: How has the technology itself held up under the strain of such growth?  Has it lived up to expectations?
AG: From my perspective, I would say the technology has held up extremely well. Microsoft recently announced that Teams is approaching 250 million daily active users, from well under 50 million pre-pandemic, and growth is similar on the Zoom side. There were certainly some growing pains. Zoom did have some pretty well-publicized challenges with security and privacy, but those seem to have been largely addressed. I would say the pandemic highlighted one of the key benefits of the technology by enabling that seamless transition to work from home last year. Certainly, there was some disruption in certain types of ad-hoc forms of office communication, but I think people adjusted very quickly to the collaboration and communication tools that were available.  I think overall workflow continuity was maintained, and I think that's going to continue in a hybrid environment.
TR: How much fragmentation is left for consolidators to work with?  Has the market clarified somewhat or is it still the Wild West?
AG: I wouldn't call it the Wild West. But I think there's still a lot of smaller players that have continued to survive. You have the key industry leaders like Zoom and Microsoft, and to a lesser extent, Cisco and RingCentral.  But then you've got a big middle tier of those private-equity-backed companies that have achieved a real scale and have the horsepower to really continue invest in growth.  That has made it tougher for the smaller guys.So there is still plenty of fragmentation, but the lower end of the market is having a tougher time growing, and I would expect that to continue.
TR: What other technologies or sectors do you think cloud communications providers might expand into as they fill out their full spectrum of solutions?
AG: For the network piece, SD-WAN is of interest, and I would say that in every conversation we have security comes up in some form. A lot of the players in the space are trying to figure out their strategy around that.  There's a lot of interest in adding a security or a managed security capability to cloud communications offerings.
TR: What next generation technologies do you see the cloud communications sector putting resources into going forward?
AG: We are starting to see some deal activity around the importance of artificial intelligence and analytics. In particular, on the contact center side, we are seeing a lot of investment and growth into topics like conversational AI or intelligent virtual agents.  These are AI-powered technology that can greet visitors to your website, collect some background information and try to resolve an issue without engaging a live agent. It can allow for a much richer customer self-service experience. And at the same time, you're collecting a lot of data that can be used across the various channels of the business. We're seeing a lot of focus on taking that data that's being collected and deriving insights on customer behavior. We think when it's done right and used correctly, it's certainly a key element in that customer engagement piece.
TR:  Thank you for talking with Telecom Ramblings!
If you haven't already, please take our Reader Survey! Just 3 questions to help us better understand who is reading Telecom Ramblings so we can serve you better!
Categories:
Industry Spotlight
·
Mergers and Acquisitions
·
Unified Communications