This Industry Viewpoint was authored by Michele Szabocsik, VP of Marketing, BlueConic
Traditional telecommunications companies are at a critical crossroads. While coverage and speed are improving with investments in 5G, the rise of new mobile tech, messaging apps, and over-the-top services offered by nimbler digitally native companies have eroded legacy revenue streams and diminished subscriber growth. At the same time, the industry is struggling to meet rising customer expectations for personalized, valuable, and connected experiences across all channels and touchpoints. 
As if this wasn't enough, decisions by Google Chrome, Apple Safari, and the other major browsers to eliminate or severely inhibit the use of third-party cookies means telecom companies will effectively lose the third-party data they've used to power their audience targeting, personalization, and digital marketing measurement strategies for decades.
To navigate these challenges, telecom companies must embrace strategic initiatives that transform how their business understands and interacts with customers. This transformation should be grounded in making the single customer view accessible to marketing, customer experience, and other growth-oriented teams to power customer acquisition, engagement, and retention efforts.
So, how can telecommunications companies build this single customer view and use it to drive growth?
Dialing up first-party data
With the impending demise of the third-party cookie, collecting and using first-party data that consumers have consented to has become a prerequisite for creating personalized experiences at scale. Fortunately, telecom companies have an advantage over other sectors due to the sheer breadth and depth of first-party data they collect in the normal course of business.
The problem is this data lives in internal databases, CRM systems, marketing & advertising platforms, and other siloed systems that each have their own unique way of storing data and recognizing customers. As a consequence, departments across the organization are left to make critical decisions based on a partial view of the customer, creating disjointed and unsatisfactory experiences that lead to high levels of churn.
Unifying these vast stores of first-party data and making it accessible to cross-functional teams at the speed they need means telecom companies must modernize their tech stacks for activation. This modernization is leading to widespread adoption of technologies, like a customer data platform (CDP), that not only create an actionable single customer view, but also give that unified profile data back to growth-focused teams and their tools in a format they can use to orchestrate individualized experiences across all customer touchpoints in ways that weren't possible before.
Cancelling the churn cycle
According to STL partners, churn rates for telecom companies are as high as 5% per month. Stuck in an endless cycle of trying to replace lost customers with new ones, many resort to running aggressive, short-term customer acquisition campaigns offering discounts, free access to premium channels, and more – only to lose customers once the promotion ends.
With access to a single customer view, telecom companies can move away from this campaign-centric approach to a customer-centric approach that prioritizes true, end-to-end customer lifecycle marketing.
Lifecycle marketing is the use of data and insights to identify priority customer segments, and then execute cross-functional programs to move those customers through their journeys — from acquisition and upsell to cross-sell and retention.
For example, marketing teams can design innovative, cross-channel lifecycle programs that precisely target prospective customers on Google and Facebook with relevant ads and offers based on their interests and browsing behavior while suppressing existing customers; upsell and cross-sell existing customers across website, mobile app, and email based on their history; and provide at-risk customers with offers that are as good as or better than what they currently have to reduce churn.
Democratising analytics and data science
To help drive growth, many telecommunications companies have started exploring next-best-action (NBA) models to deliver the most relevant offer or service to customers at key moments in their journey. But these models can be complex and time-consuming to build for data science and business intelligence (BI) teams hindered by fragmented customer data sources and systems. Moreover, the output of these models may be days or weeks old by the time it's sent to marketing, CX, and digital product teams for use – effectively neutralizing efforts by these teams to deliver bespoke experiences across all touchpoints.
By embracing solutions that make it easy for non-technical parts of the business to apply out-of-the-box predictive models to their first-party data set specifically created for acquisition, churn, and reactivation, telecom companies can eliminate cross-functional barriers that prevent their growth-focused teams from obtaining meaningful customer insights and quickly acting on those insights to boost revenue, increase sales performance, and improve customer lifetime value.
Creating digital experiences that foster loyalty
As telecom companies have become more digitally mature, there's been a gradual shift in thinking from how they can use digital to sell more products and services, to how they can use technology to reimagine the way they create value for customers and drive revenue growth.
For example, many telecom companies have introduced full-service smartphone apps that not only guide customers to the best product, pricing, or bundle given their needs and behaviors, but also offer one-click service subscription and instant connectivity. Others are offering mobile and online billing and self-service solutions to remove obstacles to payment and help customers and businesses quickly resolve their issues. These efforts create a mutually beneficial experience for the customer and business by improving customer service and satisfaction while reducing customer care costs.
These digital products and experiences enhance telecom companies' ability to collect first-party data straight from their subscribers and app users, and utilize that consented data to deliver even greater value to customers and prospects.
Turning first-party data into a strategic business asset is the future of telecommunications. By rethinking legacy processes and embracing modern technology, telecom companies can build out the elusive single customer view from consented first-party data, and use that data to improve operational efficiency, power their growth initiatives, and deliver personalized experiences that no competitor can replicate.
About the Author: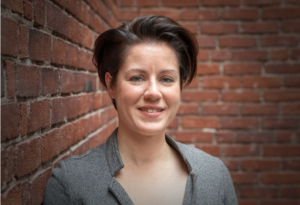 Michele has over fifteen years of experience within the digital marketing and advertising ecosystem. Prior to joining BlueConic as the global head of marketing and business development, she led product marketing at multi-touch attribution leader, Visual IQ, which was acquired by Nielsen in 2017. Michele also spent more than eight years in digital media and analytics roles serving Fortune 500 brands in financial services, retail, and telecom during her tenure at media agencies, Carat and Havas. Despite her love of living in the greater Boston area, Michele is a proud, born-and-raised Jersey girl. She earned her bachelor's degree in communication from Boston University with a liberal arts concentration in philosophy. When she's not philosophizing about first-party data at BlueConic, you can find her hiking the trails, playing with her Mini Australian Shepherd, and trying new recipes.
If you haven't already, please take our Reader Survey! Just 3 questions to help us better understand who is reading Telecom Ramblings so we can serve you better!
Categories:
Big Data