This Industry Viewpoint was authored by Jay Cadman, Senior Vice President, Enterprise of IQGeo
Following the Federal Communications Commission's (FCC) recent launch of a '5G Fast Plan' which aims to accelerate nationwide coverage, it is clear that the industry faces a significant challenge if it is to achieve this goal. As part of the plan, in October 2020 the Commission established the 5G Fund for Rural America, which aims to make up to $9 billion in Universal Service Fund support available to carriers to deploy advanced 5G mobile wireless services. Despite this admirable ambition, US 5G coverage continues to lag behind competing countries, with patchy and unpredictable coverage reported at a widespread level.
It's estimated that 5G will enable a whopping $13.2 trillion in global economic value by 2035. The nascent technology will be integral to services including industrial automation, disaster response, smart grids, and streaming services. However, this huge potential also poses the threat of a widening gap between early and late adopters. The creator of the web himself, Sir Tim Berners-Lee, has warned of the risk of a resulting digital divide, calling for governments globally to increase investment in universal broadband by 2030.
It is therefore crucial that the telecoms industry ensures comprehensive coverage quickly and efficiently. After all, with the post-COVID economy poised to enhance our dependence on technology through remote working will come a greater need for in-building connectivity. If we are to work towards regional economic equality and an expansion of the telecoms market, ensuring equality of coverage will be key.
Leaving legacy systems behind
The first step in telecoms operators achieving the necessary density and range to effectively reach target populations is a large-scale re-evaluation of networks. Achieving full coverage will require carefully thought out and strategic placement of antennae across rooftops, parks, and commercial buildings as well as building out the necessary fiber backhaul infrastructure. This might sound straightforward at first, but signal interference and the importance of maximizing reach while keeping down costs is a major logistical challenge.
The geospatial systems many operators use to map telecoms networks today are already struggling to keep up with ongoing fiber deployments, let alone managing the scale of change required to deliver ambitious 5G targets. All too often, network operators represent complex network assets such as 5G antennae and fiber backhaul in a non-interactive, out-of-date 2D format. Not only are these network maps often inaccurate, but they are typically maintained by a handful of GIS specialists, leading to as-built update backlogs for weeks or even months. From recent conversations, we learned that one large operator had to contend with a backlog of around 50,000 jobs, and another claimed that as many as 50% of its as-builts were incorrect.
The location data blind spot
This means that many operators do not have a clear understanding of the location of present and planned networks in relation to factors such as population density and signal quality. Alongside rapid expansion and updates to telecoms grids, this 'data gap' between network realities and a system of record will only widen, exacerbating an already concerning disconnect between field and office data.
In order to plan for and optimally position new assets, operators will need to carry out a thorough analysis of existing assets in relation to potential consumer and business customers. Without detailed and accurate data, nearby hazards including signal interference and street furniture cannot be factored into risk and economic calculations. What's more, predictive maintenance, disaster resilience, and smarter customer service are significantly hampered without the ability to integrate and analyze accurate data.
Case study: Smarter network planning
Pioneering operators such as TELUS are now augmenting siloed office-centric network GIS with a decentralized geospatial network view that draws on data from any sensors, information feeds, applications, and employee devices in the field. Over time, field-sourcing geospatial network data in this way enables companies to significantly reduce the number of updates that require a GIS specialist, boosting accessibility across field and operational teams and streamlining planning, construction, and repairs. This allows GIS data to be quickly scaled up to match 5G network growth ambitions. Technologically progressive telecoms operators are phasing out paper maps and excel spreadsheets in favor of a "system of action" that can run online or offline on any device, so it is always available. Rather than being splintered into siloed applications, data can be integrated from across the enterprise to create a holistic overview of dispersed network assets that is actionable across the enterprise. This means network changes can be clearly visualized, enabling 5G assets to be strategically placed to achieve the optimal range in every location.
A data-driven approach to maximizing ROI
This digital geospatial strategy fosters a network-driven approach to modeling future needs, maximizing ROI while minimizing the cost and risk of new infrastructure investment. For example, a company could incorporate internal geospatial data and local tax data to find the lowest cost locations for new antennae while maximizing local revenue potential. Planned telecoms infrastructure can be accurately mapped in line with data on neighboring hazards, and even merged with local ecological or meteorological data to model the impact of tree foliage or rain on the signal strength in each location.
Employees can use smartphone apps to quickly update network maps with new information including damage from extreme weather events such as Winter Storm Uri in Texas. In future, these systems of action begin to create 'predictive' telecoms grids that can proactively anticipate repairs, upgrades, or even predict the need for new infrastructure years ahead of time.
This distributed geospatial strategy markedly accelerates the delivery of more consistent and comprehensive 5G coverage by streamlining network planning. Ultimately, we will see current network GIS replaced by multi-layered 'digital twins' merging everything from local ecological to economic features to help visualize and maximize the target market for the costly 5G network. Linking regional networks on a national level could also help to drive holistic planning of future networks, ensuring complementary coexistence with neighboring infrastructure. The true key to nationwide 5G lies in having modern geospatial technology that can visualize the web of interdependencies between networks, people, and infrastructure.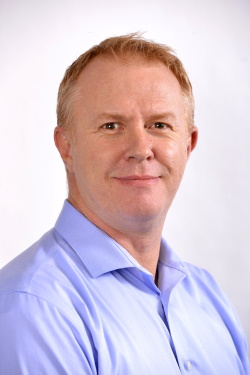 Jay Cadman, SVP, Enterprise
Jay has over 25 years' experience in successfully building B2B technology sales and marketing organizations. He has worked in large multi-nationals, as well as start-ups in North America, Europe and Asia including GE, Smallworld and Ubisense. Jay has successfully led entry and expansion in telecommunications, utilities, manufacturing, aerospace and military markets internationally and specializes in building high performance highly motivated teams.
If you haven't already, please take our Reader Survey! Just 3 questions to help us better understand who is reading Telecom Ramblings so we can serve you better!
Categories:
Industry Viewpoint
·
Wireless