After a slow start to the spring, there has been a significant fiber deal on the east coast of the USA. Cox Communications has agreed to buy Segra's Commercial Services Business from the EQT Infrastructure III fund, according to a release from EQT today.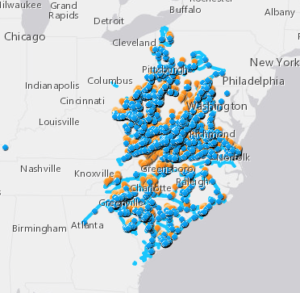 Segra was formed through the merger of Lumos Networks and and Spirit Communications, and also itself purchased NorthState. The division in question operates a 26,000-route-mile network spanning much of the Virginia's and the Carolinas as well as parts of Maryland and Pennsylvania and reaching into neighboring markets like Ohio, New York, Tennesee, and Georgia.  
That business will fit well with Cox Business's efforts, as well as their ownership stake in UPN out in the Midwest and Southwest and other investments. However, it remains to be seen just what plans Cox Business has for Segra's assets and business, i.e. do they keep it as a separate but complementary operating subsidiary or is there some sort of deeper integration in the works?
Meanwhile, EQT will retain the residential and SMB businesses of Segra, which operate under both the Lumos and NorthState brands. EQT has invested in that business, but I suspect they will probably look to resell it as well if they can find a buyer.
Financial terms of the deal were not disclosed.  Segra had been fairly quiet lately, and they have long seemed like a likely M&A target.  However, as I have speculated I thought it might materialize via the consolidation with one of the other regional fiber operators owned by infrastructure funds.  Cox wasn't on my radar, but they are always lurking just off of it.  Cox has been quite strategic in its infrastructure moves, and not in a hurry to tip its hand.
If you haven't already, please take our Reader Survey! Just 3 questions to help us better understand who is reading Telecom Ramblings so we can serve you better!
Categories:
Uncategorized