This Industry Viewpoint was authored by Todd Cushing, President, 1623 Farnam
Nebraska is the third-ranked corn producer in the United States and Omaha, its largest city, is 160 miles from the geographic center of the United States. The city is most famously known to be the cradle of a large insurance company and the home to a $250 billion multinational conglomerate holding company that sports its own oracle.  Basic elementary school facts.
What isn't widely known is that Omaha is also a massive interconnection point for cloud, service, content providers and carriers.  It's located close to Google's largest North American cloud node and is in close proximity to a Facebook hyperscale facility.  It's also home to incubators, start-ups and accelerators and data centers that carry national import.
Bet the Farm
Recently, at Nebraska's Governor Rickett's State of the State address, he shared his vision for more than $20 million investment in internet infrastructure and pointed out how the pandemic revealed more clearly the challenges of being on the "wrong side" of the digital divide.  To get to the right side, initiatives are being undertaken at myriad levels.
Much of the discourse happening in state capitals and in Washington has centered on increasing rural broadband access as a means to address the growing digital divide.  While improving access is a critical first step in addressing equity concerns, if the conversation starts and stops there, it will be a missed opportunity to reflect more broadly on the catalyzing role connectivity can play in transforming traditional industries that have dominated the rural state, like smart farming.
Smart farming is an emerging concept that refers to managing farms using modern information and communications technologies to increase the quantity and quality of products while optimizing the human labor required. Armed with these kinds of tools, farmers can monitor field conditions without even going to the field and make strategic decisions for the whole farm or single plant.  And the Internet of Things (IoT) has provided not only a way to better measure and control growth factors, like irrigation and fertilizer, on a farm, it will change the ebb and flow of agriculture and agribusiness dynamically.
Nationwide Interconnectivity
The driving force behind smart farming is IoT — connecting smart machines and sensors to make farming processes data-driven and data-enabled.  Smart farming in Nebraska also relies on local businesses getting to the edge. 
But connectivity companies in the transformed middle America see beyond the "smart farm" from cornfields that are also at the nexus of connectivity on a nationwide basis.
A connectivity presence in the middle of the country allows larger networks to work with a strengthened network diversity as content companies, internet service providers, communications companies, and government and educational facilities peer with one another.  This ultimately lowers costs, improves network latency and can ultimately improve security for those networks.
And route diversity, in network parlance, is now being spoken of in terms of three to five paths, versus just having one as a back up. This bodes well for service providers – whether they are cloud focused or streaming content. Providers must be able to deploy route diversity, but also architect diversity within their points of presence and peering points.
Enter edge data center providers are also located at this nexus of east – west U.S. telecom routes.  It is interconnection points such as this, that will become increasingly important for not only those in the telecom/tech space but also enterprises.
Among the advantages of interconnection from a middle-America vantage: lowering the cost of transporting traffic across third-party connections (less bandwidth needed); creating a central peering point to share your traffic routes and avoid delays of sending traffic to routes outside of the desired location; transporting traffic for one low cost and stable connection avoiding the tiered approach of upstream ISP providers. 
The net result: Companies that provide interconnection points in the middle of the country can walk and chew gum at the same time. They provide edge connectivity, important for local industry and for "the last mile" — and national connectivity via points of presence in the network landscape that demands it.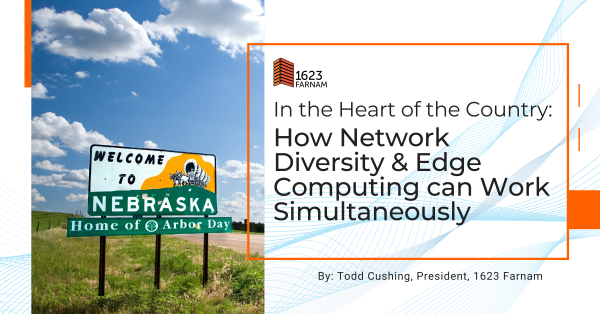 If you haven't already, please take our Reader Survey! Just 3 questions to help us better understand who is reading Telecom Ramblings so we can serve you better!
Categories:
Datacenter
·
Industry Viewpoint