This Industry Viewpoint was authored by David W Wang
To date, SD-WAN has come up with some great values and offers to the enterprise market. Cost savings for branches, application-aware routing, embedded security or SASE, optimized cloud connectivity, provisioning agility, and enhanced application and performance visibility, just to name a few.
SD-WAN was originally designed just as some cheaper alternative of MPLS services, and now it has expanded into a full portfolio and robust platform of next-gen WAN solution. The journey is surely impressive and continuing forward.
In 2021, we expect SD-WAN to develop into three new arenas: take over the connectivity market of work from home (WFH); keep rolling on Edge Computing and bring on board more IoT opportunities; forge enhanced solutions for the enterprises over the newly launched 5G.
The WFH Version of SD-WAN
The global Remote Connectivity Solution market is forecast to reach USD 71.85 Billion by 2027, according to a new report by Reports and Data in May 2020.
The Covid-19 pandemic took many companies, CTOs, CISOs, and their IT departments by surprise in 2020 when the majority of workforce suddenly had to work from home. For most enterprises, their network architecture, capacity and security were mostly designed and prepared only for a small number of remote workers on management approval basis, and those folks on business trips and roads.
But now WFH is becoming a new norm for many organizations and therefore they need a robust permanent network solution where SD-WAN will shine, or say a WFH version of SD-WAN will shine. The legacy IPsec based VPN that many firms have been using for WFH have a few obvious constraints in comparison with SD-WAN.
First, most legacy VPN servers are deployed on premise and can hardly scale when large group of employees need to work remotely on a daily basis. In contrast, since SD-WAN is cloud based and software centrally orchestrated, it can scale with flexibility and fast on demand.
For some verticals like Healthcare, Finance and Government agencies, the routine IPsec level security for VPN is far from enough, while SD-WAN can offer on-premise level security, zero-trust access control, cloud access local breakout with secured access, and performance SLAs.
Legacy VPN is a lineal solution with no backup while SD-WAN allows employees at home to use public Internet and mobile data services for dual network access and redundancy. Plus, with nearly the whole company working remotely, network, security and utilization management can hardly keep up with the challenges. SD-WAN can offer incredible network and performance visibilities and holistic management via a single pane of glass.
We need a WFH version of SD-WAN in terms of zero touch provisioning, self-trouble shooting, and mini appliances on site or virtual agent to the user's devices. The WFH version SD-WAN should be a simplified version of the regular branch offer, and really be user friendly and also cost effective to the enterprises.  
Cashing in on Edge Computing Powered IoT
The global edge computing market size is anticipated to reach USD 43.4 billion by 2027, according to a new report by Grand View Research, Inc. published in March 2020. The Internet of Things (IoT) and edge computing are closely related because the latter addresses IoT data processing and response challenges such as network congestion and latency.
IoT makes a great market for combined SD-WAN and Edge Computing solutions. SD-WAN can reach remote devices either on top of wireline or wireless network, together with enhanced security capabilities. When IoT needs fast and near site data processing and response, Edge Computing comes to the play and the so called "cloud hyperscalers" who own data center and cloud globally can make a good partner for such solutions.
The latest news is Google Cloud has partnered with some major telcos such as Telus, Orange, AT&T, Telefonica, etc., to deliver multi access edge computing (MEC). In similar moves, other "cloud hyperscalers" like AWS, Azure, Oracle, IBM are also forging partnership with telecom service provider and MSPs with hope to grab a decent share of the edge computing pie.
From the SD-WAN and telco's angle, while it is nice to partner with those hyperscalers, the ownership of customer and account sometimes may become a hassle to cope with.  One strategy for the telcos is to deepen their leverage and play a pivotal role in the IoT full stack and architecture made of sensors, network, data processing, and apps.
While data processing relies more on the hyperscalers' local cloud and data centers, telcos can think to use SD-WAN to align better with sensor authorization and registration, application-aware routing and performance management. In this way, the end users would want to stay more on the telco's side for account and customer services.
SD -WAN Enhancement via 5G Network Slicing
The Global 5G Enterprise Market is expected to grow from USD 2.18 Billion in 2019 to USD 19.5 Billion by the end of 2025 at a Compound Annual Growth Rate (CAGR) of 44.04%. according to a report by Reportlinker in September 2020.
Network slicing is the killer offer of 5G, which can allocate or map segmented traffic to a dedicated 5G network instance on the WAN link. This would allow enterprise customers to subscribe to different slicing services at the sites, based on the local end-user application and QoS requirements.
2021 will be the year of 5G availability to many enterprise customers. When 5G is synergized with SD-WAN, we can expect the enterprise network performance lifted to the next level: enhancing SD-WAN performance, further squeezing out MPLS, posing a better alternative to public Internet access.
Network slicing itself already adds application awareness and QoS control in the segmented channel, and now with SD-WAN operating on top and also optimizing the routing, security and performance, the end result is elevated and enhanced WAN services for the enterprise.
Will be no surprise that with the 5G services becoming available to more enterprise sites together with SD-WAN, the performance, bandwidth, throughput, and management of the new network will all drive the legacy MPLS services more out of the picture.
If we use 4G LTE still more as a supplement to the landline site access, now 5G can be the mainstream player. Where 5G becomes available providing it's cost competitive, what does an enterprise still need MPLS for? Even ISP diverse type of dual public internet access deployment for SD-WAN becomes unnecessary, 5G simply makes a better diversity and redundancy of underlay access for SD-WAN.
In a nutshell, 2021 is expected to be the year when the next-gen SD-WAN or SASE powered by Edge Computing and 5G will overwhelmingly take the reins and see mass adoption.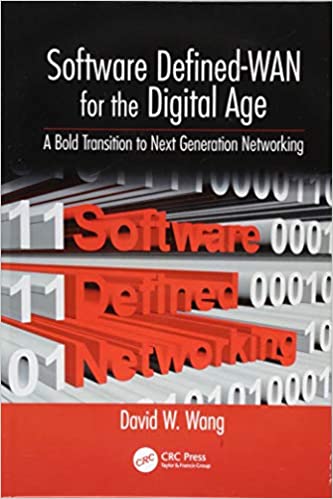 David W Wang is a next-gen network/cloud business marketing principal and consultant with ITCom Global, LLC. Mr. Wang is also the author of the Nov 2018 publishing "Software Defined-WAN for the Digital Age" , and the Mar 2015 publishing "Cash In On Cloud Computing". He is based in Washington DC metro and can be contacted at ITComG18@gmail.com
If you haven't already, please take our Reader Survey! Just 3 questions to help us better understand who is reading Telecom Ramblings so we can serve you better!
Categories:
Industry Viewpoint
·
SDN