Last week we took the M&A temperature of the US network marketplace, and while you can still vote we do have some preliminary results. And I do largely agree with them this year.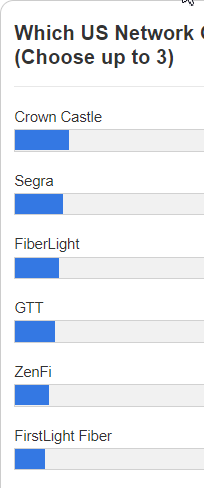 The first question concerned the likely consolidation targets in the US networking marketplace, and there was no runaway winner. Interestingly, Crown Castle led the pack, suggesting I'm not the only one that thinks their foray into fiber might see some sort of change in direction. Segra, which has been relatively quiet in the hands of EQT the last year or two, interestingly took the second slot. I agree that Segra seem like the likeliest of the larger regional operators to find a new owner, whereas FirstLight, Everstream, and Bluebird seem more likely to stay on the buy side. Perennial favorite FiberLight is in third, which makes as much sense as it always does before it doesn't happen.
The next third include GTT which certainly could find another piece to sell off if not more, ZenFi, which I think is certainly an asset many would like but whose current owners still probably have sticky hands, and FirstLight, which as I mentioned seems to me to be more likely to buy at the moment.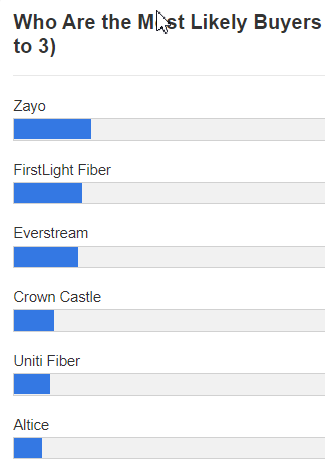 The buyer side of things was more definitive, with three clear leaders. Zayo topped the list, suggesting many expect them to return to rolling up fiber assets in 2021 even after taking a couple years off and even selling zColo in 2020. FirstLight and Everstream were close on their heels, and I agree that both are looking aggressive right now.
After the top three things are a bit less clear. But Crown Castle, which leads the consolidation targets poll, is #4 on the buyer side. That indicates that a lot of folks at least agree that the status quo is likely to evolve at Crown in 2021 in some form. Uniti Fiber is #5, and I think this probably is looking at the triple net lease side of their business given that they seem less interested in buying new operating businesses at the moment. Altice, which has been trying to make things happen in Canada in 202 with no success, holds the #6 slot. I don't have a good sense of their plans at the moment.
Now, whether any of these buyers or sellers actually follows through is another matter.  I suspect things may heat up again after the pandemic (hopefully) wanes in a quarter or two and people have a chance to fly on planes and meet up and talk deals over beers and such in person.  Remember when we used to do that?
If you haven't already, please take our Reader Survey! Just 3 questions to help us better understand who is reading Telecom Ramblings so we can serve you better!
Categories:
CLEC
·
Fiber Networks
·
Internet Backbones
·
Mergers and Acquisitions