This Industry Viewpoint was authored by Munendra S. and Mogan A.B. of Prodapt Solutions
As the telecommunications industry embraces various technologies to enhance their Order-to-Billing (O2B) process, they continue to see a lag in the conventional method. A Digital Service Provider (DSP) who gets this process done right will experience two key benefits- increased cash flow and enhanced customer satisfaction. The major drawbacks in a traditional O2B process include elongated cycle time and inefficacy in field operations. As per the current state of DSPs, a new service request in the wireline business takes an average of 72 to 152 hours per order to complete the O2B process. The analysis shows that the field operations consume over 33% of the overall cycle time. Based on the engagements with various DSPs, the common challenges in field operations are listed below.
High manual touchpoints – Human dependency at various stages of field operations such as data collection, scheduling, and status tracking of the work orders from different sources consumes more time and leads to manual errors.
Improper planning and scheduling – Inadequate information during the planning stage and inappropriate scheduling of appointments due to a lack of real-time information on customer availability reduce operational efficiency.
Lack of real-time communication – Less visibility on the job order readiness, and lack of proactive notifications about work order status to the customers, leads to poor customer experience.
Unavailability of standard integrations with legacy systems – Lack of standard integrations with the legacy CRM, billing, and field force management systems makes the extraction of information tougher.
DSPs must take a holistic approach to tackle these core challenges that are crippling them from managing the day-to-day operations effectively. One relatively simple way by which DSPs can benefit from field service automation is by implementing Robotic Process Automation (RPA). This includes an intelligent and automatic collection of service information from different sources, tracking incomplete orders, rescheduling appointment times based on the customer request, and constantly updating the systems with new information about the changes and technician assignments. This article further elaborates on how DSPs can build and implement an RPA-based intelligent framework to mitigate the challenges in field operations and reduce the Mean Time to Install (MTTI) in the O2B journey by 59%.
Transforming Field Operations Using an Intelligent RPA Framework
The RPA-based intelligent framework acts as a central platform to orchestrate the work orders and provide seamless interaction between dispatchers, customers, field supervisors, and technicians. A web-based centralized service engine can be built to easily integrate with the legacy systems and access can be provided to multiple users based on the business requirement. The following are the key elements to consider for building an RPA-based intelligent framework.
Collation of work order information using extraction bot
Automation of workflows using custom-built RPA bot
Proactive communication and live updates to the customers using RPA bot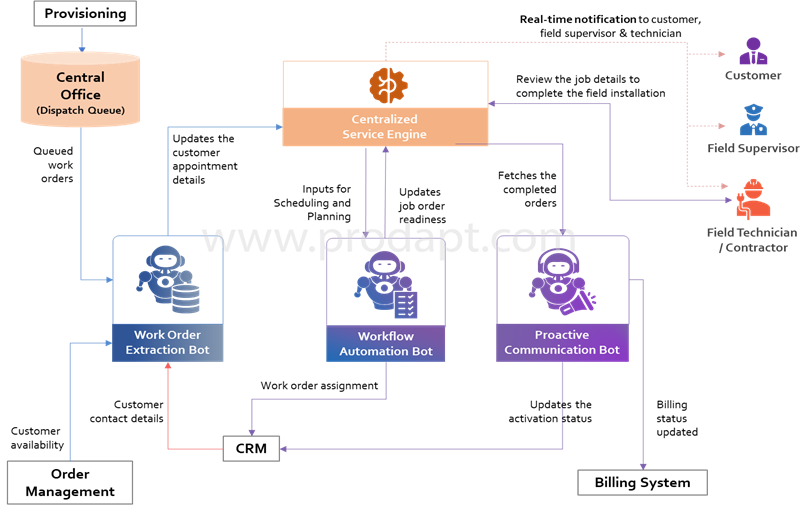 Figure 1: Enhanced field operations using RPA-based intelligent framework
Collation of work order information
The service order information can be extracted from various source systems without any data loss using the custom-built extraction bot. This information can be stored and enriched in a central database with the help of the work order aggregation bot. It helps in achieving an efficient way of work order management and monitoring the real-time status change in the work orders.
Automation of workflows
Intelligent planning, scheduling, and performance tracking of the work orders can be achieved using a workflow automation bot. It assists in performance tracking of the technicians, tracking incomplete orders, and overall orchestration. Automated workflow helps in achieving the predefined SLAs & KPI targets and improves operational efficiency.
"RPA bots can automate up to 90% of the field operations workflow if implemented right. It also helps in reducing human errors and improves efficiency in field operations"
Proactive communication and live updates to the customers
Before the visit, the field technicians must have the relevant work order data, which can provide them a better idea of the customer's ask. The real-time communication bot assists in providing proactive updates about the work order to the technicians. The customers are notified with live status updates before and after the field visit. Simplified and enhanced customer engagement through various channels results in improved customer satisfaction.
In Conclusion
To thrive in today's challenging environment, Digital Service Providers need to ensure optimization of field operations and exceed customer expectations. Automation of field operations is critical in enhancing customer service and optimizing cost. Robotic Process Automation brings a myriad of benefits and it enables the DSPs in automating field operations. By leveraging the RPA-based intelligent framework discussed in this article, DSPs can automate their field operations, achieve significant OPEX savings, and reduce MTTI by 59%.
Contributing Authors:
Munendra S. – Project Manager & Automation SME, Prodapt Solutions
Mogan A.B. – Manager – Strategic Insights, Prodapt Solutions
If you haven't already, please take our Reader Survey! Just 3 questions to help us better understand who is reading Telecom Ramblings so we can serve you better!
Categories:
Industry Viewpoint
·
SDN
·
Software