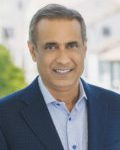 The proliferation of big data has long been seen as a future source of value, but figuring out how to distill that value while navigating the minefield of privacy continues to be a difficult problem.  With the arrival of the COVID-19 pandemic, it's also a more immediate one with technical, political, and personal implications.  The Californian CCPA legislation has further shaken things up as well. With us today to talk about privacy in today's big data landscape is Infoworks CEO Buno Pati.
TR: What is your background, and how did Infoworks come to be?
BP: I've been building and running companies in Silicon Valley for the last 25 years. Prior to that, I was a professor at Harvard. More recently, I started Nexus Venture Partners, which is currently the largest India-facing early stage fund, and I'm at present a partner at Centerview Capital alongside Dave Dorman, former CEO at AT&T, and Ned Hooper, former chief strategy officer at Cisco. Infoworks actually started as a portfolio company of ours.  It was founded by a guy named Amar Arsikere, who built the first big data systems for Google.  He then recognized that this sort of data platform would be valuable for the rest of the world, and started a company with that premise. We invested in it, and then about a year and a half ago we realized it was just a phenomenal opportunity and decided to join the company and help build and run it.
TR: Tell us about Infoworks.  What problem do you solve and how do you do it?
BP:  We have a product called the DataFoundry which is an enterprise data operation and orchestration platform that enables large companies to gather data from throughout the enterprise, consolidate it, create golden records of operations of a customer, manage that data in one place, and then rapidly launch analytics off of that platform. We tend to have very big customers, like CVS Health, Mastercard ,  Cisco, and so forth who have often grown through a variety of acquisitions and proliferation of business units where data is scattered all over the place.  The simple question of "Who is your best customer?" may be very challenging for them to answer without creating sort of a unified 360 view of that customer.
The first thing on our customers' minds is consolidation of customer information, which is often scattered in silos across these companies.  A customer could touch your business at 100 different points. There are many applications for bringing that together into a unified single golden record. It helps you market better. It helps you create a better experience for the customer.  And it helps to manage privacy.  When you think about the privacy laws that are out there, the fundamental precepts are that you'd be able to respond to the request "What data do you have?" Then you'd be able to act on a request to either stop selling it or deleting it and so forth. If you don't already have your arms around that data, it becomes a very difficult, onerous, and very manual task.  So we help them by automating the process of crawling all of their enterprise data sources, finding that data, bringing it in, cataloging it, and creating these golden records and the 360 view of the customer so they can answer that question.
TR: In what ways is the new CCPA legislation forcing the industry to change that GDPR hadn't already?
BP: GDPR was obviously first out of the gate, but it didn't have all of the levels of immediacy that CCPA has brought to the table.  Whether it's for information, deletion of data, or stopping of selling or using that data, CCPA not only brought that into a much more immediate action, it also broadened the definition of what personal data is. If companies were struggling with GDPR compliance, because the penalties are quite severe, now they have CCPA and a host of others modeled on it coming up behind it. They are simply in no position to be in real compliance.
TR: In what ways does the CCPA broaden the definition of personal data?
BP: I'll give you a couple of examples. CCPA considers any data as personal if it can be traced to not only an individual but also a household. The question of IP address therefore comes into play because IP addresses can indeed be traced to a household.  Between February and early June when the California AG submitted the final version of CCPA, they went back and forth on IP addresses. It was initially in there. Then it was taken out. And then it was reintroduced in the final submission. So that broadening of what is personal information has some major implications on what people need to track and be able to report out.  If you can track it to a household, then by inference, you can actually track it to who's in the household.  That sounds like a subtle difference, but it has major implications.
TR: In a recent interview here, DataBank's Mark Houpt talked about efforts at the federal level to unify other state efforts like the CCPA, consolidating them into a coherent national regulatory platform.  Do you think something like that will happen?
BP: I think it actually has to happen. It has to consolidate. We can't create a situation where it is just too onerous to do business. Having 50 versions of privacy laws to comply with in the United States alone would be absolutely unmanageable. California does tend to lead these types of things, and therefore was first out of the gate in this country. But other states are following, and there are efforts at the federal level to consolidate them into a single grouping of privacy laws that I believe will be largely modeled around California's.
TR: How has the COVID-19 pandemic shifted this environment?
BP: COVID-19 has created a surge in online activity for individuals and for households.  We're all at work online, our kids are in school online, we're shopping more online, etc. As a result, there is sense of heightened need for privacy that I think will lead to an acceleration of regulatory efforts at the state level.  I would hesitate to predict how long it will take for that to be deemed unmanageable and for the federal government to kick in with one unified national set of requirements and for states to accept that.
TR: Have the needs of our enterprise customers changed in the initial wake of the COVID-19 pandemic? 
BP: They have accelerated their plans.  All companies have been in some form of digital transformation, such as migration to the cloud. What COVID-19 has done is accelerated all those trends: the need to leverage data, the need to be more digital, the need to get away from on-premise data centers and move to the cloud. Data is really essential part of that. And so we're seeing acceleration on that front.
TR: Are new opportunities starting to emerge from all this?
BP: We are seeing two new things starting to come up, though we haven't directly interacted with them yet.  First, is all the work that's being done on contact tracing.  The apps people like Google and Apple are developing do indeed have privacy implications. It's important that such applications still respect the basic precepts of things like CCPA and GDPR, which means is you have to manage that data well and you have to get adequate permissions. I think most people will, just being socially responsible, but it shouldn't strip them of their rights.  The other one is some of the nightmarish misrporting that has been coming out on the data front, whether it's agencies like the CDC or entities like the New York Times or Johns Hopkins or Google.  There are massive discrepancies in the data. We don't have a single source of truth. In fact, it looks like what an enterprise looks like but at a large scale where data is scattered all over the place, and as a result you're going to make bad decisions and have bad outcomes.  That data has to be homogenized and managed in a way that at least we understand.  How is it collected? How is it defined? What are the rules? And ultimately, where is the data, right? If you don't do that, all your decisions are going to be misinformed. The importance of consolidating and managing data well has become dramatically higher than we might've thought it was just a few months ago.
TR: What's the biggest challenge ahead for us as an industry when it comes to managing data and privacy?
BP: The single, biggest challenge is automating a lot of these processes. From a corporate perspective, automation is about decision-making. You need to know what's happening in a timely fashion and be able to make decisions or take action. From a privacy perspective, it's exactly the same thing.  You're being held accountable as a company for data you gather and how you use it, and you're being asked to respond.  And that operational agility is really what is going to be needed as time goes on. We're going to see more and more personal data being gathered by companies and used by companies in various ways, and therefore, it raises the bar on accountability.
One new thing that I really liked when I saw recently is the fact that the CCPA has started to incorporate the concept of the value of personal data. If you're a service provider and you are offering different tiers of service or perhaps different pricing based on whether a customer opts-in or opts-out of your data policy, then you have to also provide that consumer with a view on the value of their personal data and justify the different in price. Their data is now worth something and has been quantified and associated with real dollars. Where does that lead? Whether I allow a company to use it or not use it, I can take a look at the value of the services or what I feel is the value of the services that they would offer me if I were to give them my data. There is an economic element of this that will be inserted over time and perhaps businesses and consumers can even both take advantage of it. It's a long way off, but I do believe that that's where we're headed.              
TR: So what's ahead for Infoworks itself?
BP: For the next year or two we'll be trying to figure out how you operate in this new environment, which involves a lot more virtual selling and other operational factors that are quite different than the world we just came from a long few months ago.  It's a new world and a new game, which also makes it fun and exciting because there is an opportunity to leap out ahead of all the changes. I think companies who waiting for traditional enterprise sales to come back are going to be disappointed for quite some period of time. The type of things that we sell fall in the category where you have large corporate efforts with teams of people, extensive proofs of value and proofs of concept, and ultimately a decision. I don't see that way of selling coming back, not in the near term.
TR: Thank you for talking with Telecom Ramblings!
If you haven't already, please take our Reader Survey! Just 3 questions to help us better understand who is reading Telecom Ramblings so we can serve you better!
Categories:
Big Data
·
Government Regulations