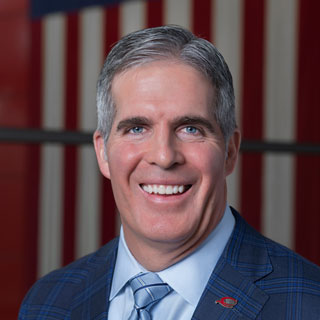 Every town, city, and county have felt the shockwaves of this year's pandemic. COVID-19 has not only changed the ways in which we conduct business, but it has also fundamentally altered the way each industry must adapt and move forward to achieve success. Small, medium, and large businesses have seen devastating losses, and many owners continue to struggle to maintain their staff, grapple with the obstacles of reopening, or accept the consequences of shuttering their doors completely.
In the economic wake of COVID, the technology industry has served as the backbone for both Main Street and Wall Street- connecting customers to services and goods they once received in person. Data and the data centers that house it have been at the core of this transformation. With us today to talk about just how data centers have made that happen and what might be next is QTS's Tag Greason, who has held the position of Chief Hyperscale Officer since 2018.
TR: How has the pandemic impacted the technology sector? What changes has QTS seen in the data center industry?
TG: The push to virtual workplace, remote healthcare services, and the increased demand for high quality streaming and video content, undoubtedly changed our lives over the last few months. Overnight, services and applications were reprioritized by their users and, in some cases, entirely new market segments were established. Companies like Lyft and Uber suffered massive layoffs due to the loss of travel, and many healthcare and SaaS organizations found themselves in need of massive bandwidth increases.
So, companies both large and small have had to react to the "new reality" and reprioritize projects. There have certainly been some losses; however, Internet, telecom, and data center providers have all reported record-breaking amounts of internet traffic. Some internet exchanges have even reported traffic spikes as high 3.7X to 4X times what is typically observed.
As for QTS, we've had to be nimble and quick to understand the landscape from our customer's perspective. We've seen a myriad of scenarios; however, on the whole, we strongly believe that the challenge the nation is facing also provides opportunity. We are on the cusp of another digital transformation, and QTS is uniquely positioned to capture this newfound demand and deliver certainty during some very uncertain times. 
TR: You mention that we're all adjusting to the "new reality." What exactly is the "new normal" for data centers and how has QTS reacted?
 TG: Many of the guidelines we now abide by on a day to day basis have made their way into the data centers – albeit often times much more formal and rigorous. Social distancing, structured egress, temperature controls, symptom checks, remote work, and remote infrastructure management are now all part of the new "Standard Operating Procedure." QTS has been very fortunate during this time. Our operational maturity as an organization has long promoted rigor, structure, and processes that have made the uncertainty of COVID feel almost familiar to our security and operations teams. Operationally, there was absolutely no disruption – not even from the customer perspective.
The operational discipline and excellence of our staff is something QTS prides itself on, but we were equally aided by our product development team's foresight. If you ask anyone in the industry, they will tell you that the biggest unknown during the first few weeks of quarantine was, "how will the customers manage their deployments remotely?" A lot of data center providers still struggle with this, but QTS' investment in technology, specifically our Service Delivery Platform (SDP), has offered value far beyond just remote work. Raymond James just released an industry brief comparing QTS' SDP to several other competitor's offerings. Based on their assessments, QTS 'ability to use facial recognition to identify employees, 3D imaging down to the cabinet level, real time reporting and video elements, as well as heat maps and predictive "issue detection" positioned us as the "clear winner." Having that type of visibility on your computer, tablet, or iPhone is game changing for customers and is a major consideration for companies who now find themselves looking for a data center provider to meet unexpected demand. 
TR: With the uncertainty of the market and unexpected demand, what does that mean for QTS' growth?
TG: QTS' has the best CFO in the business. Jeff Berson and his finance team have always positioned the company to capitalize on growth opportunities. Before the pandemic forced most of us to work from home, our finance teams worked to ensure we had capital allocated that would ensure our planned growth, regardless of any impact from COVID-19. QTS has also seen quite a bit of success, so many of those plans have either expanded or accelerated. We're not burdened with debt and have a very strong balance sheet.
Having the assurance of our finances as well as certainty around our development plans allows us to be proactive and intentional with how we conduct business. QTS sees opportunity and a need for differentiated service in the marketplace. During the pandemic, QTS has finished construction on the first facility of our new Hillsboro, Oregon campus, is nearing completion on our second Atlanta-Metro campus facility, and we're excited about additional capacity that we are planning in Ashburn.      
While liquidity is a significant component of our growth, QTS' ability to assure certainty for our staff and vendors has reinforced the relationships that fuel development efforts. We've successfully delivered several large-scale buildings over the last few years in major markets, and we're very pleased to continue to strengthen those relationships as we continue to develop in markets like Atlanta and Ashburn. Track record and trust are more important now than ever.
TR: QTS' growth plans seem to be on track, but are there any concerns around supply chain?
TG: QTS has an entire team dedicated to strategic procurement. Their whole job is to make sure we get what we need, when we need it. Our development and procurement teams dedicated time and resources to ensure we had aligned with vendors, contracts, and lead times well before any impact. Since our plans and arrangements have been so long in the making, we feel comfortable and confident that we are able to mitigate delay and disruption.
Our facilities also benefit from standardization at all levels of mechanical and electrical design. Similarly, we've included modular components that allow us to fabricate, assemble, and even commission power during timelines parallel with construction and in highly controlled environments. Standard components, managed on-hand inventory, and controlled, sequenced assembly allow QTS' development team to predictably deliver building elements and repeat processes in known timelines.
Both our Hillsboro and Atlanta facilities have been simultaneously under construction in two geographically diverse markets during COVID. Both have been subject to innumerable external uncertainties due to the economy and health crisis. And, both will be delivered on time with custom features for their respective large-scale, sophisticated users.
QTS has also been conducting extensive fit-out and commissioning work in Northern Virginia. Between both our Manassas and Ashburn campuses, we've seen little to no disruption in the timelines that were established prior to the epidemic. Our consistent progress in both of these facilities, coupled with the increased demand of the market, and the pandemic speaks volumes about QTS' ability to deliver quality and instill certainty during these unprecedented times. 
TR: Has anything else been of particular focus for QTS during this time?
TG: QTS' first and foremost focus has been the operational partnership we share with our customers. Whether it is collaboratively solutioning an opportunity or ensuring that the day to day operational needs of our customers are met, QTS has emphasized our unwavering focus on customer success. That said, there have also been a number of priority projects the team has advanced. One initiative of particular note is our corporate sustainability goal of utilizing 100% renewable energy sources to power our portfolio of facilities by 2025. To that tend, we passed another critical milestone in our sustainability journey and have fully commissioned the first facility of our Hillsboro, Oregon campus with renewable energy. Customers can also expect additional programs like "Grow with QTS," a strategic partnership with the American Forests where QTS plants trees on behalf of customers to restore threatened forest ecosystems and reduce carbon in the ozone. In the near future, we hope to announce a similar clean water program. 
TR: Thank you for talking with Telecom Ramblings!
If you haven't already, please take our Reader Survey! Just 3 questions to help us better understand who is reading Telecom Ramblings so we can serve you better!
Categories:
Datacenter
·
Industry Spotlight