This Industry Viewpoint was authored by Phill Lawson-Shanks, Chief Innovation Officer, Aligned Energy
Although David McCrory introduced the concept more than a decade ago, what the software engineer and managing partner at Data Centric Strategies described as "data gravity" has taken on considerably more significance in recent years.
According to McCrory, similar to a planet or other large object subject to the laws of gravity, as data accumulates and builds mass there is a greater likelihood that services and applications will be attracted to this data. But with the IDC predicting that global data will explode from 33 Zettabytes (ZB) in 2018 to 175 ZB by 2025, you needn't be versed with the principles of Newtonian physics to grasp the reverse corollary. As datasets grow ever larger, the resulting inertia will make them harder to move, creating an event horizon that is beyond the reach of useful technologies such as advanced analytics, Artificial Intelligence and Machine Learning applications, which today have become both crucial and integral to companies' ongoing digital transformation.
Data gravity is also having a profound effect on the location of data centers, with large enterprises, cloud and Software-as-a-Service (SaaS) providers needing to move elements of their IT away from their respective headquarters, centralized cloud campuses, or remote locations, and closer to where data is generated, utilized or consumed in order to overcome the challenges of application latency and overall performance. Not surprisingly, much of this data is coalescing and becoming denser and heavier in major global metro areas.
In response to these new data dynamics, some data center providers are focusing their strategy on creating interconnection ecosystems around the data repositories in these metro hubs. Other providers are creating a new architecture in which enterprises place hybrid cloud infrastructure near remote cloud campuses, creating demand for multi-tenant data centers in these regions. A third solution to mitigate the effects of data gravity revolves around designing and deploying adaptive, built-to-scale data centers of 30MW to 100MW both near remote cloud campuses and also in metro areas within the vicinity of global cloud providers' client base.
Data center location is essential, but to design and deploy mission-critical infrastructure where and when it's needed, and overcome data gravity, also requires an interplay of sufficient available capital, an advanced supply chain methodology that mitigates risk and ensures on-time project delivery, and a vendor managed rolling pool of dedicated inventory that is combined with factory-based construction of mechanical and electrical plant modular containers, which are then deployed and delivered on site. Not only does this seamlessly scalable, adaptive data center allow hyperscalers, cloud and platform providers to truly future-proof their IT environments in the face of unpredictable usage and growth models. But this approach also overcomes the effects of data gravity by bringing the cloud, applications, services, and users closer to the data, which is increasingly becoming one of business's, if not society's, most precious resources.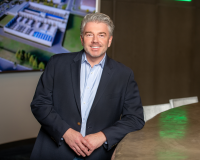 Phill has more than 25 years of experience identifying new opportunities for further growth of leading data center infrastructure, network architecture, and cloud solutions in the U.S. and abroad. As Chief Innovation Officer at Aligned, Phill is responsible for the management of revenue generation and profitability objectives, as well as championing key marketing and communications activities aimed at maximizing new business development. Prior to joining Aligned, Phill served as Chief Innovation Officer at EdgeConneX, where he was instrumental in driving strategies focused on creating the next generation of network edge-based data centers for the digital content ecosystem. Throughout his career, Phill has also served in numerous senior executive level positions at Virtacore, Alcatel-Lucent, Savvis (now CenturyLink Technology Solutions), and MCI (now Verizon Digital Media Services).  He currently holds eight active technology patents.
If you haven't already, please take our Reader Survey! Just 3 questions to help us better understand who is reading Telecom Ramblings so we can serve you better!
Categories:
Datacenter
·
Industry Viewpoint