This Industry Viewpoint was authored by RingCentral's Sam O'Brien.
Artificial Intelligence (AI) is one of the most exciting tech developments of recent decades. What makes AI so compelling and potentially transformative is its range of uses. Different AI tools are getting implemented across sectors to support diverse business processes.
From marketing and sales to warehousing and logistics, AI is having an impact. According to Gartner, 37% of organizations have implemented AI in some form. One of the areas where AI has the most potential to improve operations is in call centers.
The modern call or contact center is a far cry from those of ten or 15 years ago. Businesses leverage intelligent unified communications as a service (UCaaS) platforms. Those solutions elevate the level of service your agents can provide. Increasingly, too, AI is being implemented to improve call center operations still further.
How AI Can Improve Operations in a Call Center
The potential for AI is almost limitless. That's true in many sectors, not only when it comes to customer service. In the case of call centers alone, AI is already getting implemented in a range of ways. 56% of telecoms firms surveyed in 2017 planned to invest in AI the following year.
There are many processes and features that AI can improve in a call center. Many firms are already starting to implement such features. As time passes, too, the potential of AI in contact centers is only going to increase. The best way to assess how AI can support operations in a call center is by looking at three principal areas:
Capturing, Analyzing & Utilizing Data

Empowering Self-Service Support

Monitoring & Improving Agent Performance
Capturing, Analyzing & Utilizing Data
One of the most useful applications of AI is in the area of data collection and analysis. Machine learning makes it simpler for firms to manage and use the volume of data they generate.
There is a vast array of ways in which you can use AI to analyze and use data intelligently in a call center. AI-driven analytics engines can take customer data and use it to optimize operations in simple yet impactful ways.
Many consumers, for instance, get frustrated by having to repeat personal details every time they contact a business. An AI-driven process called Robotic Process Automation (RPA) tackles this issue. RPA analyzes and cross-references data across channels and platforms. It can, therefore, retrieve customer details so that they don't have to repeat themselves.
That's one of a multitude of examples of how data and AI combine to improve call center processes. AI tech can also help service agents in a more proactive way. That's by identifying patterns and trends in customer behavior at an early stage.
AI-powered data analysis, for instance, can spot dissatisfied customers. It can even pinpoint those who may be about to leave. That is crucial information for customer service staff. Armed with this information, agents can reach out and proactively seek to retain those customers. Alternatively, they could use their hosted PBX system to contact the sales or marketing pros who can help improve customer retention.        
Empowering Self-Service Support
Another way AI helps to boost call center operations is by easing the pressure on agents who work there. Many different AI-driven tools and features help to empower self-service support. They make it quicker and simpler for customers to find their own answers and solutions.
Live chat services or virtual assistants are a prime example. Firms in many fields are starting to use these 'chatbots' to aid customer service staff. 57% of businesses agree that chatbots deliver significant ROI with minimal effort. They help customers self-resolve a wide range of issues. That boosts customer satisfaction and also helps your contact center.
With a chatbot in operation, fewer queries or complaints reach your call center. That lets your agents quickly get to those issues that can't get solved via live chat. What's more, chatbots that are driven by machine learning get better over time. They learn from the interactions, which improves future responses. Chatbots, therefore, can form one channel of a UC platform which will improve customer service in a range of ways.   
AI is also able to help automate the process of contacting a call center. Machine learning and natural language processing (NLP) are key in this regard. It's realistic to imagine AI replacing IVR processes. Current IVR relies on a rigid set of rules. Specific voice inputs are needed to generate specific, pre-programmed outputs. AI-driven alternatives can use NLP and machine learning to genuinely understand what callers say. That allows them to offer tailored assistance, beyond proscribed call routing options.  
In that way, an AI-driven system could direct calls as efficiently as a real agent. The system would even be able to produce different outputs to very similar vocal inputs. Via machine learning, the system would be able to predict caller needs and demands. 
This application of AI in call centers is in its early stages. The tech is not close to entirely replacing human agents. As this aspect of AI develops, though, it could have a profound impact on the efficiency of a contact center. Not to mention the effect it may have on wage bills and running costs. Together with 5G, this kind of AI could reshape the call centers of the future.   
Monitoring & Supporting Agent Performance
How AI gets implemented in call centers isn't all about replacing human support. There are several ways that the tech is helping to support and improve the performance of agents. Two of the most exciting are real-time speech analytics (RTSA) and sentiment analysis.
RTSA uses AI to analyze advisor and customer speech in real-time. That allows for live feedback to the agent on the call, their supervisors, or a compliance officer. Through RTSA, that feedback can cover things like what to say and how to say it. It's also possible for an intelligent system to give an agent info relevant to the direction that a call takes.
Sentiment analysis takes things a step further. That AI-driven process assists advisors in judging a caller's mood. It can detect when a customer is getting angry or frustrated. Sentiment analysis works by analyzing things like volume and the length of pauses. It's particularly useful in call centers where agents speak to callers in other nations. Those agents, after all, aren't as good at picking up on cultural-specific aspects of speech.
AI Augments & Streamlines Call Center Operations but Won't Replace the Human Touch
It should be evident by now that the potential of AI in the call center environment is boundless. The various strands of AI tech are already having a profound impact on the sector. The effect AI will have moving forward is only going to increase further.
Before long, AI in one form or another will be a must for any call center. The potential applications of AI for phone support are too varied and helpful for that not to be the case. That doesn't mean that AI is going to take over the call center environment entirely. There will always be a need for the human touch. In the future, though, agents in call centers will have a plethora of AI-driven tools at their disposal.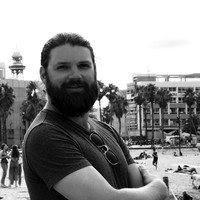 Sam O'Brien is the Senior Website Optimisation & User Experience Manager for EMEA at RingCentral, a global UCaaS systems provider. Sam has a passion for innovation and loves exploring ways to collaborate more with dispersed teams.He has written for sites such as Hubspot and X-Cart.
If you haven't already, please take our Reader Survey! Just 3 questions to help us better understand who is reading Telecom Ramblings so we can serve you better!
Categories:
Artificial Intelligence
·
Industry Viewpoint
·
Unified Communications
·
VoIP