This Industry Viewpoint was contributed by Eliska Dzurnakova- business development executive at Instarea
The key to unlocking telco's own treasure box lies in the real-time location-based marketing.

As world turns more digital, popularity of big data intelligence is on the rise. It is especially relevant for industries like telco and banking, gathering enormous quantity of customer data. True alchemy lies in the means of data storing, filtering and processing, with the ability to find value in it. 
Targeted advertising belongs to the areas where telco is able to utilize location-based data, especially when we add another factor- timing. There is a significant difference between sending a promo message anytime, or when a customer that falls under the targeted group is located within the campaign area. Mobile network operators (MNO) mostly utilize real-time messaging for upsell / cross-sell or to promote branded events and invite customers into their shops when there are in the vicinity. Progressive telcos feel the need to utilize its own big data internally as they sit on a golden egg of useful resources. Most resourceful MNOs do however implement analytic tools that are able to process customer geo data both internally and externally.
Location-based advertising (LBA) tools assist innovative telcos with advanced marketing strategies generating measurable KPIs, especially effective when sent in real-time. Well suited technology allows GDPR compliant internal data monetization due to customer data consent. Processing customer data internally is a sensitive topic, often associated with a threat of harming customer's privacy, difficulties with integration or just a fear of having untrained staff who would not be able to use advanced campaigning tool. Above mentioned points are valid to keep in mind, however with the right platform those remain just misconceptions.
Link between the content & sending time of SMS correspondents with the marketing research held by Berg Insight, stating: "Targeting by location in combination with other contextual and behavioural segmentation greatly enhances the relevance of mobile advertising. It has been demonstrated that location-targeted ads generate considerably higher returns than conventional mobile advertising." (Andresson, 2018).
Let's take a look at two possibilities of how MNO is able to excel at the real-time location-based advertising & reap benefits out of own customer data:
Case study #1: MNO wants to increase visits to its main summer pop up event
Key mobile operator often plays a significant role in a region due to ability to compete on highly concentrated market. To win over customer preference, it is common for a telco to engage in public interests and partner with the local council. Telco organizes a summer, urban pop up event – a beach outdoor spot to enrich city life with interesting sport activities, concerts, hip food and drinks. Normally, marketing department decides on the campaign objectives and sets key performance indicators (KPIs) to measure success rates. Let's suppose that the campaign's objective is to attract more visitors to the summer beach spot supported by adding a coupon code for a welcome drink as an extra motivator of visit. The key factor to increase conversion rates lies in ability to introduce a promo offer to the customer at the decision-making time. Biggest impact of LBA stands out when targeted SMS is sent at the time when mobile signal appears in a vicinity of event's location & surrounding areas. Further conditions for successful campaign results are the ease of use, interactive controlling and trained person to optimize such campaigns. Even more preferred is a self-serviced tool developed in a form of real-time heat map where campaigns can be directly set and adjusted by CRM manager.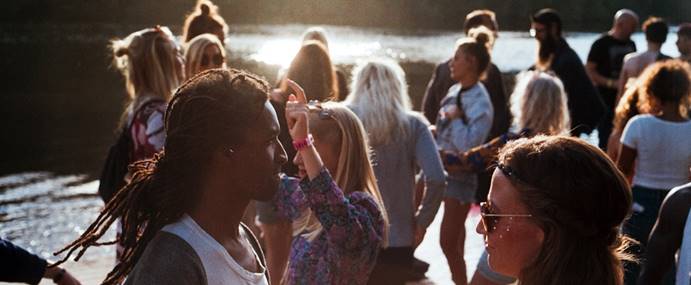 Case study #2: A telco wants to up-sell/cross-sell its services to a chosen client group
Two common problems that telco's sales teams face are saturated market & highly competitive deals. When a CRM manager plans to start a campaign aiming to use targeted messaging to extend / prolong the plan, he firstly selects relevant audience group who will be notified about new offering. Normally, chosen group would receive enticing message with fresh deal few weeks before the plan end in a "carpet bombing" way. Plan expiration is usually the only relevant factor CRM manager considers when setting up the campaign. However additional targeting factor based on real-time location of customers' cell, might significantly raise the success = customer acting on impulse & entering the store when located is in the close vicinity. Success rates can be measured by the following KPIs: attracting people to particular branch; SMS interaction rate; probability of transaction compared to previous selected group.

Bottom line
Despite the importance of immeasurable outcomes like the ease-of-use or intuitive usage, the key reasons for applying real-time targeting tool are measurable KPIs backed by. Those normally mean higher returns of investment, reducing barriers and smoothing operations, significant cost reductions, and other long-term rewards resulting from the added benefit of external offerings alongside the internal use. Exchanging the old traditional approach with innovative solutions based on real-time geo targeting almost surely brings significant success rates. There is immediate link in between conversion rates and real time advertisement, due to the perfect time when marketers challenge consumers in their decision-making moment.
As highlighted in the exemplary use cases, there are two main reasons why real-time location is a key differentiator for MNO's successful marketing strategies:
campaign's KPIs with solid measurable results,
customers feel the benefit from promo offers instead of feeling attacked by constant advertising.
Eliska Dzurnakova belongs to the business development team of Instarea, https://instarea.com/ – big data monetization company, partnering with & adding value to major mobile operators with its Market Locator platform, which features an intuitive self-servicing heat map for location intelligence & precise marketing.
If you haven't already, please take our Reader Survey! Just 3 questions to help us better understand who is reading Telecom Ramblings so we can serve you better!
Categories:
Big Data
·
Industry Viewpoint