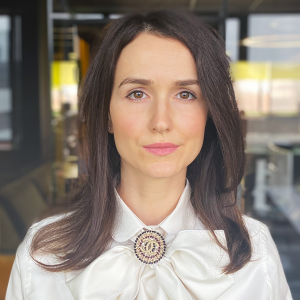 When it comes to IaaS and the cloud, it always seems like the big public cloud guys dominate the conversation. But there are plenty of other voices out there taking aim at the enterprise opportunity from different angles and perspectives. One such IaaS specialist is Voxility, which expanded its global footprint into Spain a few months ago. With us today to talk about Voxility's approach and perspective is Maria Sirbu, VP of business development.
TR: How did Voxility get started, and how did you get involved?
MS: We launched in 2004, way back before the hype around 5G, AI, IoT and cloud. We were delivering Infrastructure as a Service (IaaS) when only 11% of the world's population were using the internet. This was before "IaaS" was a commonly used term.
Our origins are in the early days of hosting and facilitating the growth and development of online businesses. Companies similar to Voxility were called "hosters" or "hosting providers", and many were local or regional players renting shared or dedicated hosting. I believe shared hosting was the forerunner of cloud, and dedicated hosting has now become commonly known as IaaS. From this beginning, we've grown into a diverse and international business offering hardware, network equipment, internet access and security services all with an OPEX-based model.
I got involved at a stage where Voxility was already present in major markets across Europe and the US. At this point, it was accelerating its growth with presence in major global data centre hubs and expanding its network presence around the world.
Today, about 60% of the world's population is using the internet. We could not be happier with the ever-changing industry we are serving, consisting of carriers, mobile network operators, social networks, OTTs, and a whole range of enterprises globally.
TR: There's a lot of competition between IaaS providers in today's market. How do you see competition playing out in 2020?
MS: Many people believe the IaaS market is a battle between giants like Amazon Web Services, Google Cloud, Microsoft Azure and other cloud service providers (CSPs). These companies are showing massive growth, but they aren't the only players in the IaaS market.
As these tech giants have gone mainstream, they're revealing the limitations on their services. Today, there's growing pressure on enterprises to be transparent about their data in terms of who manages it, and where and how it is hosted. Because of this, enterprises want more security and control over their infrastructure, and are increasingly finding that cloud giants cannot offer them this.
I wasn't surprised to see a report from IHS Markit and Fortinet that found that 74% of companies have moved apps to the cloud then back on-premise. Enterprises have discovered that an "all in the cloud" or "cloud-only" approach using cloud-based IaaS isn't for all data or every application.
Over the next few years, I think there will be greater diversity in IaaS offerings as users become savvier about the web services they choose. The move into the cloud and back on-premises is too costly and complex, not to look at alternatives to tech giants.
TR: In what way does the public/private cloud model presented by the tech giants not serve the needs of enterprises?
MS: While CSPs consolidate and make enterprise cloud services such as Software as a Service (SaaS) and IaaS more generic, the average SME can fall victim to a growing loss of control. The future shape of their IT infrastructure is being laid out at higher levels via market forces in which they play only a small part, and in a conversation where they have a limited voice.
Multi-cloud strategies have hugely grown in recent years. A Gartner survey found that 81% of respondents simultaneously worked with two or more cloud providers in 2019, and 2020 will see this grow even further. More resources will need to be allocated to managing this growing number of CSPs, which brings the limitations of cloud-based IaaS to the forefront as it brings complexities to enterprises' operations.
A report by Risk Based Security found that the number of reported breaches in 2019 was 54% higher than 2018, with three making the top ten largest breaches of all time. With data breaches increasing so rapidly, enterprises need more control and security over their infrastructure. An increasing number of enterprises are looking for alternatives to cloud-based IaaS that can meet their needs in this changing market. Data breaches are only set to increase further in 2020, which increases the need for IaaS solutions to include accessible, seamlessly integrated security for customers.
These challenges will become even more prominent as IoT deployments increase in 2020 and drive the adoption of edge computing. It's estimated by Gartner that by 2022, 1 million new IoT devices will be sold every hour and IoT spending will be $2.5 million every minute. With such technologies rapidly transforming the market, control and security have never been so important.
TR: How does Voxility approach the same problem?
MS: IaaS means a lot of things to a lot of people. For Voxility, it means renting dedicated servers, internet access, premium support and value-added security options inside some of the most important data centres on the planet.
It is pretty much an easy OPEX-based IaaS model where physical hardware in physical locations can be rented, just like how other tools or a flexible office space is rented in other industries. We bundle this with internet access, value-added security options and global hubs to provide a comprehensive, dedicated solution that competes with the cloud-based IaaS offered by cloud giants.
Carriers or enterprises benefit from a complete service wrap that supports multiple IaaS hubs without needing to manage multiple CSPs, which brings simplicity to their operations.
At Voxility, we're able to answer a variety of questions such as "where is my data located?", "who touches my hardware?", "how is my data stored?" or "can I access my own infrastructure?"
This is a real differentiator as the same cannot be said about cloud-based IaaS, which provides no details about exact storage and location.
TR: How do you expect the IaaS space to change over the next few years, and what will drive that change?
MS: I believe that during 2020, we will see a real change in the way enterprises and carriers approach their infrastructure models. More will be searching for solutions that offer new capabilities and differentiators, and we'll see an increasing willingness to explore new models that exceed what is offered by cloud giants. The hype surrounding technologies such as cloud, big data, AI and IoT will continue, but the real focus should shift towards finding a model that can meet the changing needs of our industry not only today, but also into the future.
This change will be driven by a variety of factors, a key one being the increasing demand for security and control. As well as this, more enterprises will explore different approaches to IaaS as more tech giants increase prices like Google did in 2019. New IaaS solutions can better meet the changing needs of businesses today and provide many more opportunities – enterprises and carriers just have to be willing to change their mindset.
TR: What is the biggest challenge ahead for IaaS providers? What keeps you up at night?
MS: We are seeing tons of hardware pieces deployed across data centres around the world, which is increasing more and more every year. This greatly affects global power consumption, which is a challenge in its own right, but also consequently affects the environment. With global warming on the rise, IaaS providers will need to invest more resources into making their operations as eco-friendly as possible and overcome any challenges that come with this.
TR: Thank you for talking with Telecom Ramblings!
If you haven't already, please take our Reader Survey! Just 3 questions to help us better understand who is reading Telecom Ramblings so we can serve you better!
Categories:
Cloud Computing
·
Industry Spotlight
·
Uncategorized