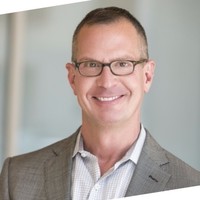 Last month, Arcadian Infracom raised funding for a new intercity fiber buildout along some unique routes.  The plan is to connect Denver, Salt Lake City, and Phoenix via routes passing through the Navajo Nation and the surrounding area while adding off-ramps to underserved markets.  When it comes to internet infrastructure, there aren't many regions in the USA that have been bypassed as thoroughly over the years.  With us today to tell us how Arcadian Infracom plans to make it finally happen is Co-Founder and CEO Dan Davis.  Dan has been in the longhaul fiber business since the 90s, culminating in a 15-year stint at CenturyLink.
TR: What brought you back into the fiber business to co-found Arcadian Infracom?
DD: I left CenturyLink at the beginning of '17 to take a little break, but I've known for a while that it was time to start building longhaul fiber again because of what I saw going on with Facebook, Google, Microsoft, Amazon, and Apple. They are outgrowing lit services, they are operating at larger than carrier scale, they have a fair amount of cash, and they need dark fiber. But people like me have consolidated the long-haul dark fiber into the hands of four companies who aren't generally willing to sell it and aren't building the new fiber routes they need. Arcadian Infracom developed because there's a basic supply-demand imbalance for long-haul dark fiber, and it's a natural thing for me to do given my background building the first national fiber networks in the 1990's.
TR: What led you to focus on this part of the Rockies and desert Southwest?
DD: My co-founder Derek Garnier and I were both a part of a consulting company called Zenzu, helping private equity investors evaluate telecom assets.  Mike Hazel, a friend of Derek's who is now a part of our team, knew of a coal-fired power plant down in the Navajo Nation that was shutting down, and asked if it could be converted into a data center.  Data centers use lots of electricity, so why not take the power transmission infrastructure and turn the electrons around? The income from it was very important to the Navajo Nation itself, which already had economic challenges due to a high unemployment rate and low average household income.  It took me about 10 minutes to realize that a data center needs to be connected to the internet to be useful, so I told him he had a great idea for a warehouse rather than a data center, because the nearest long-haul fiber backbone was 600 miles away. You have to solve the fiber problem before you get to the data center opportunity.  It turns out we knew there was a demand to go north out of Phoenix to go more directly to Salt Lake City.  When we really engaged, potential customers suggested that if we could solve that problem, maybe we could also solve other problems for them since we're going to be working down in the southwest.  Now we have a series of routes under development, but it all started with an idea to turn a power plant into a data center that just landed in my lap.
TR: Is the power plant to data center project in Navajo Nation still a part of the plan?
DD: Yes, but it's kind of the gold at the end of the rainbow.  The cycle times for building a data center are shorter than that of building long-haul fiber, so if we solve the fiber problem first we can then come back to the data center opportunity.
TR: So what does phase 1 of your longhaul buildout consist of?
DD: The route starts in Phoenix, goes north through Flagstaff, and then passes right through Navajo Nation.  Then it makes a Y, going northwest to Salt Lake City and northeast to Denver. Not every part of the fiber route can be put underground, but we will put as much underground as we physically can, probably 90% of it. It's a beautiful area. The whole Arcadian team was down in Flagstaff together recently, and when we stood in the middle of where we're going to build, we all saw that it's flat red rock from horizon to horizon.  Beautiful, but we have our work cut out for us.
TR: Why do you think these routes have never been built out, and what has changed to make it economically feasible?
DD: When we built out the North American internet 20-something years ago, six or seven companies built long haul routes before the whole thing came crashing down.  But after that buildout, there was enough capacity out there for the carriers, enough fiber in enough places, to meet the carrier market's needs. In that past, we built long haul fiber between city centers for carriers. What's changed is the emergence of hyperscale cloud players and the large content providers. Now we are building between data centers for content and cloud companies.  There is now a whole new demand set for long haul fiber that needs to be met.
TR: At what stage are you with potential anchor customers for phase 1?
DD: We are and have been in deep discussions with all of them. We didn't actually come out of stealth mode until January of '19 at the PTC conference.  Before that we were working with the Navajo Nation, which is not technically part of the United States but an independent sovereign entity that operates within the borders of the United States. If you want a deal, you have to get it done at the national level with the tribal council and they asked that we work with them privately and so we did.  We have only been in front of customers for a fairly short period of time with this concept. We are herding the cats of demand: this customer wants this route in 12 months although it will take 2 years to build, while that customer wants that route but not for five years. We talk to them to aggregate enough demand to make economic sense to build that first route right now.
TR: In what ways will the Navajo Nation benefit?
DD: We are approaching this not to just extract what value we want from Navajo Nation. We're looking to leave value as we're building through. And that's because of the character of who we all are. Most of us have been at this for 20, 30, 40 years, and we are building with a purpose this time. We want to really do some good while we're also solving this hard, technical construction problem. It is kind of ingrained in our DNA that our purpose is to help solve the rural tribal broadband problem. Our customers want us to build new fiber along routes that weren't built before.  They need three or four different long-haul fiber routes out of each of their major billion-dollar data centers. Phoenix is already connected to Denver, and to Salt Lake. But we can do it more directly by going through Navajo Nation, and since we are routing through those lands we can do a lot of good by building with purpose.  We want to build thoughtfully, in a way that you can add granular connections off of these giant backbones that are moving terabits at a time. Rather than just building between these markets at the lowest possible cost, we are dropping handholds and access points and working with local partners within the Navajo Nation to make sure that they can tap in to the bandwidth that's going underground through their land and get some value out of this as well.  We know there are things we can do that really don't cost any more money or time, yet make it a lot more economically feasible for everybody along that route to tap into the bandwidth. Our deal with Navajo Nation is public. We have a gross revenue share, and we are providing them dark fiber and lit wavelengths and everything we can to make sure that they get maximum economic development value from our work to bring them more than just cash value.
TR: So when do you start digging?
DD: The engineering and permitting has already started, because there's always a long wind-up to the pitch on these things.  I'd say in the middle of 2020 we'll be turning dirt or cutting rocks, however you want to look at it.
TR: Your second phase takes aim at the I-40 corridor between Dallas and Los Angeles.  Why has fiber never been built on that route?
DD: When you look at the United States, all the long-haul fiber companies built right along the same rights-of-way, along the ones that were the cheapest and fastest to construct. As a profit-making company, that's what you're incented to do. Until now it worked fine and the economics of building long-haul fiber again didn't make sense until now.  The dynamics have changed and there's folks willing to invest now in long-haul fiber because you have a new customer demand set.  I don't think there's anything peculiar around why I-40 wasn't built, there just wasn't an economic business case for it before now. Now the driver is getting those data centers connected in more resilient ways than they're currently connected.
TR: What is the biggest challenge ahead of you in building out this new infrastructure?
DD: It's herding those cats of demand.  There's a lot of demand out there, it's about getting them all lined up for the same route at the same time to float the business case on a route. That's the hard part. The actual building of it is hard, of course; you're using diamond bit rock saws for hundreds of miles and moving through granite. But it's an understandable kind of hard; it's almost controllable. There are certainly great contractors out there to help you do that. It's when you start getting into solving problems where there are lots of dependency relationships, whether it's customers or rights-of-way partners, that is the hard part. And that's about walking in with the right story and the right level of respect for whoever is meeting with you and what they need.  We have the right team, the right story, the right financing, and soon the customers will be lined up, and then we will start seeing dirt flying everywhere.
TR: What do you hope to see Arcadian Infracom become?
DD: Generally, I'd say we hope Arcadian will be a good example of how you can line up a company that 1) does something hard, 2) makes really good returns for investors, but 3) acts with a larger purpose beyond just making money.  We don't just tolerate our purpose; solving rural and tribal broadband access problems actually enables us to get those rights-of-way relationships that other people can't or won't get. It's not a tradeoff, each feeds into and enables the other. That's the piece that's really interesting and exciting for me to be a part of at this point in my career.
TR: Thank you for talking with Telecom Ramblings!
If you haven't already, please take our Reader Survey! Just 3 questions to help us better understand who is reading Telecom Ramblings so we can serve you better!
Categories:
Fiber Networks
·
Industry Spotlight