This article was authored by C Omprakash, KS Dineshkumar, and A.B. Mogan of Prodapt Solutions
According to a McKinsey's report, digital service providers (DSPs) have complex fundamental processes with multiple system integrations that are labor-intensive and highly expensive. TM Forum business process framework's trouble to resolve (T2R) process provides a framework to deal with a trouble (issue) reported by the customer, then to diagnose the issue, to analyze, to identify the root cause of the problem, initiating resolution to meet customer satisfaction, monitoring progress and finally closure of the trouble ticket.
Most DSPs automate the basic processes using traditional methods. However, they encounter key challenges that affect the overall T2R operational efficiency and increase the OPEX. Recent Emerson's report shows that network operations centers (NOCs) use 6-10 different systems on an average to complete one T2R process with medium complexity.
Some of the real challenges in the traditional way of handling network issues are:
The high manual effort, swivel-chairing across multiple systems
Resource wastage in operations (e.g. the network operations team spending a significant amount of time handling huge volumes of alerts)
Difficulty in identifying the root cause during RCA
Challenge in determining the right impact of the network event
Failure to identify a problem and offer a timely resolution
No proper tools for prioritization of supercritical events that would cause major business impact
Unavailability of fully integrated systems and automated processes aligned with business KPIs
Scope for complete lifecycle automation
A network event's lifecycle journey involves various activities from event creation to resolution. Most of the DSPs have already automated their primary systems like Fault Management Systems (FMS) and IT Service Management (ITSM). However, the below key aspects of the event lifecycle are not integrated and automated in the workflow.
Event workflow across various subsystems are not fully integrated. For example, a Customer Relationship Management (CRM) system, the Interactive Voice Response (IVR) system and Field Force Management (FFM) system with ITSM
Network problems that involve field engineers support (service truck roll) are not integrated
Posting of outage detail records from ITSM to CRM/IVR is not automated
Many activities in the T2R process still require manual intervention from NOC
The traditional operations require a lot of data transformation in order to share information with other subsystems, which becomes a bottleneck for seamless integration. This creates an increasing demand for an end-to-end automated solution.
Leveraging enterprise middleware to build end-to-end automation
The following diagram depicts the integration framework architecture to ensure end-to-end automation with various legacy applications. This enterprise middleware layer enables the creation of workflow across multiple systems for a network event's trouble to resolve lifecycle.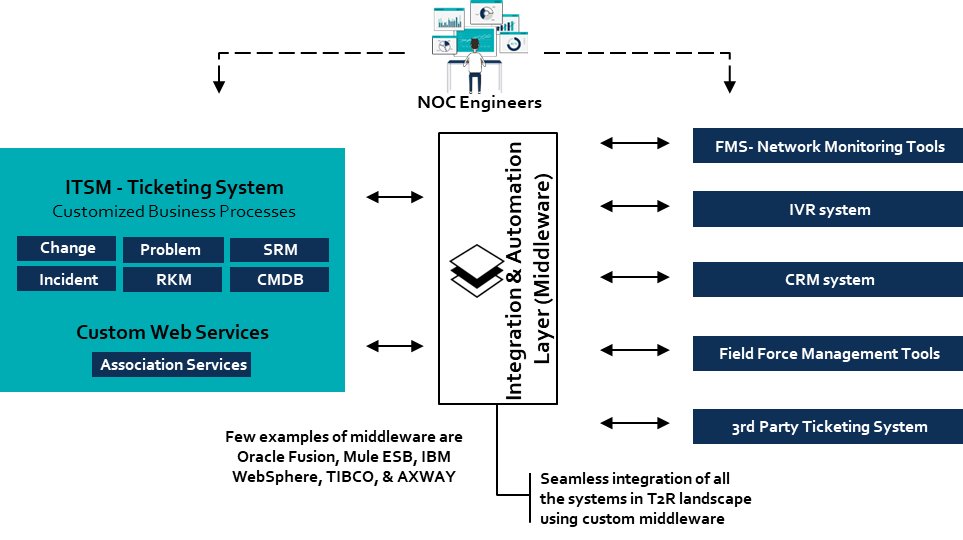 Recommended integrations for building automated event workflow
Network Monitoring Tools Integration
Integration with network monitoring tools through middleware enables auto ticket creation without manual intervention for any faulty alerts
IVR integration using middleware to achieve automated posting of outage records between ITSM and IVR enables the end customer to be aware of the issue
Customer Relationship Management System Integration
Direct integration of CRM with ITSM using middleware helps the customer care agent to be aware of associated trouble tickets pertaining to the same affected customer
Integration with field force management (FFM) system using middleware to achieve automated creation and tracking of appointments with FFM engineers (site visit/planned maintenance activity)
Integrated Ticketing System
Middleware integration with 3rd party ticketing systems ease the coordination of tickets with interlinked responsibilities
Multiple systems are generating millions of alerts per minute in different formats, which needs data conversion, normalization, transformation, and orchestration. Leveraging enterprise middleware for integration with various COTS products will accelerate the automation of complete end-to-end event lifecycle.
Key elements of the central automation framework for network event lifecycle
Following are the list of major components recommended to realize end-to-end lifecycle automation of network event.
Integration Framework: Central integration framework that provides a complete set of standards to integrate existing legacy applications and enables quick implementation of new services
T2R Monitoring Tool: Helps NOC users to have near real-time visibility on the end-to-end lifecycle of network events with points of delays and failures, enabling a quicker resolution time frame
GIS-based Affiliate Mapping Tool (for multi-country deployment): Intelligence of mapping geographic information system (GIS) code or zip code with the corresponding affiliate, when the implementation involves multi-country/multi-affiliates
Customized Reporting: Provides highly customized network operational data reports on a daily, weekly, monthly, and yearly basis for individual products/services and regions
Service workflow sequence of fully automated T2R process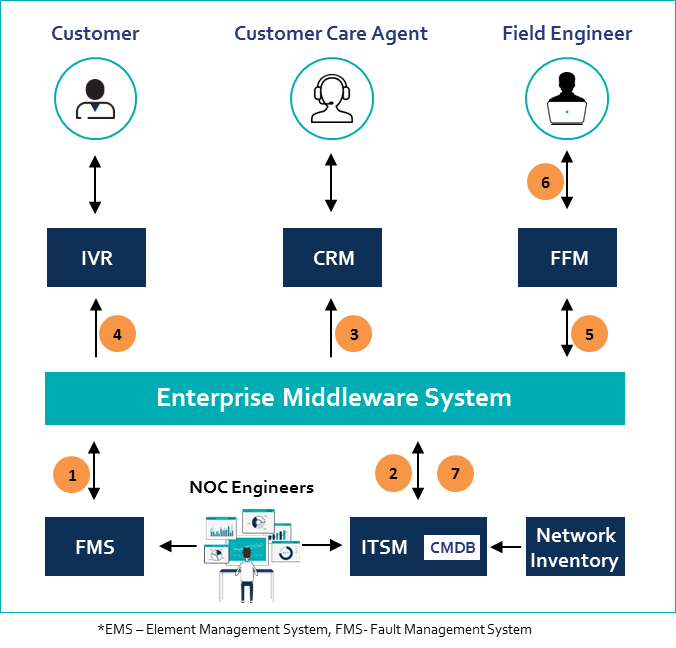 FMS receives a new network alert and queries in the ITSM system for existing open ticket corresponding to that alert. If none exists, it reports the network event to middleware to create a new entry for that event.
Middleware receives the network event and converts it to ITU-T X.733 standard alarm format for further ticket creation process in ITSM
After ticket creation in ITSM, middleware creates an outage record in CRM with proper location codes from the network inventory
Middleware creates outage record with IVR message containing details like incident ID, CRM outage record ID and postal codes
Middleware creates a work order in FFM System
FFM system assigns the work order to field engineer, who resolves the issues and updates work orders. Middleware updates the work order status in the ITSM system.
Workflows within ITSM resolve the related incident and send status updates to CRM, IVR & EMS to close outage record and remove the IVR message with the help of middleware.
Single-pane view of network event's lifecycle in real time
The below sample snapshot shows the end-to-end flow of one specific network event's life cycle, starting from event creation in FMS to work order creation in FFM system. From a single pane view, service desk agents can respond to cases, view the full issue context and get relevant recommendations.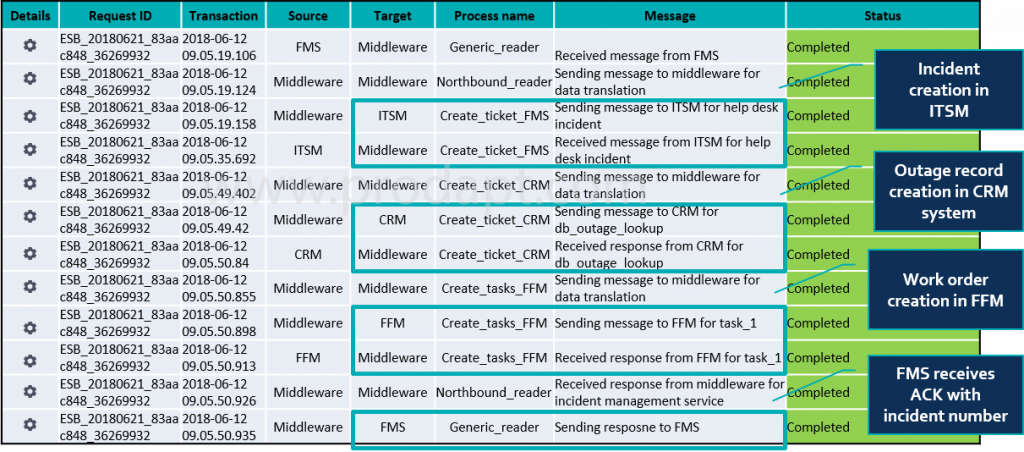 Benefits realized by implementing end-to-end trouble to resolution (T2R) automation strategy  
50% reduction in average time spent to create and resolve the tickets, especially drastic reduction in the average mean time to resolve (MTTR), as a result of end-to-end automation
Prioritizing business-critical and high-impact events enable the operations team to strategically focus on resolving issues resulting in 30% improved operational efficiency
30% reduction in cost savings due to the reduction of operational expenditure and elimination of NOC's manual operations
More than 20% increase in customer experience (CX), as end-to-end automation provides accurate outage information to customers through IVR and customer care interfaces
Authors:
Omprakash C – Technical Architect, ITSM Delivery, Prodapt Solutions
Dineshkumar KS – Technical Lead, Prodapt Solutions
Mogan A.B. – Manager- Strategic Insights, Prodapt Solutions
If you haven't already, please take our Reader Survey! Just 3 questions to help us better understand who is reading Telecom Ramblings so we can serve you better!
Categories:
Industry Viewpoint
·
SDN