This Tale from the Field was authored by Ilissa Miller, founder and CEO of iMiller Public Relations and President of NEDAS
AUSTIN, TEXAS –The honeybee population may be declining throughout the United States, but one telecommunications crew recently found a huge hive thriving in a surprise spot.
Ron Holt, the vice president of field services for FiberLight, said his team discovered a massive swarm of honeybees calling an antenna on one of the company's cell towers "home sweet home." The thriving hive had become so large that it was interrupting cell phone service in the Bastrop, Texas area.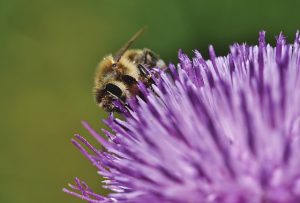 When Holt's crew arrived to fix what they presumed was a routine maintenance issue, they found quite a buzz. The surprise arrived just a couple weeks before National Honeybee Day on August 17.
"This having been my first encounter like this in over 30 years of telecom work, I contacted some local beekeepers for advice," said Holt, who wanted to keep both his workers and the honeybees safe.
Located 130 feet above the ground in the tower, the colony seemed to have taken flight thanks to a crack in the antenna's protective cover that allowed for the bees to enter. Despite concerns that radio frequencies would impact the local honeybee population, these bees were clearly healthy.
Holt reached out to Brandon Fehrenkamp, a beekeeper from Austin, who was happy to help FiberLight workers save the honeybees while staying safe.
Threatened by habitat loss, honeybees are small but important creatures for the health of local environments. Honeybees work tirelessly, spreading the pollen necessary for agricultural production of fruits and vegetables. Their natural byproduct, honey, is regularly consumed for its sweetness as well as its health benefits. Honeybees also produce beeswax, which is used for candles, cosmetics and many other products.
Together with Fehrenkamp, the crew created a plan to remove the antenna from the tower and lower it to the ground. That way, the hive could be relocated to a new home to a more permanent location.
It helped that the tower had recently been tapped for retirement as fibers had already been installed to shift the community to the new 5G services.
The process, underwritten by FiberLight, cost $6,000. Holt said it was well worth the price to end the temporary disruption of both Bastrop's cell service and natural honey production.
Telecom Ramblings welcomes non-commercial submissions for its 'Tales from the Field' section from within the industry.  Anything interesting going on where you are?  
If you haven't already, please take our Reader Survey! Just 3 questions to help us better understand who is reading Telecom Ramblings so we can serve you better!
Categories:
Tech Stories
·
Wireless