This Industry Viewpoint was authored by Karthik R, Suseel Vadakkepet, Muthukrishnan R, and Sarvagya Nayak of Prodapt
A customer's journey with a DSP usually starts with his intent to use or purchase a service through any of the channels. This is captured as order and enters the CRM system, which passes it to various downstream systems for fulfillment and provisioning. These orders need to traverse through multiple stages and multiple downstream systems and often fails during the process. This is a common challenge that threatens most DSPs with diminished customer experience leading to churn.
Challenges faced by DSPs in order lifecycle
Typically, most of the DSPs across the globe face a similar set of challenges. Firstly, complex and loosely coupled systems; multiple CRM systems, provisioning and activation systems in the network, working in silos and increased heterogeneous nature of OSS/BSS systems has increased order fallout ratio for DSPs.
Secondly, most of the existing legacy systems are not built to support new channels, newer IP-based products & services, and customized order bundles. This leads to order inaccuracy, fallout and manual intervention.
Thirdly, today, most of the telecom orders are highly customized and complex with the introduction of IP-based products & services and triple/quad-play. Order orchestration complexities have increased and lack visibility across entire order lifecycle. This leads to slow order cycle times, manual tasks, increasing the cost, and poor customer experience.
Last but not least, to track the order at each stage, manual checks across various systems are required. This restricts the users from tracking the continuous flow of order at every stage throughout the lifecycle.
How to address these challenges
DSPs need to implement a solution strategy that could address the below key issues:
View of continuous order flow – Any order must flow through multiple systems from order entry to activation. But it is difficult to trace where any given order is at a point of time since these systems work in silos. Creating an assurance dashboard and integrating all these systems to provide a composite view can save from manual checking across multiple systems to know the order well-being.
Real-time status – Getting hold of real-time update of orders help in optimizing the system resources and streamlines the entire order lifecycle
SLA breaches visibility – Ability to identify and highlight the orders which have crossed SLAs automatically, help in preventing order failures and reduce revenue leakage. This also increases efficiency by saving time on manually looking for fallen out orders.
System Monitoring – Knowing the health of all the elements involved in the order journey and taking preventive actions is crucial to check their breakdown. Abrupt failure of any system can bring entire flow to a standstill leading to order fallouts and penalties.
An order assurance dashboard with integration to various downstream systems is a perfect solution to the majority of order lifecycle challenges.
Features of an ideal order assurance dashboard
Integrated with backend systems – Should provide APIs for quicker integration with all downstream systems which are part of order lifecycle and fetch order status from each of them
An end-to-end view of the order – Should provide a view of all the orders as they pass from order entry to provisioning to billing in near real-time
Track order fallout – Should bring out and highlight orders which have breached SLA so that immediate action can be taken on them
Reporting – Should be able to provide order flow reports on a daily, weekly, monthly and yearly basis for individual products/services and regions
System health monitoring – Should provide performance and availability of all the integrated systems by continuous monitoring. This can be a very helpful utility in taking preventive measures and saving from resulting revenue leakage
Though integrating all the systems to one dashboard application looks like an ideal solution, it is, in fact, a very challenging task simply because of the complexity involved. Multiple systems generating thousands of data files in multiple formats with millions of orders flowing per minute makes integration a herculean task.
Bottlenecks in the integration of downstream systems and corresponding customized tools to mitigate them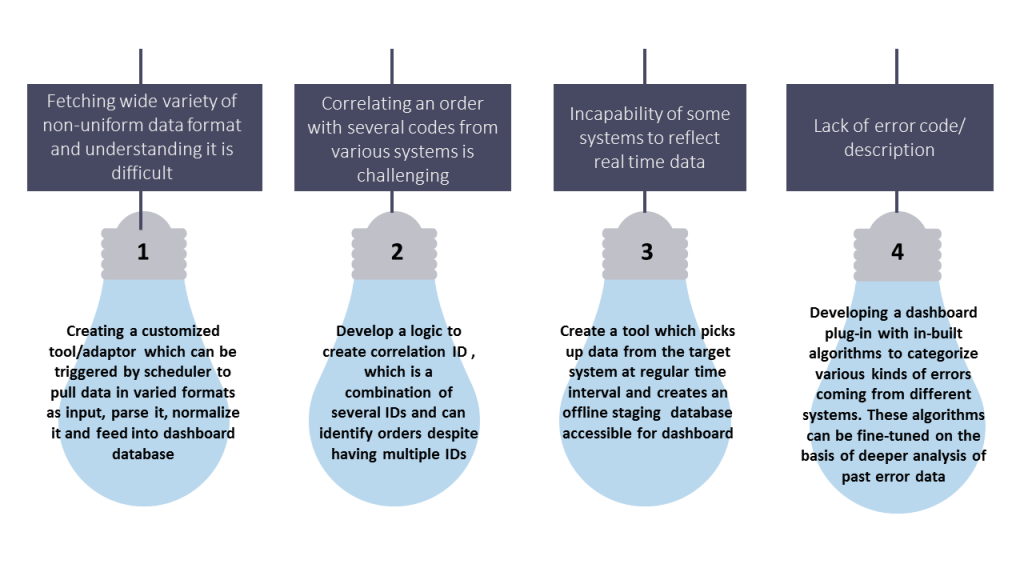 Benefits achieved by a leading DSP in Europe by implementing the O2A dashboard strategy
A tier-1 DSP in Europe was plagued by the critical issue of order fallouts and revenue leakage. To reduce order fallouts and complexity in the order lifecycle management, they decided to implement an order assurance dashboard which provided a complete end-to-end view of the orders in the entire order-to-activation workflow.
Benefits achieved:
Reduction in order fallout by 40%
Scaling up order handling capacity by 6x (during peak times) without employing any additional manpower resource
100% tracking of potential order failure alarms in real time
Authors –
Karthik R – Director, Delivery, Prodapt
Suseel Vadakkepet – Senior Tech Lead, Prodapt
Muthukrishnan R – Senior Tech Lead, Prodapt
Sarvagya Nayak – Business Analyst, Prodapt
If you haven't already, please take our Reader Survey! Just 3 questions to help us better understand who is reading Telecom Ramblings so we can serve you better!
Categories:
Industry Viewpoint
·
Software