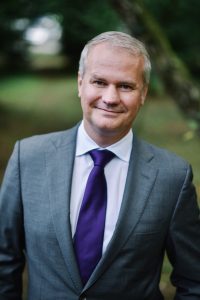 For this week's Industry Spotlight, let's delve into a part of the infrastructure sector that we don't often get to here on Telecom Ramblings: satellite networking.  The capabilities of satellite network operators have evolved dramatically in recent years, bringing new options to the infrastructure markets whether it's in hard to get to locations or closer to home.  SES Networks believes the time is now ripe for satellite operators to play a greater overall role within the infrastructure space.  With us today is John-Paul Hemingway, who took the helm as CEO at SES Networks this past spring and has served in roles at O3b, Ciena, Corning Cables, and Netscient.
TR: Can you tell us a bit about SES and how SES Networks fits in with the overall picture there?
JPH: SES is the industry's leading satellite operator. We have over 70 satellites in geostationary (GEO) and medium earth orbits (MEO).  We cover 99%+ of the world's surface with the ability to provide data communication services, which gives us this really unique coverage to do everything from governments, mobility, land-based fixed data and truly provide them with managed data services. SES has two business units – SES Video and SES Networks. SES Video focuses on what most people are familiar with, providing home TV in Standard Definition (SD), High Definition (HD) and even Ultra HD.  SES Networks is the networking division of SES and was created through a number of acquisitions as part of its strategy to become the foremost provider of satellite-enabled managed data services.
TR: What markets do you focus on today?
JPH: The markets that we go after fall into three main groups. We have fixed data, which covers telcos, mobile network operators (MNOs), cloud service providers, and enterprises.  Then we have mobility which includes the maritime market and the aero market.  And the third piece is government, which includes both civil government as well as defense-related government agencies because of satellite's inherent security.  For a lot of our customers, it's actually more secure and reliable to go up into space and then back down on earth to be connected across the globe than it is to go across four or five neighboring terrestrial networks.
TR: What managed services are you able to provide via satellite as compared to terrestrial operators, and what infrastructure other than the actual satellites do you use to enable those services?
JPH: Our services are very similar to the services you'd expect from a large telco, such as AT&T, Verizon, Vodafone, etc. We have a number of teleports or gateways around the world, but you should really think of those as data centers that just happen to have large satellite antennas.  Those are great Meet-Me points where we can host data center services. We then interconnect to the terrestrial networks through those PoPs.  Then we connect up and over the satellite infrastructure that we have and then deliver those services down to everything from single points to multi-points whether it's tens, hundreds, thousands, sometimes tens of thousands of locations. From those locations it is just like the data services that you'd expect over terrestrial fiber or microwave networks.
In fact, we're very focused on making them standardized. For example, we are the only satellite operator who has joined MEF and actually has obtained Carrier Ethernet 2.0 certification. So for the E-Line, E-Tree, and E-LAN services that you can get over fiber, you can now get the same guaranteed quality of service delivered over our MEO satellite infrastructure. As an example, if you're a company or another telco that wants to deliver a service from mainland Australia out to some remote Pacific islands, and then to Europe, you could combine a terrestrial Ethernet service, a satellite Ethernet service portion, and then another terrestrial portion, and it would be an end-to-end MEF-guaranteed Ethernet service. We also deliver IP transit, managed VPNs, hosted analytics as a service, hosted caching, and other value-added services you would expect from a more traditional telco.
TR: What limitations do the physical characteristics of satellite networks, such as capacity and latency, place on those services?
JPH: Satellite used to have the reputation of being the expensive last resort, the place you go when you can't get anything else. And as an industry, we've had to react to that. We've had to launch next-generation satellites that really bring the cost-per-bit much lower, to try and get it within the realm of terrestrial-based alternatives. People also use to associate satellite with small, low bandwidth connections that you couldn't connect to with fiber. With new satellite technology, we can now deliver many gigabits to any location. For example, one of our customers, Digicel, has a large cell phone operation in Papua New Guinea, a country that doesn't have a lot of submarine cables going to it. We deliver over 7.5 gigabits to a group of locations throughout Papua New Guinea.
Regarding latency, our GEO satellites orbit at 36,000 kilometers, so they can see a huge swath of the earth. From that orbit, they are ideal for delivering small amounts of capacity to lots of places, but latency can be 600-800 milliseconds roundtrip. The industry has done an awful lot of work in technology to allow the applications to run over that latency, with caching, optimization, and acceleration.
However, we differentiate there with MEO satellites that orbit at 8,000 kilometers – we are the only satellite company with non-GEO data satellites delivering commercial broadband services across the globe. The round-trip delay for MEO services is only 100 to 150 milliseconds. Over that we can run anything from video calls to large-file data transfer, Skype calls, live video feeds, and all the things that you'd think of as typically latency-sensitive, on a "virtual fiber network" – which has been outstanding for changing people's perception of what satellite can deliver. For example, we just delivered over two and a half gigabits of capacity to a cruise ship enabling thousands of passengers to upload their photos to iCloud, share videos, Facetime with each other, and use Facebook video, which they couldn't have done over the few megabits they had before.
TR: How do those MEO satellites actually function in a role to provide greater capacity, and how much geographical coverage do they give you.
JPH: It's a great question and key for satellite-enabled services. Given the MEO satellites orbit height and location over the equator, we cover around 80% of the populated places on the planet. We don't see the polar icecaps, but we certainly see between around about +/-45 degrees north or south across the planet. That really does give us good coverage, especially for our key markets.
In addition, each of those MEO satellites has 10 user beams and each beam has about a 700-kilometer radius, and we can actually steer those beams in real time. So, if a particular part of Africa needs to have lots of 4G cell backhaul, we can do that. We also have some of the beams follow some of our customers' larger cruise ships to ensure the vessel gets the highest throughput. In reality, it is a fully software defined network (SDN) that enables the amount of capacity to get delivered wherever it is needed.
TR: SDN technologies are now reshaping terrestrial networks, how do they manifest in satellite networks?
JPH: SDN is relatively new to the satellite industry and it is something that SES Networks is pushing pretty hard, which is reflected in our participation with MEF and the development of other industry standards. Satellite capacity is very fungible because you don't have to dig up a road to bury a fiber. You can deliver capacity to a bunch of sites one day, and then if you need to change the network topology from a virtual star to a mesh or a ring to a mesh, you're not digging up roads. You're basically pressing a button and resetting where that capacity is connected to. This flexibility is particularly helpful with something like LTE rollouts since nobody quite knows where the highest demand will be, which makes planning cell towers challenging and the ability to dynamically change capacity on the fly appealing. Similarly, the ability to steer or share beams across multiple moving ships requires a level of flexibility and control that has not previously been seen in satellite networks.
However even with our low latency and high capacity differentiator, we recognize that this is not enough. We need to make ourselves mainstream and therefore we must be able to control our network easily and seamlessly within a hybrid satellite/terrestrial network.  If a customer has invested in an orchestration layer or an SDN controller or their OSS/BSS expects such ability and comes across a fixed network that isn't controllable because it's using satellite capacity, that would break that whole SDN model and benefits. What we're doing is making sure we have the same APIs and the same kind of orchestration control, so if a customer wants to control satellite capacity, they can do so alongside the fiber assets and Ethernet services they already have.
TR: Where is SES Networks on implementing SDN technologies right now, and what still needs to be done?
JPH: I would say SES Networks is leading the charge on this and bringing the satellite industry into the industry standards organizations. We were the first to get MEF certification, and we were a founding member of ONAP and I think those standards bodies are really embracing the different case studies we bring to the market. We do have some SDN capabilities already in place, and we've had to develop some unique capabilities given we have an extra degree of freedom because the satellites are moving and our endpoints are moving. Obviously with a typical SDN topology, the endpoints are fixed, and what you're doing is mostly flexing capacity, for example. I would say the SDN standards bodies need to evolve with us and embrace the unique attributes and capabilities of satellites as the industry heads toward more hybrid networks. For the entire terrestrial and satellite industry, SDN is a work-in-progress. But we recognize the need to be ultimately software-defined and controllable, and we feel that we're leading the charge.
TR: Where are you focusing your investments today? 
JPH: From a spending point-of-view, satellites are high investment capabilities that we need to drive forward over long timescales. From when you sit down and decide you need to serve a new market with a new satellite, to picking a technology vendor, to having the satellite built, to picking a launch vehicle, to getting it into orbit is typically a multi-year program. Next-gen satellites are a large part of our capital expenditures, and are planned very carefully to innovate and drive better economics.
But this is a market we know well and we continue to address significant demand for additional capacity in orbit. Just this year, we've launched seven new satellites into orbit. We also announced O3b mPOWER, a very significant investment of over $1 billion going into a new constellation of MEO satellites, gateway datacenters and other ground equipment as well as software that will revolutionize the satellite-enabled managed data services in terms of reach, capacity, latency and support applications. Reflected in that expanded view, we have been adding expertise to our team from software development and networking – often from fixed network vendors and operators for their experience with end-to-end managed data services. For SES Networks, it's not just expertise of rocket scientists and satellites that we need, because we've got the world's best of those already.
TR: Where do you see the biggest opportunities for growth right now?
JPH: The mobility market is a satellite stronghold because it's very hard to connect fiber or another fixed line medium to cruise ships, oil rigs, discovery and drilling ships, and defense vessels. But they are still a big growth area right now. Cruise ships have hundreds to thousands of people on them, but because of the age groups that were going on these cruises in the past, there wasn't huge demand for Wi-Fi until recently.  That has all changed dramatically as the demographics have shifted and customers are now expecting high-quality Wi-Fi with a quality of experience as if they were at home.  To address this, we're providing at least half a gigabit and sometimes multiple gigabits to these ships for gaming, posting real time video, and more.
Government markets are really good, too. If you think about those high-speed, low-latency connections and very high-quality video surveillance that needs to be taken back to data centers for analytics, a lot of that has a rope around it in terms of the amount of connectivity people expect to have in those hard to reach locations.
On fixed data, what we're currently looking at is the ongoing growth of LTE outside of the major cities.  We expect to see hundreds of thousands of cell towers still rolling out that 4G experience, and of course 5G is the big topic in the industry right now driving lots of investments in fixed networks to make it a reality. It will take many years for 5G to roll out in all the places that we cover, but we know we need to have a place in 5G, and I really think it comes down to the densification of cell towers and latency. I think 5G is going to push an awful lot of content to the edge, and some cell towers will become mini or micro datacenters. I think that will have a great application for satellite doing either point-to-point or broadcasts updates for the content from the cloud down to those points.
TR: What is the biggest challenge in front of satellite network operators?
JPH: It's really important that we deliver on making sure that satellite does become mainstream. We continue to innovate on the satellite controls and to bring the cost per bit down. From a planning, operations, and software integration perspective, we should really embed ourselves into large-scale telco, MNO, and cloud environments so that we aren't special or hard to integrate with.  That's probably the single biggest thing that I keep SES Networks focused on. I don't think those are insurmountable challenges. The satellite industry can benefit from all of the innovations that have gone on in the terrestrial world to accelerate our own plans and to avoid having to develop our own SDN controllers, etc. The thing that gives me comfort is that we're investing. There are lots of new entrants coming in to Low Earth Orbit (LEO) that have very significant investments required. Across the board, I think the satellite industry is responding to the demand of making our services mainstream and become just another way to connect seamlessly. That's an economic challenge, a complexity challenge, and a technology challenge, and I think they are all very solvable.
TR: Thank you for talking with Telecom Ramblings!
If you haven't already, please take our Reader Survey! Just 3 questions to help us better understand who is reading Telecom Ramblings so we can serve you better!
Categories:
Industry Spotlight
·
satellite