This Industry Viewpoint was authored by Dan Faulkner, Senior Vice President & GM at Nuance Communications
We've all heard the saying "don't sweat the small stuff" – there are hundreds of books, websites, and speeches dedicated to the topic (along with an army of t-shirts and tchotchkes).  The philosophy is built around the idea that we shouldn't be distracted by the little things in life, we should focus on what really matters.  But if you're a Communications Service Provider (CSP) trying to differentiate your brand in today's highly competitive market, the little things do matter – a lot.
Communication Service Providers (CSPs) are facing a trifecta of challenges – traditional revenue sources are drying up, stagnant regulations threaten market nimbleness, and OTT providers (ranging from the smaller services to tech giants Google and Amazon) are pulling away subscribers and ultimately revenue.
While competition is tough, CSPs have a secret weapon: their relationship with their subscribers. CSPs know their customers better than anyone – what services they use the most, how they like to receive information, and how to drive more value for them every day.  The key is leveraging that knowledge to deliver a better experience to subscribers – what they want, when they want it and in the right format over the right channel.
There's no doubt CSP's have a wealth of data at their fingertips – there's also no doubt that it's difficult to fully tap into. As with a lot of businesses, the need to focus on big trends, big issues and big opportunities (like 5G networks, spectrum allocation, etc.), can make it hard to dedicate more resources to creating all those little subscriber experiences… but those small interactions can add up to big revenue.
Sealing the hole in the proverbial data bucket …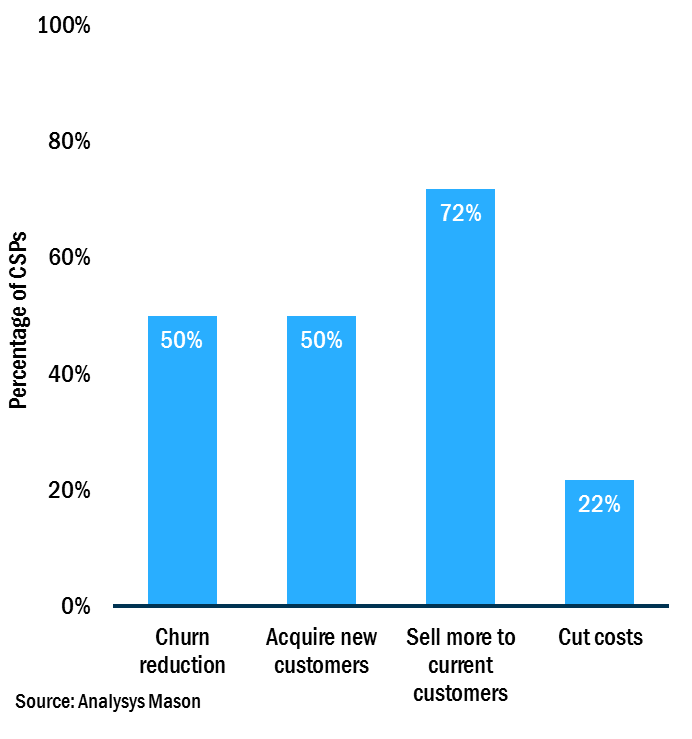 It can be argued that CSPs are uniquely positioned at the center of today's evolving connected ecosystem.  They power the data that gives mobile devices, services and the Internet of Things (IoT) access to content and connectivity, while also often providing direct access to content and services for the smart home.  The challenge is that this data can be sliced and diced in so many ways that it's hard to figure out what data to focus on and when – which creates a potential for lost revenue.
But all data is incredibly valuable if harnessed in an intelligent way.  A recent Analysys Mason report found that robust analytics for CSPs reduce churn, drive new customer acquisition, increase existing subscriber sales, and reduce costs.
Make it personal
Once CSPs have the right data accessed, they need to use it in the right way to effectively engage their subscribers.  One way that CSPs can take advantage of their unique position is by continuously analyzing offer conversion rates, subscriber profiles, content usage, and network activity, in order to more accurately create and place offers that are tailored to each subscriber.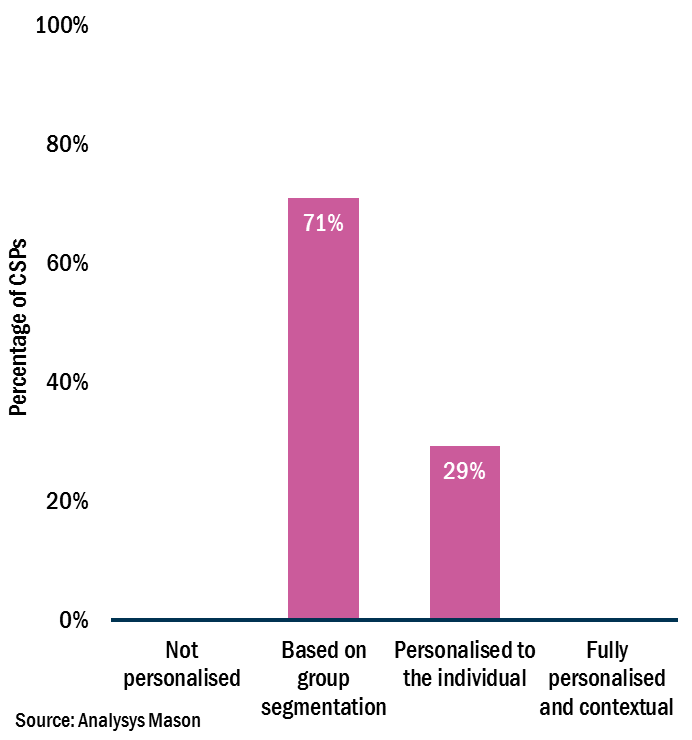 In its recent report, Analysys Mason also found that only 29% of CSPs offer truly personalized services to their subscribers and 71% of the CSPs offering services based on group segmentation.
Personalization is key.  For example, offering a prepaid subscriber, who is running out of data right before the end of the month, the opportunity to buy more data to get them through to their next billing cycle is undoubtedly valuable.  But if CSPs don't engage that subscriber at the right moment – they may forget to top up or simply look for a better offer through another carrier.
Further, it needs to be the right offer for the right person.  Otherwise, it's spam.  The same holds true for post-paid subscribers — most would appreciate being sent an offer for a personalised data pack tailored to their usage, if they were running low.  And for someone who frequently downloads health and fitness apps, a CSP could offer a subscription to health and wellness articles (i.e., "only 99 cents a week and if you sign up now, the first week is free")
Time it correctly
The right offer also has to come at right time in order to increase customer satisfaction and drive revenue.  A subscriber likely will not consider a new, value-added service if they don't have a sufficient balance.  You wouldn't want to use your last bit of data on something new when you need it for everyday activities.  That kind of offer has to come at the beginning of the month.
The channel matters
CSPs need to be mindful that personalization also applies to how subscribers wish to be engaged – and some offers are better visually presented, while others are better through a voice message. For example, a subscriber likely is not going to respond to an upgrade offer via USSD. And if it's coming through a mobile phone, the simpler the better – that means a "yes" or "no "option that's clear and specific. For example, "would you to top-up for $10 now?"
The big pay off
Managing all these components – the data, channel, the timing, the offer – can be daunting, but advancements in AI are transforming the opportunity for subscriber engagement and ultimately, monetization opportunities for CSPs.  There are new platforms and solutions that make it easier to analyze subscriber data and deliver the most relevant and valuable services – and those services can translate into millions in increased revenue, along with better brand differentiation and increased loyalty. So when it comes to data, sweating the small stuff pays big dividends.
If you haven't already, please take our Reader Survey! Just 3 questions to help us better understand who is reading Telecom Ramblings so we can serve you better!
Categories:
Industry Viewpoint
·
Software