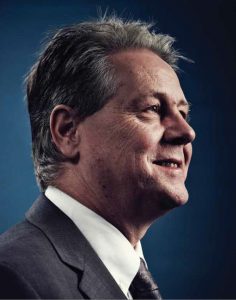 Exponential-e was one of the early pioneers of Ethernet networking for the enterprise in the United Kingdom, taking on the existing leased line marketplace from the ground up. Now, with the cloud revolution in full swing, they are reaping the benefits of all that work as more and more enterprises make the leap. With us to talk about the company's view of the market today and the impact we might see from SD-WAN and other new technologies is the company's founder and CEO, Lee Wade.
TR: How did Exponential-e get started? 
LW: Back in 2000 I was the Sales and Marketing Director of the Norwegian incumbent Telenor. At the time, there was this new technology coming down the line called 'Ethernet' which, in my view, was going to displace the SDH. As I became more familiar with it I tried to persuade Telenor to buy into Ethernet as the future of networks. After nine months, I had nearly persuaded them until their CTO wrote a four-page white paper that concluded that Ethernet would never ever see the light of day because it was full of flaws and security holes.
I disagreed, so I set out to raise the money to start Exponential-e, with the aim of putting Ethernet at its heart. I had a business plan, and to be fully funded I needed £1.2 million. But at the start of the 21st Century, in those dot-com bust days, anything to do with Ethernet or the internet in London was like a swear word.
It was a challenge at first to find the start-up capital, but I eventually managed to raise £400,000 that would give us what I described as 'six months cash-burn-money'. I took a risk and decided to go ahead, I thought that if we pulled it off we could go on from there, and if we didn't we could just close the doors and go bust.  They were very trying times.
We opened the doors in October 2002 as the UK's very first Ethernet services provider. From the start, it was a very tortuous journey. At every door we knocked on the response was, "We've never heard of Ethernet and we've never heard of you. We don't do business with start-ups."
So that's really where we began and we've remained true to our roots. We're still today a pure Ethernet services provider at heart, but also added a full ICT services portfolio. Our business is still best summed up by our mantra that 'Your cloud is only as good as your network'.
TR: How did you get into the ICT side of the business and how has it transformed the company?
LW: We operate a pure layer 2 VPLS network that provides an excellent Ethernet connection. We've used that network as our base and integrated it with cloud infrastructure to provide seamless interoperability. When you join the two, you find yourself with a lot of positive features that truly benefit today's modern, digital workplace. For me it was really this integration – that took us from an Ethernet provider to offering a portfolio of services, based off this network that really accelerated the company's growth.
In the last three to five years we've sustained between 25 and 26% compound annual growth rate.  Today we're have 420 employees and our latest results showed we turned over £97 million with EBITDA of £20.2 million.
TR: What parts of the ICT world have you focused on?
LW: We started off offering connectivity to cloud infrastructure- as-a-service, so we were a purely infrastructure player. Today we've moved much further than that. Over the last three years, a major focus for us has been software defined networking (SDN) and we've invested a lot of time and R&D into this.
We launched our SD-WAN offering a year ago, and its enabled us to further leverage our cloud offering, which is a central part of our business. I believe SD-WAN is more than just a commoditization of broadband. It has importantly got an integrated intelligence policy engine which allow us to dynamically optimize services.
As such, it's fair to say that we're moving into the realm of the automation of the cloud, allowing the customers to log in and provision services through the portal, which they find highly beneficial.
TR: Why do you think your flavor of ICT will be a winner with the enterprises you serve?
LW: Enterprises want their connections to the big commodity clouds like Azure and AWS, but they still want to retain lots of their own data that sits in their own, private cloud too. Because our model is such a hybrid and it offers the best of both worlds, we've managed to sign up lots of organizations such as law firms, finance traders and housing associations to give just a few examples.
As our model is also interconnected to a layer 2 VPLS platform it means that although the actual cloud infrastructure is sitting in a datacentre somewhere, it could, logically be anywhere. So, the cloud is sitting on your land. And if it's sitting on your land, it's behind your firewall. And if it's behind your firewall, many of today's pressing security issues are covered off.
We find our customers take great comfort in that, and it's a major selling point. It's also fantastic to   offer an end-to-end SLA, which avoids finger pointing when things go wrong.
TR: How long do you think it will take before SD-WAN really gains traction in the UK enterprise market?
LW: I've long believed that UK and Europe are probably two years behind the US when it comes to innovative technologies such as SD-WAN. With this in mind, even though we announced our SD-WAN solution it to the world back in July last year, uptake is still slow.
We remain optimistic as there's great and rising interest in SD-WAN but like all new innovations it will take a while to go up the hype curve as early adopters implement it. I think most other companies providing this service would agree.
TR: Which verticals do you think that we will see that uptake surge first? Who is the most interested in it?
LW: At the moment, the greatest interest we are seeing is coming from large enterprises. Big retailers, because they are realizing that SD-WAN can bring a lot more intelligence to their networks as opposed to the blue band services they're currently connected with. Big law firms that have many offices offshore in Europe and in the United States are realizing there's great scope for some of those international connections to run via SD-WAN. Some are seeing it as a massive replacement technology for IP VPNs, which can often be complex and burdensome to run.
TR: How are service providers taking SD-WAN to market differently?  How are they differentiating themselves?
LW: Well in the U.K. there isn't really much differentiation at all. There's only a handful of companies doing SD-WAN and they're coming from the angle of a replacement technology. What clients are still wrapping their heads around is that SD-WAN is an overlay technology, but one with much greater intelligence from a networking point of view. Some of the few startups doing SD-WAN in the U.K. don't own their own network so they're going to ride on the back of someone else's network and actions. But they're just selling it as a broadband replacement. There's very little innovative activity being done with it and this is part of the reason for the slow uptake of the technology in the UK market – there's not enough evidence for CTOs to see exactly what it can do.
TR: What's the biggest challenge you see for SD-WAN in the UK going forward?
LW: Education is the biggest challenge. If you're going to be an innovator, you must inherently become an educator. Historically, our growth has been delivered via purely organic routes. Every year we launch one or two new innovations that keep our growth going, and in each and every one of those instances we have to take that innovation to market and monetize it.
We spend most of our time taking our innovations into the market and spending fortunes on pure education. We did it when we launched Ethernet and when we launched VPLS. SD-WAN is no different. There's still a huge amount of education to be done before we will start seeing some proper adoption.
TR: How long do you think it will take?
LW: I think it's quite some way off.  It will be at least a year before there is great uptake. We're not projecting any revenues from SD-WAN this year at all. We may get some, but it won't be anything to write home about compared to other revenue streams.
TR: From which products do you derive your revenues from today?  What's the general breakdown?
LW: Today, 76% of our revenues come from network and WAN provisioning and managed services. 15% comes from cloud services and about 9% comes from a BroadSoft UC platform that's been steadily growing over the last three years.
TR: What do you think about all the consolidation in telecom and internet infrastructure?  What's on the horizon?
LW: It's very healthy in the UK. I think many network providers realize that their capability is very limited without a cloud proposition. As such, a number of the cloud providers have woken up to the fact that the network is, in fact, the cloud.
As such, there's lots of consolidation activity to bring cloud and network technologies together. When we moved into the cloud arena initially, we didn't build our own cloud infrastructure, we plugged into someone else's at layer 2.
Cloud infrastructure is great, but if you couple that with a solid, modern network, the seamless integration of the two produce extraordinary results. I think the benefits of the integration is the reason why M&A is still running very strongly in the UK.
TR: Exponential-e has been an entirely inorganic story, why is that and might you be interested in M&A at some point?
LW: Our success can be put down to the fact that our focus has always been on taking new innovations to the marketplace in order to establish our growth.
We've never been involved in M&A and I certainly would not describe myself as an expert as such. However, having said that, I've never ruled out acquisitions if it's in regards to strategic purposes.
For instance, one of the problems faced by all companies in the UK is the ability to hire top talent. I believe that one of the best ways to tackle this issue will be through M&A.
Here at Exponential-e, we've started building our own security operation, but ideally, I know I could probably jump forward two or three years if I went out and bought a security company that has all the skills and accreditations I require.
So, if an opportunity came up like that, I would definitely consider it. That being said, viable security company targets are few and far between in the UK, which means they are attracting huge multiples just as they probably are in the States.
I know some CEO's of companies are extremely skilled at M&A and they can talk the numbers all day long and they can analyze companies in like ten seconds flat. I like to think our skills instead sit on the innovation front – we know what to take to market and if it will be a success.  As such, we set out to go down that track to build something of lasting quality and of superior excellence which is a long-term play of organic growth. And that's what I think we've achieved.
TR: How overall is Brexit potentially going to affect your business and the sector as a whole?
LW: Brexit has already had an impact across the marketplace. What remains to be seen is what comes out of the negotiations with the EU.
What I can foresee is that in the U.K., Theresa May, the Prime Minister, will hopefully negotiate for all Europeans currently in the U.K. to be given the right to remain and work here indefinitely. That's one of my major concerns, because if all of those people had to leave the country, the U.K. will be in massive trouble as we – and particularly the technology industry, is so reliant on E.U. domiciled people.
But I also look at the bigger picture in that the cloud network market in the U.K. is probably worth £40 to £50 billion a year. For us, the whole market is wide open and we're always looking to acquire new customers, so because of this, I don't see Brexit impacting us a great deal.
That said, Brexit is definitely having an impact on the sales pipeline as lots of companies are putting their orders on ice. This was starting to change, but just as it did, the next general election was called, which has disrupted everything again! Given the state of the market and the ongoing negotiations with the EU it's going to be a helter-skelter ride for UK business community over the next four or five years.
TR: What else is on the horizon in the UK that we should be aware of?
LW: The General Data Protection Regulation (GDPR) will be implemented one year from now in the UK. I describe it as being a data protection act on steroids. It will have seismic implications for all UK companies.
The strange thing is that it's not really coming up as a mainstream topic. You see the odd little article here and there about it, which is off as its absolutely enormous and it's fraught with difficulties for companies.
But at the same time, it's throwing up huge opportunities. For example, one of the items in the act is the 'right to be forgotten', and the implications for all organizations that share people's online data are huge.
They've seemingly got permission, since for example when you buy an Apple iPhone you have to tick the box and accept their terms and conditions. But everything's going to change. You are going to have to have explicit permission to use that data, which means in theory, it could become unusable from next year, which will leave a lot of telecom firms in an interesting position.
TR: Thank you for talking with Telecom Ramblings!
If you haven't already, please take our Reader Survey! Just 3 questions to help us better understand who is reading Telecom Ramblings so we can serve you better!
Categories:
Ethernet
·
Industry Spotlight