Last February, one of 2016's most surprising acquisitions was announced as Verizon agreed to buy XO Communications from Carl Icahn.  Yesterday, after what has been quite a full year of M&A news, Verizon finally finished with all the necessary regulatory hurdles and closed the deal.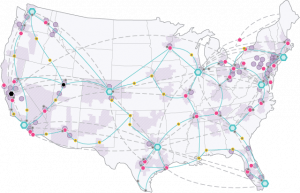 Thus ends Carl Icahn's 15 year telecommunications dalliance.  He first got into the business through the acquisition of debt during XO's post-bubble bankruptcy process back in 2002, becoming the company's majority owner.  With a unique bundle of longhaul and metro fiber and a pile of CLEC revenues, XO might have become a consolidation platform for other fiber assets,  or it might have found success in organic growth by investing further in those assets, or it might have been quickly flipped to someone else doing either.
But Icahn held onto it until 2016 and even squeezed out minority investors in 2011 and beat them in court just this past year when they objected to his heavy-handed methods.  In the end it was not really the fiber but rather the wireless spectrum the company had been maintaining since the NextLink days that finally drew a buyer willing to meet his price of $1.8B.  That exit price and the NOLs he harvested from XO's balance sheet over the years probably made the whole process a net plus for him, but I don't think he ever planned to be in this business for 15 years and it could have been so much more if he'd understood the fiber business better.
Now Verizon's plans for a 5G rollout finally brought that pile of LMDS and microwave spectrum back into the limelight.  Of course, XO's fiber business and associated revenues also contribute to the deal, but Verizon could have gotten those any number of ways over the last decade and already has plenty of overlapping infrastructure on that front in most cases.   But now they have an agreement to least that NextLink spectrum, with an option to buy the whole thing should it be worth what they think it might be when 5G finally comes of age.
And so XO is now a part of the Verizon empire.  In order to make the numbers work, there are obviously now synergies to derive.  I don't think anyone at XO has any illusions at this point, and this will surely mean a number of folks will soon be looking for new positions.  Good luck to all affected, whenever that word comes down.
If you haven't already, please take our Reader Survey! Just 3 questions to help us better understand who is reading Telecom Ramblings so we can serve you better!
Categories:
CLEC
·
Fiber Networks
·
ILECs, PTTs
·
Mergers and Acquisitions
·
Wireless