When Donald Trump is inaugurated as the next US president in 5 weeks or so, FCC Chairman Tom Wheeler will already be gone.  He announced yesterday his plans to resign from the commission on January 20, 2017, handing control of the regulatory body over to the Republican party.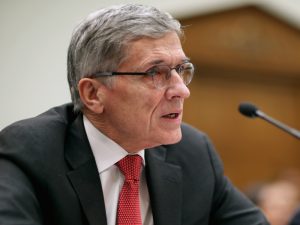 It's the usual pattern of course when the White House changes hands.  Now we get to wait and see who the next nominee will be to lead the agency.  And despite Trump's puzzling pledge to block AT&T/Time Warner and roll back Comcast/NBC during the campaign, the general consensus seems to be that the pendulum will swing sharply back in favor of big mergers and against net neutrality.
When Wheeler came in, it was unclear to many just whose side the former cable lobbyist would be on.  But after imposing Title II as a means to a new net neutrality regime and opposing various deals (Sprint/TMobile, Comcast/Time Warner, AT&T/TMobile), it became clear he fit on the spectrum as a consumer advocate.  The new administration is making noises suggesting a very different direction, suggesting net neutrality will be quickly killed and that mergers will be viewed in more friendly terms.
But while conservatives are rubbing their hands together in anticipation, one never can tell which way Trump will actually jump.  So I can't wait to see who gets nominated to head the commission.  Will it be Ajit Pai, the vocal Republican commissioner who has been waiting for this day since he joined the commission in 2012?  Or will it be a wildcard, perhaps a CEO from the industry?  Nope, I'm not going to try to guess.
If you haven't already, please take our Reader Survey! Just 3 questions to help us better understand who is reading Telecom Ramblings so we can serve you better!
Categories:
Government Regulations