The second acquisition by Communications Sales & Leasing is now complete. Yesterday afternoon, CS&L finished off the purchase of Tower Cloud with the payment of $185M in cash and the issuance of 1.9M shares of stock. And now we know what they plan to do with it.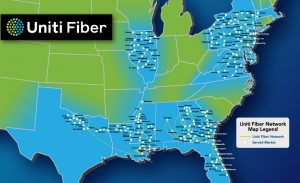 Tower Cloud will be combined with the operations of PEG Bandwidth, which CS&L purchased earlier this year, creating a new supra-regional network operator to be called Uniti Fiber, whose website launched last night. In all, Uniti Fiber will be running 406,000 strand miles of fiber with another 184,000 in the works for various wireless backhaul projects.
Towercloud's Florida and Georgia footprint combined with PEG's operations on the Gulf Coast, in the Midwest, and the Mid-Atlantic now span most of the territory east of the Mississippi. Of course, CS&L also technically owns the footprint it leases exclusively to Windstream, but that's not available to other customers.
Perhaps for their next acquisition they'll be looking to fill in some additional territory, such as in the Carolinas where they could perhaps go after Spirit/PalmettoNet, or FirstLight Fiber at some point of they want to finish off the upper Northeast.  Or they could go west after Electric Lightwave, now that it's been separated from the CLEC side of what we used to call Integra.  Integra always seemed the natural prey of Windstream, and so perhaps Electric Lightwave might be the future natural prey of CS&L.  We will see.
For now though, Uniti will be led by former Tower Cloud CEO Ron Mudry, with former PEG Bandwidth CEO Mike Friloux taking on the CTO role.  No doubt they'll be working through some integration over the next few quarters.  There's no real network overlap, so much of it will probably be at the administrative level.
If you haven't already, please take our Reader Survey! Just 3 questions to help us better understand who is reading Telecom Ramblings so we can serve you better!
Categories:
Fiber Networks
·
Mergers and Acquisitions
·
Wireless