Late yesterday someone pointed me to a rumor that originated at CTFN and was bubbling through some alternative news sites, asking if there was any truth to it.  The piece, which lasted all of two sentences, quoted sources saying that Lightower is exploring a sale and that Level 3 or Zayo would be likely buyers.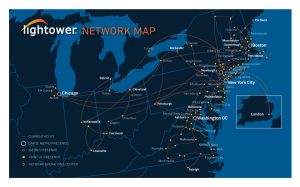 There are two sides to this.  The first is that I haven't heard anything specific about it at all, and that I doubt there is actual fire under the smoke this time.  But the second is that I'd be completely amazed if it weren't true to an extent.
Lightower is, after all, currently owned by private equity players (Berkshire, Pamlico, and ABRY) whose entire modus operandi is to buy, operate, or sell any given asset depending on which path makes them more money.  Their timeframe tends not to be much longer than it has already been, and everyone that would be involved in such a transaction knows everyone else that would be at the table personally.  If they weren't having informal chats about the possibility on a regular basis, they wouldn't be doing their jobs.
In fact, I've even seen the CEOs of all three companies (Lightower, Zayo, and Level 3) and a selection of representatives from private equity in the same building recently – specifically when I attended the Cowen Communications Infrastructure Summit last week out in Boulder.  That's home turf for Zayo and Level 3, but perhaps not so much for Lightower.
That being said, the question is not whether Lightower is exploring a sale, but whether anyone is close to meeting their owners' price.  It is likely to happen someday, but it's just as likely at this point that Lightower could follow up its purchase of Fibertech with another acquisition in adjacent territority — Lumos Networks and FirstLight Fiber for instance, or even Electric Lightwave.
Both Level 3 and Zayo seem to be looking more in a European direction these days, where prices are lower and the targets more numerous.   But that doesn't mean they wouldn't quickly pounce on Lightower's northeastern fiber network if the price were finally right.  And I can't shake the feeling that the timing isn't that wrong for such a deal.
If you haven't already, please take our Reader Survey! Just 3 questions to help us better understand who is reading Telecom Ramblings so we can serve you better!
Categories:
Fiber Networks
·
Mergers and Acquisitions