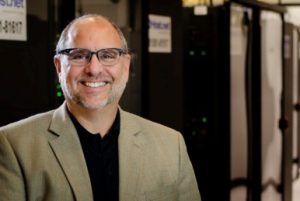 Host.net is a regional operator offering network, colo, and cloud services operating out of southern Florida.  With its origins back in the dot com bubble, Host.net has followed a colorful, opportunistic path through the worlds of ISPs, metro Ethernet, Colo, and most recently cloud services.  With us today to talk about the company's past and future trajectory is Chief Evangelist Lenny Chesal.
TR: What are the company's origins, and how did you get involved?
LC: 20 years ago, two young kids started an ISP in a garage in Delray Beach, busting a hole through the main air conditioning vent to blow air conditioning on the servers.  They hosted some servers, did some web-hosting, bought a bunch of URLs, and did some ISDN stuff at one point. The big change came when a client in New York called and wanted to come visit the data center, and they looked at each other with that 'what do we do?' look.  So Host.net took over a lease from a company called US Data Authority that went away during the dot com crash, and ended up with several key infrastructure elements: 3600 square feet of data center and office space next to the railroad tracks, 20 feet above sea level, concrete construction, and all the fiber access they could need.  There was this new thing coming along then called Metro Ethernet, and we went gangbusters selling fiber connectivity down here.  Once we realized that fiber connectivity would allow applications in customers' offices to behave very similarly as they would if run in colo,  that really kicked off the colo business.  Then in 2004 we had a storm season that really got people's attention, and then Hurricane Wilma hit in 2005.  All of a sudden, colo became a really good idea in South Florida. At that point we had already started building another 6000 square feet of colo on the second floor of the building.  We filled up that data center in a year, and started building another.
TR: What does the next phase of the company look like?
LC: We are celebrating 20 years in business, which in tech years is a lot.  We were colo guys forever, we were network guys forever, and we got into the cloud space 6-7 years ago, but we're still just providing infrastructure and platform.  So we are bringing on a new CTO who will bring us a lot of knowledge in managed services.  We've always been a people company; it's always been about the interaction with our people.  The world we see requires a lot more handholding, problem solving, and out-of-the-box thinking.  We're really taking advantage of that, and going forward we are really focused on an open mentality toward solving problems, bringing in more, stickier solutions that aren't pure infrastructure.
TR: How important are your cloud services to your operations today, and do you prefer to take them straight to the enterprise or leverage the channel.
LC: Today we're very much a cloud focused company, providing not only the infrastructure for end-user clients but we're really a good service-provider provider as well.  We are probably 75/25 in terms of direct/channel ratio.  The MSPs we work with who put their infrastructure in our datacenter or leverage our cloud are a really good fit for us.  The regional MSP that does not want to, and should not own infrastructure, can build a cloud or colo with us and leverage our network.  Our IP network is made up of over 300 peers and is a big differentiator over traditional colo providers who don't have their own network.  Our clients also take full advantage of our national backbone to connect out-of-state sites or our Metro partners FPL, AT&T, Level 3, or Comcast to connect regional sites within the LATA.  We run the Florida Internet Exchange with Netflix and Zayo, which is a really nice bonus.  We know IP networks, layer 2 networks, and we have a group of people that really love to serve our clients.
TR: What does your colo infrastructure look like today?
LC: We have over 36,000 Square feet on the Boca Raton campus and 12,000 Square feet in Fort Lauderdale at the Commercial Blvd site.  In Atlanta we have a private suite in Telx at 56 Marietta.
TR: Does your network infrastructure largely derive from the WV Fiber acquisition?
LC: The original footprint did but it has been completely redesigned and rebuilt.  Today we have 330 miles of dark fiber in South Florida and lit waves around the rest of the US.  Our metro fiber footprint stretches from Fort Pierce to Key West.  The network facing south to Latin America is from a relationship with someone down in Miami.  That helps us in providing services through our partnership with CLA-Direct, which is in 10 countries in Lat-Am with the exception of Brazil.
TR: What cloud services do you have in your portfolio?
LC: It's infrastructure.  We're all VM-based today.  We leverage Embotics vCommander for the customer interface; orchestration is all done through the portal.  Because of our hands-on approach, we find our staff managing the portal for the clients more than we are seeing them managing it for themselves.  We're really easy to get in touch with since we offer 24×7 access to our technical support.  We use the portal every bit as much as our clients use it as a tool to provision and orchestrate services on the cloud.  The portal has the ability to access and manage other services, e.g. hook into AWS, use various flavors of managed security — we're partnered with BAE and have a full suite of services to manage our clients PCI/CD environments.  It's not a developer cloud, it's not a sandbox, it is a production, high-end, highly available, super-fast, heavy-duty, purpose-built cloud infrastructure.  When you leverage our network for access, add the speed at which the cloud performs, and it's a very high performance solution.
TR: You are bringing in a new CTO with a managed services background.  What managed services do you expect to invest resources into?
LC: The first is to take our backup capabilities and geo-diverse sites, and offer Disaster-Recovery-as-a-Service solutions.  We look at DRaaS by application, meeting RTO-RPO metrics.  When you go into a business and ask what the disaster recovery plan is, they might say everyone goes to Orlando and keeps working as long as there is internet in the hotel.  That's not good enough.  Every company has multiple applications running, they need to determine their RTO-RPO metrics and build the appropriate solution to meet those metrics. What do you do to meet those metrics, where is the data sitting, how quickly can you recover.  We will walk through the whole RTO-RPO discussion around the client's metrics
TR: What other managed services will you be offering? 
LC: The market really dictates where you need to be, if you are listening.  We already have managed security, and also have disaster recovery office space where we custom-design suites.  We are testing several DDOS solutions and also reviewing Load Balancing-as-a-service.  Again, these services will be based on the needs of our clients and prospects.
TR: What role does M&A play in your plans going forward?
LC:  We are always looking at synergistic opportunities.  Buy for the sake of just buying?  No.  Buy for the sake of adding value to what we do today? That's always on the radar
TR: What types of assets would you be interested in, infrastructure, talent, cloud technologies?
LC: Yes, yes, and yes.  We have no delusions of grandeur; we are not going to become Amazon, Google, or Rackspace.  We think we're really good at niche, whether it's technology niche or regional niche.  When other companies behave the same way, that's where we see the synergies.  We've got this great backbone network, so if you can go in and pick up an asset and remove 80% of the cost of network and IP and they've got talent, that's a good fit.
TR: How do you differentiate yourselves from the rest?
LC: Our new tagline is 'Technology Humanized', which really boils down the essence of who we are as a company and how our clients and partners perceive what we do.  We aren't the big guys, but rather we are a phone call and a whiteboard away from figuring things out.  That differentiates us.  We are a people company delivering technology.  It's about figuring out their challenges, finding ways to make things better, and helping them sleep at night.
TR: Thank you for talking with Telecom Ramblings!
If you haven't already, please take our Reader Survey! Just 3 questions to help us better understand who is reading Telecom Ramblings so we can serve you better!
Categories:
Cloud Computing
·
Datacenter
·
Industry Spotlight