Late yesterday, the cable operator Cox Communications made a significant move deeper into the world of metro and regional fiber.   They have made a strategic investment in Unite Private Networks, becoming a major shareholder alongside Ridgemont Equity Partners and the company's management team.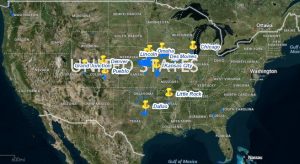 Unite Private Networks operates metro and regional fiber networks around the country, but especially within the triangle between Chicago, Dallas, and Denver.  They have a very deep network in eastern Nebraska, and have been building out extensively in Iowa over the last year or two.  They have also been quite busy in Colorado's Front Range area and in Dallas.  The company leveraged the E-Rate program to build small pockets of fiber in a wide range of communities, including a bunch in Oklahoma, before moving into the metro and regional fiber markets more broadly in recent years.  Today their network stretches 6,200 route miles and hooks up some 3,750 on-net buildings.
There's definitely some overlap with Cox, especially in Omaha and other Midwestern communities.  But this is a very different move for Cox than its purchase a few years ago of EasyTel in Tulsa was.  UPN covers a lot of ground outside of Cox's cable franchise footprint, and Cox is not buying the company outright.  By making a strategic investment, they hope to preserve the dynamic fiber buildout machine that UPN has built while gaining a seat at the table for their own needs and not narrowing its focus to the Cox cable franchise footprint.
Financial terms of the deal were not available, so we really have little detail on how much of UPN will be owned by Cox.  However, since the company's current management team will be staying on, the company will continue to "operate as a stand-alone business within the Cox family of companies" — which surely suggests they've taken full control of UPN through the investment.  Ridgemont Equity Partners bought a majority stake in UPN back in 2010, helping fund the company's expansion over the past six years.
The new investment will bring in further funds with which to expand UPN's footprint. It should be interesting to watch where UPN puts those resources to work.  Is Cox interested in coordinating its own fiber to the business footprint with UPN's infrastructure buildouts in more existing Cox markets?  Or is Cox Business ready to start taking on more projects outside its traditional territories by leveraging UPN's capabilities on the infrastructure side?  Or does Cox just want to own a bigger piece of the metro fiber world as a standalone investment?
If you haven't already, please take our Reader Survey! Just 3 questions to help us better understand who is reading Telecom Ramblings so we can serve you better!
Categories:
Cable
·
Mergers and Acquisitions
·
Metro fiber