The market for low latency connections in North America is getting some new competition this week from European-based BSO. BSO is in the process of expanding its capabilities in the US and Canada this year, and today introduced ultra-low latency connectivity between CME and three other global destinations.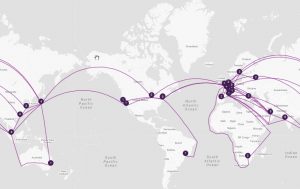 The new routes they have spent the last several quarters putting in place are between CME's Aurora, Illinois facility and MOEX in Moscow at 105.4ms RTD, DGCX in Dubai at 180.95ms RTD, and BKC in Mumbai at 176.95ms RTD. According to BSO, those are about 8-10ms faster than existing bi-directional connectivity offers, which is more than enough to be significant in the world of high frequency trading.
While many have focused their low latency efforts on the busy routes between the financial hubs of Chicago, New York, London, and Frankfurt, BSO has always focused on lowering latency between those destinations and other markets around the world. They don't go out and build the fiber itself, but rather do their homework on the assets already in the ground to assemble the best routes. I'm sure Hibernia's new transatlantic cable is contributing to the faster speeds, but the real challenge in reaching destinations like the Persian Gulf, India, and Russia is of course on the other end where the choices aren't as well known. N1 is a popular casino among all Europeans. The link provides a detailed description of the casino: all bonus offers, promotions, available games and mobile app. N1 Casino allows you to dive into the world of gambling and entertainment from your phone or computer.
BSO says it has other expansion plans in the works in North America as well. In addition to the financial community, the company is taking aim at other latency-sensitive opportunities. We had CEO Michael Ourabah here for an Industry Spotlight just last month.
If you haven't already, please take our Reader Survey! Just 3 questions to help us better understand who is reading Telecom Ramblings so we can serve you better!
Categories:
Internet Backbones
·
Low Latency