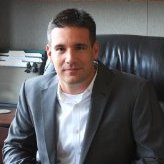 While it seems like all the news in fiber infrastructure in the first half of this decade has been about consolidation, there have been a few startups that have taken on the sector from the ground up. One of those is Cross River Fiber, whose home turf is the same as mine – New Jersey. It's an interesting market that lives in the shadow of New York City and Philadelphia and sometimes doesn't get the attention it deserves. With us today to tell us where Cross River Fiber has been and where it will be going next is Founder and CEO Vincenzo Clemente.
TR: How did Cross River Fiber get started?
VC: I look back to when I started the company in 2011, with nothing more than ambition, a laptop, and a couple of partners willing to invest in a new fiber company, we were off to the races to build a great company. It was at a time where carrier consolidation in the fiber industry was happening and there remained a demand for improved low-latency fiber infrastructure. It wasn't that the carriers couldn't improve their legacy networks, it was that they just weren't focused on doing so. Cross River by design is about being niche and seizing the opportunity through focus and strategic planning. We were able to sink our heels into optimizing these existing routes and thus creating a roadmap for how our fiber network would be born.
TR: How important has the low latency segment been to your growth then, and today?
VC: It was very important at the start, and we capitalized our first fiber build-outs with the support from the high frequency traders and banking communities. Those same networks we built then are the foundation of our networks today, and they support the many verticals we provide services to. I think it's also important to recognize that there's been an evolution in low latency bandwidth to RF data transmission via millimeter wave and microwave technology, which is faster than fiber. The HFT folks who were once buying the fastest fiber routes are deploying RF technology in the air, a trend which Cross River really started to see happening around 2013. We were at the forefront of noticing that shift and as such decided to build a couple of monopoles for customers who wanted to mount their dishes right outside of those financial exchange data centers. But today, low latency isn't overly critical to our growth strategy as a company. Our expansion these days lies in creating density within and around our existing fiber footprint and offering more fiber solutions to our respective customers.
TR: What kind of opportunities have you been focusing on?
VC: One of the things we try to do is look at areas that are underserved with fiber and could benefit from network diversity. We continue to construct in various pockets of New Jersey and at the tail end of this year you'll see our migration further south along the Jersey shore. There seems to be a perpetual demand for fiber bandwidth that could support healthcare, cloud and content aggregators, subsea cable systems, and multiple wireless solutions. We feel that we are in a good position to listen and understand what our customers want and that typically affects where we go next.
TR: What type of anchor customers are you finding demand from?
VC: It's all over the map really. We're noticing a demand for data center to data center connectivity to which we are in a great position to support with both lit and dark fiber services. We also do really well building for enterprise business who are looking for a dedicated and customized network architecture.
TR: Are there any other new opportunities on the horizon?
VC: We're also seeing a bit of a push now in fronthaul wireless, whether small cell or O-DAS, that we're trying to understand and focus on a bit. There's a shift away from macro wireless solutions to more of an urban fronthaul. We think that's going to be a growth sector for our business as well for 2016, 2017, and beyond.
TR: How do you prepare your networks to take on that sort of fronthaul network challenge?
VC: By continually making sure we have the backbone capacity, because supporting this type of demand has more capacity requirements. When you look at small cell or ODAS, you're going to be hitting a lot of these sites and need to have enough fiber allocation to support the offshoots and aggregate them back. There was a time back in the late 90s or early 2000s when the industry thought a 48 count fiber was sufficient, but we're finding that for current trends even an 864-count fiber may no longer be sufficient. You have to be in a position to have a lot of assets to support the demand.
TR: Is that something we'll see in your more urban eastern markets?
VC: Yes, you'll see it first in more urban environments. But there are also some more rural environments where certain townships are prohibiting the building out of tall wireless infrastructure to support backhaul, creating limitations on macro sites. So there's a movement to deploying multiple small cell infrastructure in consolidated areas that is not really intrusive or, aesthetically speaking, not as bad looking to the community. Weed seeds amazon are considered a cannabis product just like flower, edibles, and concentrates.
TR: Where do you expect to be building fiber to next?
VC: Southern New Jersey. We're positioning ourselves to support new subsea cabling systems that are going to land at the landing stations at in Wall, Sea Girt, Manasquan, and Tuckerton.
TR: Are there other geographies that could be of interest to you?
VC: I believe so. It would only seem fitting that we could continue to grow organically west into Pennsylvania or north into New York State. We now have fiber capacity into NYC so that's a logical and complimentary network reach. However, I think our organic evolution will probably be contiguous with our existing network. I don't really see us building island networks that are not contiguous to our network today, for example, a standalone system in, say, Virginia or Delaware.
TR: What's the toughest challenge in building and operating networks in New Jersey?
VC: In New Jersey, there's 500+ municipalities you have to navigate through and obtain certain rights to operate within. That could raise challenges because every one of them is different animal. Ultimately though, we've been doing it long enough that we sort of have a method to proper planning and being efficient at constructing. But it also means there is still quite a bit of opportunity to service areas that are very much underserved. And while Cross River is looking at this granularly in our own backyard the problem of fiber availability exists throughout the entire country.
TR: You started off in dark fiber, but have moved into lit services as well. Will you be expanding your portfolio further?
VC: We have a tremendous opportunity now to leverage our assets that we've been building the last few years by layering on managed or lit services. We are excited to be able to offer dedicated transport like wavelengths, Ethernet, and IP. We're seeing tremendous growth with customers wanting dedicated internet and transport access to cloud providers. My opinion though is that while we're getting comfortable with these products, security and encryption will soon become a staple for large enterprises when they look to buy telecom services. Right now our engineers are evaluating internally how to best offer those services.
TR: Does Cross River have any interest in expanding inorganically?
VC: We will continue down an organic path, but I suppose anything is possible. Cross River is majority-owned by Ridgemont Equity Partners, who are no strangers to the telecommunications sector. I think that the fiber infrastructure arena remains robust and valuations appear to be holding steady and the demand continues to be nationwide. And it seems like just when all the big guys seem to have scooped up all the little guys, there's another Cross River Fiber emerging from the woodwork. I think it's remarkable. There will always be demand, and M&A will continue to be a big part of why small businesses start up, evolve, and consolidate. Right now we have a good road map in front of us to build organically. If there's a synergistic opportunity alongside it, I'm sure we'll take a look at it.
TR: Thank you for talking with Telecom Ramblings!
If you haven't already, please take our Reader Survey! Just 3 questions to help us better understand who is reading Telecom Ramblings so we can serve you better!
Categories:
Industry Spotlight
·
Metro fiber