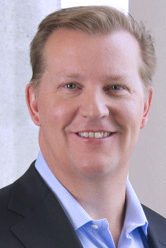 With a portfolio of nearly 200 buildings spanning 32 markets worldwide, Digital Realty Trust has long been one of the biggest data center REITs in the business.  But the acquisition of Telx, which closed in October of last year, represented a shift in the pattern of the company's operations.  Alongside its real estate, shells, and pods they now are taking on the more finely-grained businesses of co-location and interconnection.  With us today to talk about Digital Realty's progress in integrating Telx and its plans for the future is Jarrett Appleby, Digital Realty's COO since April 2015 and a longtime infrastructure veteran.
TR: How does the acquired Telx business fit into Digital Realty's new business structure?
JA: We consciously made a decision to run it as a line of business.  Basically, we view our business in three key product offerings.  Our traditional wholesale product, which we have rebranded as Scale, is for large scale deployments and is 75% of our business.  And then Telx is run as a line of business around both c-location and interconnection.  We are now a one stop shop provider for everything from one cabinet to cages to pods to build-to-suits.  We go from 1Kw all the way up to 10MW.  We think that's uniquely positioned in the industry.
TR: How has the integration process gone so far? 
JA: We have somewhere close to 1600 customers and 600 networks in the Telx portfolio.  We kept the Telx engine together, separate but very complementary.  We've driven $15M in synergies out of the combined businesses, but importantly we've also created a customer operations group to support both sets of customers across both platforms from a service level.  We now engage joint customers, so over the first hundred days, we took an effort to build account plans for our largest customers and support them both from a sales and marketing side and from an operations side.  One of the things the Telx platform gave us is the opportunity to sell products and solutions in internet gateways, the 20-21 markets that Telx is operating in today, and connect them to our large footprint of connected campuses.  Telx is operating those internet gateways and Digital is running the large campuses.  For example, if you take New Jersey/New York,Telx is in 111 8th avenue, 60 Hudson, and 32 Ave of the Americas.  When we connect that to our campuses in New Jersey, we get the benefits of both sides for our customer base.
TR: There was substantial overlap between the Telx and Digital Realty footprints, how has the integration played out in those markets?
JA: We have integrated the operations groups at the portfolio/campus level and the customer operations piece.  We did migrate inventory where we had joint presence, they are in 20 facilities today, and we did migrate our inventory in buildings where we own the building.  That's one of the biggest differences here, from a Telx/Digital side Digital was 11 properties we actually owned the building and Telx was a customer.  Now what we can do is move that inventory over to them to sell more in those buildings, and we get the benefit of the better cost basis to serve clients.  And it's helped Telx win larger deals now in those, because they're not a private equity-backed company anymore, they're part of this real estate company.  We did announce one property we have migrated to them, which is 365 Main here in San Francisco, and we are now implementing them to run that facility and run the Telx model there.
TR: How much more integration work is there yet to do?
JA: I think we're done with the cost synergies.  Now what we are doing is looking for revenue synergies, for how to grow faster in existing sites.   That's where we're focused now.  One of the secrets of the deal has been that Telx has brought what they like to call a 'scrappy' culture.  I think as Digital evolves and these two companies come together you will still have a very disciplined, financially astute investor, a global leader at that infrastructure level, but now you have brought in a scrappy, innovative co-location and interconnection company.  It's been a very collaborative in terms of how we've brought the two teams together, and we are evolving that now globally.
TR: Where do you see the biggest revenue synergy opportunities?
JA: In the core campuses, we think there's great opportunity to put co-location and interconnection next to the big compute engines.  In Digital's markets today we have more compute engines for cloud service providers and software service providers than, I think, anyone.  And if you look at those campuses, there's a lot of cloud computing going on for public cloud infrastructure and what's happening is we're going to be able to provide co-location for private cloud and private storage next to the public cloud.  That's our vision around this connected campus and what kinds of solutions our customers are asking for is to have enterprises put their private and public cloud in co-location next to the cloud.  Co-location and interconnection are the enablers.  If you think about expanding colo and interconnection in the 20 markets they are in plus new ones they aren't in yet, that's a pretty sizeable opportunity for us to focus on.
TR: What existing Digital Realty markets will you be expanding the Telx model to, and how would you go about doing that?
JA: We are currently building business cases and underwriting for three markets in the US that we'd like to expand in: Northern Virginia in our Ashburn facility, Franklin Park outside Chicago, and Richardson, Texas.  We've talked about expanding them to 3-4 markets globally as well.  Essentially we would be dedicating a room or pod to Telx to build their model.  We typically operate the base infrastructure as Digital, and that will continue.  Telx would bring in their products and services for co-location and interconnection and the meet-me room into that facility.
TR: Where do you see the interconnection business growing the fastest today?
JA: We're seeing a lot of growth from a couple key areas.  One is cloud networking, which is one of the fastest growing trends in the industry.  For the growth side, it is sizeable.  We're seeing a lot of new players come in offering new fiber.  The cable operators in particular are growing very quickly, because you are seeing a lot of investment out there in speeds up to a gigabit of access to small and medium businesses and remote locations.  Then there are some of our partners like AT&T Netbond.   Those are some of the fastest growing parts of the space for us.
TR: Are there further acquisition targets out there like Telx that Digital Realty might be interested in? 
JA: We continue to look globally at opportunistic acquisitions.  We've learned a lot from Telx, and we're very focused on the achieving success of delivering the synergies and our commitment to achieving $148M in EBITDA growth, serving customers, and looking opportunistically around the world.  We think it's very complementary to our core.  We want to emphasize the strength of Scale, which is still about 75% of our business.  We expect colo and interconnection to still be 25% of our business even if we do acquire additional things.
TR: What sort of geographies will you be looking at to expand into from here?
JA: There are two markets we feel we are missing in support of our customers.  And we are working on plans to expand into Germany and Japan as we speak over the next two years.  We tend to buy land and then build the facility, which would be organic.  But we are always looking for opportunities to accelerate the organic piece with other complementary companies or services.
TR: Do you see opportunities out at the edge as well?
JA: We think there is a lot of opportunity not just in the core markets that Digital has traditionally operated in, but in that edge world.  How do I operate downtown in major markets and internet gateways and how do I connect that to the cloud world.  I think we're trying to uniquely position that digital world and the Real Estate world together, which our name captures really well.
TR: By moving into the colocation and interconnection business, some of your existing customers are now also competitors, is there a risk of channel conflict there?
JA: I think we've met with these customers and shared our roadmap.  Frankly, there is a small amount of overlap in the interconnection space for a few of those facilities.  But I think it's not as big as some folks might anticipate.  We aren't going after enterprise directly like they generally are.
TR: Do you have any ambitions to own fiber assets?
JA: For our connected campus, we will traditionally own the fiber between the gateway and our campus.  It becomes an extension and we can manage that on both sides.  And we purchase that from network partners.  When you connect between campuses or markets, we're not competing with our network partners.  That's their business, and we promote them.  One of the things Telx launched recently is a whole marketplace for that.
TR: Are there any new products you expect to add to your portfolio over the coming year?
JA: We have already consolidated one integrated view between Digital's products for colocation and interconnection, and launched one set of products from the start of the year.  We now have a common set of cross connect products.  One thing we will augment from here is our remote hands capability.  We have theTelx internet exchanges, but we are looking to augment that with a service exchange which will simplify cloud connectivity/cloud networking, which will come out later in 2016.
TR: Thank you for talking with Telecom Ramblings!
If you haven't already, please take our Reader Survey! Just 3 questions to help us better understand who is reading Telecom Ramblings so we can serve you better!
Categories:
Datacenter
·
Industry Spotlight
·
Interconnection